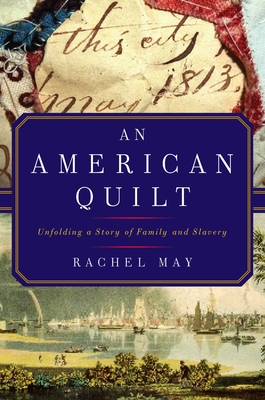 An American Quilt
Unfolding a Story of Family and Slavery
Hardcover

* Individual store prices may vary.
Other Editions of This Title:
Digital Audiobook (4/30/2018)
Paperback (10/8/2019)
MP3 CD (5/1/2018)
Compact Disc (5/1/2018)
Compact Disc (5/1/2018)
Description
Following the trail left by an unfinished quilt, this illuminating saga examines slavery from the cotton fields of the South to the textile mills of New England—and the humanity behind it.

When we think of slavery, most of us think of the American South. We think of back-breaking fieldwork on plantations. We don't think of slavery in the North, nor do we think of the grueling labor of urban and domestic slaves. Rachel May's rich new book explores the far reach of slavery, from New England to the Caribbean, the role it played in the growth of mercantile America, and the bonds between the agrarian south and the industrial north in the antebellum era—all through the discovery of a remarkable quilt.

While studying objects in a textile collection, May opened a veritable treasure-trove: a carefully folded, unfinished quilt made of 1830s-era fabrics, its backing containing fragile, aged papers with the dates 1798, 1808, and 1813, the words "shuger," "rum," "casks," and "West Indies," repeated over and over, along with "friendship," "kindness," "government," and "incident." The quilt top sent her on a journey to piece together the story of Minerva, Eliza, Jane, and Juba—the enslaved women behind the quilt—and their owner, Susan Crouch.

May brilliantly stitches together the often-silenced legacy of slavery by revealing the lives of these urban enslaved women and their world. Beautifully written and richly imagined, An American Quilt is a luminous historical examination and an appreciation of a craft that provides such a tactile connection to the past.
Praise For An American Quilt: Unfolding a Story of Family and Slavery…
"In this far-reaching history, the discovery of an unfinished antebellum quilt becomes an investigation of the fragile scraps of documents used to make its backing. A meticulous and insightful account of slavery's role in early mercantile America."
— New Yorker

"Deeply researched and vividly written, May's creative achievement casts new light on the often ignored contributions enslaved people made to American society."
— Booklist (starred)

"While acclaimed writer Rachel May was studying a textile collection, she stumbled on an unfinished quilt that took her on a journey from the Caribbean to New England and into the dark depths of slavery. May decided to piece together this history, which she unveils in this rich book. An American Quilt drives home how little we actually know about slavery—and how much history we can still uncover."
— Bitch Magazine

"An American Quilt is a scholarly accomplishment."
— Clyde Fitch Report

"May draws both history lessons and intimate secrets from her analysis of letters and domestic objects in the antebellum world. Her commitment to recovering the experiences of the enslaved people at the story's heart is admirable."
— Publishers Weekly

"May follows the footsteps of Linda Lipsett and Cuesta Benberry, who revealed a more thorough picture of the contribution the African American quilt maker. These stories need to be shared over and over again and Rachel May does so brilliantly, intelligently, and with care. The history of enslaved people—and today's on-going racism—is not glossed over in this deeply researched and beautifully written text. An American Quilt is a major contribution to the multilayered and complex history of quilt making in America."
— Roderick Kiracofe, author of 'Unconventional & Unexpected'

"An American Quilt cleverly weaves together the disparate fields of material cultural, northern industrialization, mercantilism, trade and slavery. Deeply researched history, May reveals the multifaceted economic and personal relations between northern textile manufacturers and southern enslavers. Moreover, May reminds us that the handmade quilts of white antebellum slave-holding and non-slave-holding women carry unlikely histories, including those of enslaved African Americans whose labor and stories are usually unacknowledged or overlooked."
— Christy Clark-Pujara, Associate Professor of History in the Department of Afro-American Studies at the University of Wisconsin, author of Dark Work: The Business of Slavery in Rhode Island
Pegasus Books, 9781681774176, 416pp.
Publication Date: May 1, 2018
About the Author
Rachel May is the author of Quilting with a Modern Slant, a 2014 Library Journal and Amazon.com Best Book of the Year. Her writing has received multiple awards, and she's been awarded residencies at the Millay Colony and The Vermont Studio Center. She's an Assistant Professor at Northern Michigan University and lives in Marquette, Michigan.
or
Not Currently Available for Direct Purchase