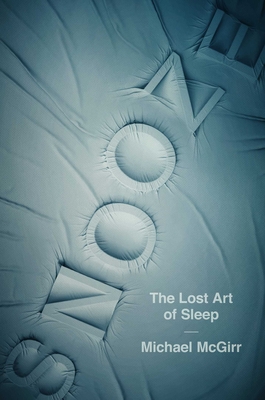 Snooze
Hardcover

* Individual store prices may vary.
Description
A profound exploration of the precious resource of sleep—and of the causes and consequences of getting too little of it.

Michael McGirr always had trouble sleeping. The arrival of baby twins, however, made him realize that he'd never before known true exhaustion. And while he celebrated these small children who brought him so much joy and tiredness, he found himself on a desperate and bone-weary journey in search of just a few extra winks a night. It was an adventure that would teach him more about what exactly sleep is, why we need it, and what it means when we don't get enough of it.

In Snooze, McGirr delves into the mysterious world of sleep, including its many benefits, its stubborn elusiveness, and exactly what our brains really get up to while we're in bed. He offers readers a tour through the odd sleep patterns of some of history's greatest minds, including Aristotle, Homer, Shakespeare, Florence Nightingale, Thomas Edison, and more. He looks, too, at the demise of sleep in our increasingly fragmented modern world—and examines what that means for everyone from the Average Joe in the workplace to those with serious sleep disorders.

The result is both entertaining and enlightening—the perfect book for those sleepless nights.
Praise For Snooze…
"A thoughtful tour through the still dimly understood state of being asleep. Snooze is no snooze. A reflection of its author's evident intellect and charm."
— The New York Times Book Review

"Examines the way shut-eye—or lack of it—affects us on and off the pillow. If you're among the flock who counts sheep most nights, these pages reassure. As McGirr notes, 'Insomnia is nothing to lose sleep over.'"
— O Magazine

"A delightful eye-opener. Its blend of memoir, science history, mythological lore and cultural commentary is a constant delight."
— Seattle Times

"In urbane and graceful prose, McGirr successfully integrates autobiography, literary criticism, historical anecdote, popular science, low-key theology, and lucid social commentary. His gentle wisdom, born of broad life experience, imbues every sentence."
— The Australian

"A dynamic, multifaceted book that serves as an entertaining, philosophical lullaby for the deprived."
— Shelf Awareness

"A thoughtful series of meditations on the many aspects of sleep. A pleasantly mindful work for general readers who enjoy science as well as anyone seeking that elusive satisfying night's slumber."
— Library Journal

"With Snooze, Michael McGirr has, pardon the pun, produced a wake-up call about the fascinating yet little known history and science of sleep. A delightful read, Snooze takes on the one activity we spend the most time doing, yet still manages to surprise. It's one bedtime read that won't put you to sleep."
— Edward Humes, Pulitzer Prize–winning author of Door to Door and Garbology: Our Dirty Love Affair with Trash

"An eyes-wide-open look at the penumbral world of sleep. A good book to curl up with while pondering the mysteries of Morpheus."
— Kirkus Reviews

"The perfect book to take on a sleep retreat. That's in no way a suggestion that McGirr's tender memoir will bore you to snores. It's as entertaining as it is informative."
— Sydney Morning Herald

"A playful and alerting rumination on all that's restive from caffeine to kids. But here also is a book of philosophy, history, science, child rearing and good, old-fashioned devilry that is as subversively light and witty in tone as it is weighty in its impact and wisdom. It will keep you reading deep into the night — but without a single yawn."
— Jim Crace, author of the National Book Critics Circle Award winner Being Dead

"A shrewd and warm deliberation on a fascinating and underappreciated topic. McGirr's is a wise and friendly voice, often funny, self-deprecating and tongue-in-cheek, and his exploration of many differing attitudes is refreshingly non-judgmental."
— The Age
Pegasus Books, 9781681774190, 256pp.
Publication Date: June 6, 2017
About the Author
Michael McGirr is an essayist, reviewer, prize-winning short-story writer and teacher. A former Jesuit priest, he is also the author of Things You Get For Free and Bypass: The Story of a Road. He lives in Melbourne with his wife, Jenny, and their three rapidly growing children.
or
Not Currently Available for Direct Purchase