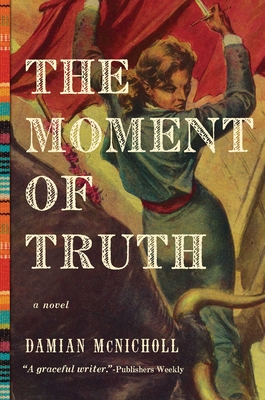 The Moment of Truth
Hardcover

* Individual store prices may vary.
Other Editions of This Title:
Paperback (5/8/2018)
Description
Inspired by true events, The Moment of Truth finds a Texan art student facing down life, death, love, and glory in the bullfighting rings of 1950s Mexico.

Kathleen Boyd has been dreaming about becoming a matador since her beloved father took her to the bullfighting ring when she was just a child. Now a young woman, her disapproving fiancé and her practical-minded mother see her dream only as a foolish flight of fancy. Nevertheless, Kathleen relocates to Mexico and finds herself under the instruction of Fermin, a retired matador who is intent on asserting his dominance in their partnership. Though taking on a female apprentice is unheard of, Fermin sees Kathleen's undeniable talent and promises that she'll one day perform at the prestigious Plaza Mexico bullring.

While Kathleen struggles to perform alongside the unwelcoming men of Mexico's bullfighting scene, she is befriended by Julio, better known as El Cabrito—The Kid.

As time passes, Kathleen's confidence in her ability increases—though so too do her suspicions of Fermin's intentions. She has become a sensation, but while Fermin gets rich, Kathleen's pay remains pitiful and her instructor's control over her life remains absolute. Will she always be a vehicle for another person's success? Or will she finally face her own moment of truth and seize the success that she has worked toward for so long, in a world that has always belonged to men?
Praise For The Moment of Truth…
"Fast-paced, suspenseful, authentic and inspiring, beautifully told and full of memorable characters. As I neared the final page, I kept wondering where McNicholl was going to take things and leave them. It is the same feeling I had reading The Grapes of Wrath for the first time. How could it be about anything more than their misery? And, of course, Steinbeck makes it about so much more; he executes one of the great endings—the perfect ending, really. So, I think, does Damian McNicholl. Simple and powerful."
— Huffington Post

"McNicholl's moving novel, rich in emotion and written with style and precision (the bullfighting scenes have the crisp clarity of Hemingway), strikes a fine balance between love story and historical adventure. Though he sets the book in another place and time and evokes both vividly, McNicholl uses the sensibilities of his heroine to give the story a very modern-seeming immediacy. This pairs well with Malcolm Brooks' Painted Horses."
— Booklist

"McNicholl vividly brings to life the bulls and the brute physicality of the art of bullfighting."
— Publishers Weekly

"A fresh perspective on female discrimination in the workplace. The material about bullfighting—its history, language (veronica, rebolera, farole) and the beautiful outfits—is fascinating."
— Kirkus Reviews

"This novel brims with authenticity. The obstacles in Kathleen's path are such that one can't help but root for her. Inspired by the first professional female bullfighter in North America, McNicholl not only creates a convincing character, he dramatizes through her ordeals the intricate art of bullfighting. An enjoyable read for those interested in the life of a woman determined to succeed in a man's world."
— Library Journal

"The highlight of McNicholl's story is his ability to capture the action of a scene with intimate detail as he builds an entire world around the bullfighting ring."
— Southwestern American Literature

"A triumphant celebration of women's equality and empowerment. McNicholl writes with equal grace about the art of bullfighting, the traditions of the matador de toros, and Kathleen's journey through love and heartbreak. While Kathleen's story will surely resonate with anyone who has struggled against society's views of traditional gender roles, it is filled with themes any reader can connect with. Knowing the story is based on real events made it all the more inspiring."
— Historical Novels Review

"Kathleen is delivered from these pages as a full human person, three-dimensional and dynamic. The story flows through her training and her personal life with an easy, engaging pace. Bullfighting's place in the world of performative art, as well as its morality, are discussed intelligently."
— Foreword Reviews

"Give this fast-paced, action-packed book to teens interested in rodeos, horses, and bullfighting, as well as fans of works about resilient protagonists willing to fight in order to follow their dreams."
— School Library Journal

"The Moment of Truth is the best book I've read on bullfighting in a long time. Damian McNicholl tells this story with consummate ease and compelling imagery. A book for aficionados and for those who want to feel what it's like to be a woman competing in the very masculine world of corrida."
— John Hemingway, writer, journalist, and bullfighting aficionado

"Life, death, love and bullfighting converge in McNicholl's shatteringly original novel about a young female art student struggling to be the first American matador in 1950's Mexico. So vivid, you can feel the heat prickling on the back of your neck, and so smartly written, it makes you rethink how we all really find our own truth and success."
— Caroline Leavitt, author of 'Cruel Beautiful World' and the New York Times Bestsellers 'Pictures of You' and 'Is This Tomorrow'

"Damian McNicholl's stunning novel unflinchingly tracks the journey of following one's dream and all the triumphs and setbacks that are a part of making that dream a reality—especially when the dreamer is a young woman determined to enter an all-male world. With a vibrant cast of characters and evocative prose, McNicholl brings the world of 1950s Mexico and the rarified circle of bullfighters to glorious life. By turns exhilarating and heartbreaking, The Moment of Truth is a story that goes in unexpected directions and is as memorable as it is unfailingly honest."
— Sarah-Jane Stratford, bestselling author of 'Radio Girls

"Through spare and touching prose, Damian McNicholl draws us into an arena inspired by history and transformed by imagination into a startlingly relevant story that will spark recognition for anyone whose passion and ambition has been challenged at every turn. In The Moment of Truth, McNicholl gives us Kathleen Boyd, a vital character full of fight; that he grants his protagonist a stance that bears true grit, power, and emotion, is an achievement worthy of resounding applause."
— Affinity Konar, author of 'Mischling,' a New York Times Notable Book

"Damian McNicholl is a natural storyteller, every detail, every twist, brilliantly deployed to keep you riveted to this tale of bullfighting, mid-century feminist dilemmas, romantic love, and power struggles of every kind. What a complete, compelling world I found within the covers of The Moment of Truth, a truly special novel of ideas, of feelings, and of such glorious descriptions you will feel happily, gratefully lost in 1950s Mexico."
— Robin Black, author of 'Life Drawing'
Pegasus Books, 9781681774268, 352pp.
Publication Date: June 6, 2017
About the Author
Damian McNicholl was born and raised in Northern Ireland and worked as an attorney in New York City. His critically acclaimed first novel, A Son Called Gabriel, won awards and recognition, including an ABA Booksense Pick, a Foreword Magazine Book of the Year Finalist, and a Lambda Literary Awards finalist in the debut novel category. He lives in Pennsylvania. Visit him at www.damianmcnicholl.com.
or
Not Currently Available for Direct Purchase