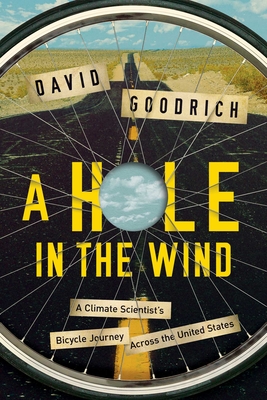 A Hole in the Wind
Hardcover

* Individual store prices may vary.
Other Editions of This Title:
Paperback (8/14/2018)
Description
An epic bicycle journey across the American hinterland that explores the challenges of climate change alongside a diverse array of American voices.

After a distinguished career in climate science as the Director of the UN Global Climate Observing System in Geneva, David Goodrich returned home to the United States to find a nation and a people in denial. Concerned that the American people are willfully deluded by the misinformation about climate that dominates media and politics, David thought a little straight talk could set things right.

Starting on the beach in Delaware, David rode his bike 4,200 miles to Oregon, talking with the people he met on the ultimate road trip. Along the way he learned a great deal about why climate is a complicated issue for many Americans and even more about the country we all share.

Climate change is the central environmental issue of our time. But A Hole in the Wind is also about the people and experiences Dave encountered as he rod, like the toddler's beauty pageant in Delaware, the tornado in Missouri, rust-belt towns and their relationship with fracking, and the uranium-poisoned ghost town in Wyoming. As he rides, David will discuss the climate with audiences varying from laboratories to elementary schools.

Beautifully simple, direct, and honest, A Hole in the Wind is a fresh, refreshing ride through a difficult and controversial topic, and a rich read that makes you glad to be alive.
Praise For A Hole in the Wind…
"A detail-rich chronicle of the half-dozen epic bike rides Goodrich has undertaken since 2000, including a 2011 cross-country trip. Goodrich is a good enough reporter—and a sufficiently gifted stylist—to make the miles fly by."
— Washington Post

"This cyclist's view of how things really are effectively cuts across head-butting arguments about global warming. A compelling narrative enlivened as much by the author's encounters on the road as by his skillful unfolding of scientific knowledge."
— Kirkus Reviews

"Goodrich peppers his narrative with historical anecdotes, environmental science asides, and lots of travel details."
— Publishers Weekly

"The text rolls along as easily as his heavily-laden bike must have on those welcome downhill stretches. For a summer read that engages, entertains, and also educates, I can't recommend anything better than A Hole in the Wind."
— The Daily Local

"At the end of a high-level career in climate science, David Goodrich cycled from Delaware to Oregon looking for a "hole in the wind" — a human future in the unrelenting march of climate change. Ultimately, he sees humanity's capacity for economic transformation and reform as up to the job."
— Nature

"Combining personal reflections with sobering environmental facts and figures he takes along with him, [Goodrich] exposes a pervasive streak of climate change denial in the U.S. and shares the best antidotes for politically motivated misinformation. Entertaining and instructive, Goodrich's travelogue showcases one man's heroic efforts to confront this century's greatest environmental crisis."
— Booklist

"A diverting memoir for long-distance bikers and hikers."
— Library Journal
Pegasus Books, 9781681774312, 304pp.
Publication Date: June 6, 2017
About the Author
David Goodrich is the former head of the National Oceanic and Atmospheric Administration's Climate Observations and Monitoring Program, and served as the Director of the UN Global Climate Observing System in Geneva, Switzerland. He is the author of A Hole in the Wind, which was a "One City, One Book" pick for San Francisco, and A Voyage Across an Ancient Ocean, also available from Pegasus Books. He lives in Rockville, Maryland.
or
Not Currently Available for Direct Purchase