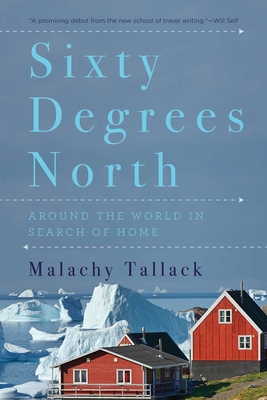 Sixty Degrees North
Around the World in Search of Home
Paperback

* Individual store prices may vary.
Other Editions of This Title:
Hardcover (10/1/2015)
Hardcover (7/12/2016)
Description
From the northern wilds of Greenland and Scotland to the far away reaches of Scandinavia and Siberia, a moving meditation on the allure of travel and the meaning of home.

The sixtieth parallel marks a borderland between the northern and southern worlds. Wrapping itself around the lower reaches of Finland, Sweden, and Norway, it crosses the tip of Greenland and the southern coast of Alaska, and slices the great expanses of Russia and Canada in half. The parallel also passes through Shetland, where Malachy Tallack has spent most of his life.

In Sixty Degrees North, Tallack travels westward, exploring the landscapes of the parallel and the ways that people have interacted with those landscapes, highlighting themes of wildness and community, isolation and engagement, exile and memory.

An intimate journey of the heart and mind, Sixty Degrees North begins with the author's loss of his father and his own troubled relationship with Shetland, and concludes with an embrace of the place he calls home.
Praise For Sixty Degrees North: Around the World in Search of Home…
"The book's real power comes from Tallack's poet's eye."
— New York Times Book Review

"A graceful account of northern peoples' relationship to their environment, and a thoughtful consideration on the meaning of home."
— Winnipeg Free Press

"Delves into the local culture, dispelling myths and seeking common bonds. The history is captivating and adds context to each place visited. This book balances history, travel, and culture on an interesting path around the world."
— Library Journal

"A promising debut from the new school of travel writing examines the significance of place and what it means to belong. This is a book about belonging. Tallack is one of a burgeoning group of young travel writers who have reinvigorated the genre with elements of psychogeography: the study of how places make us feel."
— The Guardian

"A memoir remarkable for its intimacy, wisdom, and radiant prose. Tallack renders descriptions of his emotional landscape as delicately as his painterly descriptions of the physical world. An enthralling meditation on place."
— Kirkus Reviews

"A new kind of travel writing that emphasizes and explores the relationship between people and place."
— Providence Journal

"A remarkable survey of cultures, climates and histories. [Tallack's] writing is thoughtfully composed, beautiful and often surprising. An extended meditation on longing and belonging, on personal ties to place and on the particular nature of a certain band of earth and sea."
— Shelf Awareness

"Malachy Tallack is the real deal, a writer given over to pure curiosity, honest witness and that most precious of gifts, an unselfconscious sense of wonder. Not just a vibrant new voice, but a wise, questioning and highly sophisticated talent."
— John Burnside, author of 'Waking Up in Toytown: A Memoir'

"It is a brave book...and a beautiful book."
— Robert Macfarlane, author of 'The Old Ways: A Journey on Foot'

"It is a brave book...and a beautiful book."
— Robert Macfarlane, author of 'The Old Ways: A Journey on Foot'

"Throughout his travels, Tallack beautifully sketches a sort of emotional geography of place, a yearning to connect with communities and landscapes."
— Dallas Morning News

"Elegant, meditative, and wry. Tallack takes the reader on some fascinating excursions."
— Gavin Francis, author of 'True North: Travels in Arctic Europe'

"A subtle, thoughtful study of life on the sixtieth parallel. Highly enjoyable."
— The Financial Times

"Although Sixty Degrees North is a book about a journey, and a very personal journey at that, it is one which provokes in the reader their own internal discussion about place, attachment, and what it means to be home."
— Elsewhere Journal
Pegasus Books, 9781681774619, 240pp.
Publication Date: August 15, 2017
About the Author
Malachy Tallack has written for the New Statesman, The Guardian, the Scottish Review of Books and many other publications. He won a New Writers Award from the Scottish Book Trust in 2014 and the Robert Louis Stevenson Fellowship in 2015. As a singer-songwriter, he has released four albums and an EP, and performed in venues across the United Kingdom. He is editor of the online magazine The Island Review and co-editor of Fair Isle: Through the Seasons. He is from Shetland and currently lives in Glasgow.
or
Not Currently Available for Direct Purchase