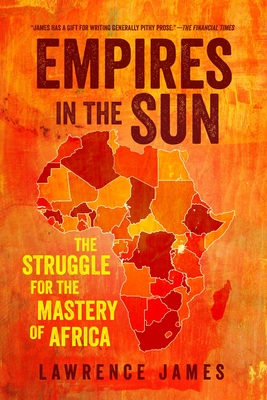 Empires in the Sun (Hardcover)
The Struggle for the Mastery of Africa
Pegasus Books, 9781681774633, 416pp.
Publication Date: June 6, 2017
Other Editions of This Title:
Paperback (5/8/2018)
* Individual store prices may vary.
Description
The one hundred year history of how Europe coerced the African continent into its various empires—and the resulting story of how Africa succeeded in decolonization.
In this dramatic (and often tragic) story of an era that radically changed the course of world history, Lawrence James investigates how, within one hundred years, Europeans persuaded and coerced Africa into becoming a subordinate part of the modern world. His narrative is laced with the experiences of participants and onlookers and introduces the men and women who, for better or worse, stamped their wills on Africa. The continent was a magnet for the high-minded, the adventurous, the philanthropic, the unscrupulous. Visionary pro-consuls rubbed shoulders with missionaries, explorers, soldiers, big-game hunters, entrepreneurs, and physicians.
Between 1830 and 1945, Britain, France, Belgium, Germany, Portugal, Italy and the United States exported their languages, laws, culture, religions, scientific and technical knowledge and economic systems to Africa. The colonial powers imposed administrations designed to bring stability and peace to a continent that appeared to lack both. The justification for occupation was emancipation from slavery—and the common assumption that late nineteenth-century Europe was the summit of civilization.
By 1945 a transformed continent was preparing to take charge of its own affairs, a process of decolonization that took a quick twenty years. This magnificent history also pauses to ask: what did not happen and why?
About the Author
Lawrence James was a founding member of the University of York and then took a research degree at Merton College, Oxford. After a distinguished teaching career he became a full-time writer in 1985 and has emerged as one of the outstanding narrative historians on the subject of empire, including The Rise and Fall of the British Empire and Churchill and Empire: Portrait of an Imperialist. He lives in England.
Praise For Empires in the Sun: The Struggle for the Mastery of Africa…
James' thorough, country-by-country examination provides a fresh and comprehensive understanding of how modern Africa was formed.

This is history written in the grand narrative style. James takes on a massive subject and addresses it in sweeping, muscular prose.

James's book covers a vast amount of territory. This is a solid work with little in the way of fluff.

James succeeds in concisely telling this history up until the end of apartheid and the fall of the Soviet Union. For all readers interested in a better understanding of modern Africa.

A superbly written history of the entire rise and fall of the European colonial empires on the Dark Continent, and a very well-illustrated one as well.  It comes at an opportune time.  A fine volume. Highly recommended.

A panoramic survey of imperial and then neo-colonial subjugation of the African continent between 1830 and 1990. A timely reminder of the devastating consequences of chauvinistic nationalism and expansionism. Remarkable.

A brisk, well-written and jaunty account of European empire-building in Africa. A timely reminder of the complexity of international politics, and the nuanced balance of forces that have shaped our modern world.
or
Not Currently Available for Direct Purchase