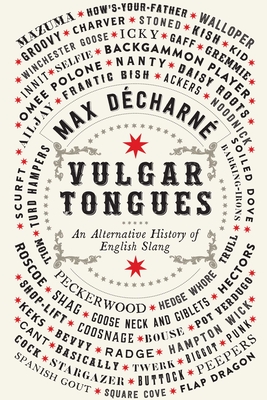 Vulgar Tongues
Hardcover

* Individual store prices may vary.
Other Editions of This Title:
Paperback (8/14/2018)
Description
This rollercoaster ride through the colorful history of slang—from highwaymen to hip-hop—is a fresh and exciting take on the subject: entertaining and authoritative without being patronizing, out-of-touch or voyeuristic.

Slang is the language of pop culture, low culture, street culture, underground movements and secret societies; depending on your point of view, it is a badge of honor, a sign of identity or a dangerous assault on the values of polite society. Of all the vocabularies available to us, slang is the most alive, constantly evolving and—as it leaks into the mainstream and is taken up by all of us—infusing the language with a healthy dose of vitality.

Witty, energetic and informative Vulgar Tongues traces the many routes of slang, beginning with the thieves and prostitutes of Elizabethan London and ending with the present day, where the centuries-old terms rap and hip-hop still survive, though their meanings have changed. On the way we will meet Dr. Johnson, World War II flying aces, pickpockets, schoolchildren, hardboiled private eyes, carnival geeks and the many eccentric characters who have tried to record slang throughout its checkered past.

If you're curious about flapdragons and ale passion, the changing meanings of punk and geek, or how fly originated on the streets of eighteenth-century London and square in Masonic lodges, this is the book for you.
Praise For Vulgar Tongues…
"Décharné's mind is a trivia trap of the first order, and the book is a bracing historical tour of the lexicons of sex, prostitution, crime, alcohol, drugs, popular music and military slang. The most significant achievement of this book is to show how closely related some of our offensive, obscene and informal language really is."
— New York Times Book Review

"A triumph of philological research and mordant social commentary."
— The Washington Post

"Whether discussing Geoffrey Chaucer or Johnny Depp's tattoos, Mr. De´charne´ proves, as he might put it, hip to the tip. He has stretched his lunch-hooks into some unlikely places in his quest for curious argot, and there's a whole lot of bizarre information in his fusebox (or his idea pot, if you prefer)."
— The Wall Street Journal

"A fascinating study. Décharné makes it absolutely clear that [slang] moves in waves through time from commonly expressed, to underground or forbidden, to aboveground again."
— Counterpunch

"Lovers of language will be engrossed by Décharné's excavation of the history of English-language slang. A well-stocked and exhaustively researched compendium."
— Publishers Weekly

"A breathtaking history and overview of English slang. Along with collections focused on linguistics and the history of the English language, this well-written volume will be of interest to general readers and others curious about popular culture. Highly recommended."
— Library Journal (starred)

"An erudite miscellany that tracks centuries of playful mutations endured by the English language. Bawdy and jive."
— Kirkus Reviews

"A spectacular feat, collating information from a mind-boggling range of sources—from jazz lyrics to dime novels, from 18th-century brothel directories to 1960s criminal autobiographies."
— New Statesman

"The chapters range over sex, crime, booze, drugs, war, politics, the armed forces, schools, everywhere that private languages develop and thrive. There are many good stories, and his chapters on music slang are the best."
— The Times (UK)
Pegasus Books, 9781681774640, 352pp.
Publication Date: June 6, 2017
About the Author
Max Décharné was born in England. He was a member of the band Gallon Drunk, and has been with his band The Flaming Stars since 1995. He lives in London and Berlin.
or
Not Currently Available for Direct Purchase