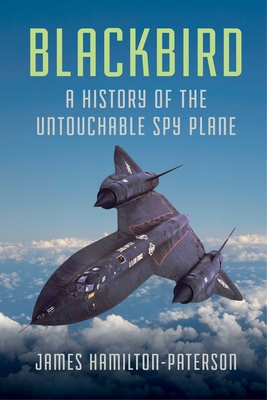 Blackbird
Hardcover

* Individual store prices may vary.
Other Editions of This Title:
Paperback (9/11/2018)
Description
The fascinating story of the spy plane SR-71 Blackbird—the fastest manned aircraft in the history of aviation.

The SR-71 Blackbird, the famed "spy" jet, was deliberately designed to be the world's fastest and highest-flying aircraft—and its success has never been approached since.

It was conceived in the late 1950s by Lockheed Martin's highly secret 'Skunk Works' team under one of the most (possibly the most) brilliant aero designers of all time, Clarence "Kelly" Johnson. Once fully developed in 1964, the Blackbird represented the apogee of jet-powered flight. It could fly at well over three times the speed of sound above 85,000 feet and had an unrefueled range of 3,200 nautical miles. It flew with great success until 1999). Despite extensive use over Vietnam and later battlefields, not one was ever shot down (unlike the U2 in the Gary Powers incident).

The Blackbird's capabilities seem unlikely ever to be exceeded. It was retired because its function can be performed by satellites—and in today's steady trend toward unmanned military aircraft, it is improbable that another jet aircraft of this speed and caliber will ever again be conceived.
Praise For Blackbird…
"When it zoomed into history in the late 1960s, the Blackbird was the fastest and most expensive plane ever to take off under its own power, soar on the lift provided by its own wings and land on its own tires. This is where Hamilton-Paterson shines. He explains this impossibly complex aircraft in terms that anyone can understand. Hamilton-Paterson relents a bit toward the end, quoting an SR-71 pilot to the effect that it was 'the greatest aircraft ever flown.' Indeed, it was. And wasn't that worth a few billion dollars?"
— The Wall Street Journal

"Fascinating. Thoroughly accessible to readers of all backgrounds and especially recommended for public library collections and aviation history connoisseurs."
— Midwest Book Review

"Documents not only the hardware development for the most famous spy plane in history but also the times and political history of the day. Written in easy-to-understand language, Hamilton-Paterson does an excellent job presenting the history of the SR-71 that all aviation lovers can enjoy. With 20 black-and-white and 19 color images, this publication is a great addition to any enthusiast's book collection."
— Flight Journal

"Tells its inherently vivid story with more sheer comprehensive energy than any previous English-language history has ever done. Hamilton-Paterson's storytelling skills are on point and gratifyingly varied—there isn't a dull page in this book. "
— Open Letters Monthly [Praise for James Hamilton-Paterson's Marked for Death]

"The account is enlivened by quotes from pilots' journals and letters home. Best of all, the author is a consummate storyteller; not only does the book tell a fascinating story, it is nearly impossible to put down."
— Kirkus Reviews (starred) [Praise for James Hamilton-Paterson's Marked for Death]

"A well-researched history of the air operations of WW1 from an unusual perspective. A high quality historical work which is at the same time highly readable. "
— Aerospace Magazine [Praise for James Hamilton-Paterson's Marked for Death]
Pegasus Books, 9781681775050, 232pp.
Publication Date: September 5, 2017
About the Author
James Hamilton-Paterson is the author of Empires of the Clouds, the classic account of the golden age of British aviation. He won a Whitbread Prize for his first novel, Gerontius. His most recent book was Marked for Death, a history of aerial combat during World War 1. He lives in Austria.
or
Not Currently Available for Direct Purchase