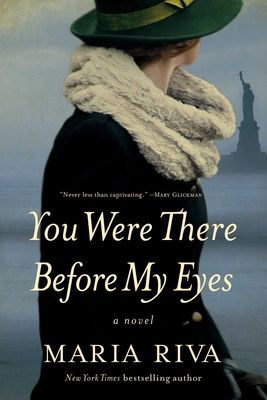 You Were There Before My Eyes
Hardcover

* Individual store prices may vary.
Other Editions of This Title:
Paperback, Large Print (4/1/2018)
MP3 CD (5/19/2020)
Compact Disc (5/19/2020)
Compact Disc (5/19/2020)
Paperback (9/11/2018)
Description
A richly imagined portrait of an immigrant woman in the heady and unpredictable first half of the twentieth century.

Sweeping and panoramic, You Were There Before My Eyes is the epic and intimate story of a young woman who chafes at the stifling routine and tradition of her small, turn-of-the-century Italian village. When an opportunity presents itself for her to emigrate to America, her hunger for escape compels her to leave everything behind for the gleaming promises that await her and her young husband in Mr. Ford's factories.

Determined to survive, and perhaps even thrive, young Jane finds herself navigating not just a new language and country, but a world poised upon the edge of economic and social revolution—and war. As Jane searches for inner fulfillment while building young family, the tide of history ebbs and flows. From the chaos of Ellis Island to the melting pot of industrial Detroit, You Were There Before My Eyes spills over with colorful characters and vivid period details. Maria Riva paints an authentic portrait of immigrant America and poignantly captures the ever evolving nature of the American dream.
Praise For You Were There Before My Eyes…
"The oft-heard truth that America is a country of immigrants comes alive in Riva's grand tale. Riva's flair for recreating the drama of such moments as the iceman's delivery and her nuanced capturing of the insecurities of naturalized immigrants combine to create a vivid reading experience. A timely and riveting reminder of the often-overlooked lessons of history in this vital tapestry of American immigrant life."
— Booklist (starred)

"A bravura performance by an author with a discerning eye, a faultless ear, and a warm heart. Maria Riva's winning prose paints a vivid portrait of the golden age of Henry Ford's automobile empire through the lives of his immigrant workers. Filled with nonstop action, a wealth of historical detail grounds strong personal narratives and the rousing drama of America's Melting Pot generation. Never less than captivating."
— Mary Glickman, National Jewish Book Award Finalist, author of One More River

"Riva, a first-time novelist at age 92, relates the pair's story in a series of connected vignettes taking place over several decades with a large cast of supporting characters representing a variety of immigrant experiences along the way."
— Library Journal

"A dazzling historical saga of love, adventure, war, hardship and discovery. Riva transporters her readers back to 1913 and the turbulent decades that follow. She skillfully weaves the story of the newcomers' experiences against a vivid backdrop in which rigid old world traditions clash with ideas about progress, good and bad, in a poignant chronicle that teems with exceptional attention to detail and a fascinating array of characters."
— Allan Levine, award-winning author of Fugitives of the Forest

"This poignant, richly-detailed story will surprise you again and again, moving deftly from themes of immigration, industrialization, and two World Wars to intimate re ections on the meaning of love and the evolution of a marriage. In the process of growing up, these characters stay stubbornly, bravely, true to whom they have always been."
— Sharman Apt Russell, winner of the John Burroughs Medal and Puschart Prize
Pegasus Books, 9781681775074, 448pp.
Publication Date: October 10, 2017
About the Author
Maria Riva was born in Berlin in 1924 and is the only child of Marlene Dietrich. Maria performed in Germany and Italy as part of a USO troupe during World War II and taught acting at Fordham University upon her return to the United States. She has performed on Broadway, radio, television, and film and has been nominated for an Emmy. Maria continues an active life in California and spends time visiting her sons and grandchildren.
or
Not Currently Available for Direct Purchase