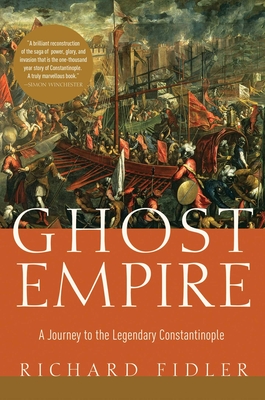 Ghost Empire
Hardcover

* Individual store prices may vary.
Other Editions of This Title:
Paperback (11/13/2018)
MP3 CD (4/1/2017)
Description
"A brilliant reconstruction of the saga of power, glory, and invasion that is the one-thousand year story of Constantinople. A truly marvelous book." —Simon Winchester

Ghost Empire is a rare treasure—an utterly captivating blend of the historical and the contemporary, narrated by a master storyteller. The story is a revelation: a beautifully written ode to a lost civilization combined with a warmly observed father-son adventure far from home.

In 2014, Richard Fidler and his son Joe made a journey to Istanbul. Fired by Richard's passion for the rich history of the dazzling Byzantine Empire—centered around the legendary Constantinople—we are swept into some of the most extraordinary tales in history. The clash of civilizations, the fall of empires, the rise of Christianity, revenge, lust, murder. Turbulent stories from the past are brought vividly to life at the same time as a father navigates the unfolding changes in his relationship with his son.
Praise For Ghost Empire…
"Fidler displays great charm in the telling of his tale, spicing it with delicious gossip."
— The New York Times Book Review

"Byzantium, Constantinople, and Istanbul—a three thousand year story of phantasms and delusions, of invasion, collapse, empire, decay, a tragic continuo of golden and grandiloquent hopelessness, an erotic magic-show poised at the sea-washed edges of Asia and Europe. All of this provides a canvas for Richard Fidler to reconstruct, quite brilliantly, a saga of power and glory that most of us vaguely remember, but few of us have had a chance fully to savor. Now, thanks to the stylish cleverness of an exceptionally curious and talented man, we can feast on what strange magic the city brought—and still brings today—to the world beyond. I am speechless with admiration."
— Simon Winchester

"Fidler's prose is lively and entertaining; he has a great affection for his subject and often describes it in a way that makes it seem magical. Strongly recommended for anyone interested in traveling to Istanbul and in its history."
— Library Journal (starred)

"Australian radio personality Fidler recounts a trip to Turkey with his son in this surprisingly diverting tome that elucidates the rise and fall of Nova Roma. Fidler colors the contours of ancient history while sharing personal reminiscences of his travels with his son."
— Publishers Weekly

"The author navigates fluidly from the city's founding by Constantine, the first Christian ruler, moving on to the significant rule of Justinian and his strong-willed wife, Theodora, construction of the Hagia Sophia, schisms, plagues, Crusades, sieges, and the creation of the 'deep state' that resonates today under Turkey's current authoritarian prime minister. Fidler provides a palpable sense of this glittering city built as 'a mirror of heaven.'"
— Kirkus Reviews

"Fidler's story leaves its readers with a sense of faith in the renewing, illuminating, social powers of historical narrative. The tale of the Ghost Empire has bridged the gap between a father and son, enriching the contemporary world with the echoes of the past. Byzantium never really died. Its labyrinthine—its byzantine—intrigues cast their shadows over the city still."
— Sydney Morning Herald
Pegasus Books, 9781681775111, 520pp.
Publication Date: September 5, 2017
About the Author
Richard Fidler presents "Conversations with Richard Fidler," an in-depth and personal radio program broadcast across Australia on ABC Radio. He has interviewed prime ministers, astronauts, writers, and scientists, but the program often features remarkable people who are unknown to the wider world. The program is the most popular podcast in Australia, with over a million downloaded programs every month. In another life, Richard was a member of Australian comedy trio the Doug Anthony Allstars (DAAS), which played to audiences all over the world. This is his first book.
or
Not Currently Available for Direct Purchase