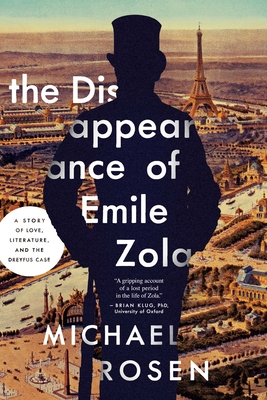 The Disappearance of Émile Zola
Love, Literature, and the Dreyfus Case
Hardcover

* Individual store prices may vary.
Other Editions of This Title:
Paperback (10/9/2018)
Paperback (1/4/2018)
Description
The incredible story of Émile Zola's escape to London in the aftermath of the scandalous Dreyfus Affair.

It is the evening of July 18, 1898 and the world-renowned novelist Émile Zola is on the run. His crime? Taking on the highest powers in the land with his open letter "J'accuse"—and losing. Forced to leave Paris with nothing but the clothes he is standing in and a nightshirt wrapped in newspaper, Zola flees to England with no idea when he will return.

This is the little-known story of Zola's time in exile. Rosen has traced Zola's footsteps from the Gare du Nord to London, examining the significance of this year. The Disappearance of Émile Zola offers an intriguing insight into the mind, the loves, and the politics of the great writer during this tumultuous era in his life.
Praise For The Disappearance of Émile Zola: Love, Literature, and the Dreyfus Case…
"The Dreyfus Affair and Zola's part in it retain their fascination. Mr. Rosen's chronicle addresses them from an interesting angle. The book reads easily and enjoyably and pays proper tribute to Zola's pertinacity and decency."
— The Wall Street Journal

"The Disappearance of Émile Zola recalls that Zola's habit of boundlessness continued during his exile, as his letters and works from that period demonstrate his reckoning with the politics and literature that remained swirling in his mind."
— New Criterion

"Rosen reminds readers of the price Zola paid for voicing the convictions of conscience when he took up the cause of Alfred Dreyfus. A profoundly humanizing account of a previously opaque literary-political episode."
— Booklist (starred)

"Remarkable. Rosen not only captures Zola's despair but also describes the inaccuracies found in newspaper accounts about his whereabouts. This work further reveals the divisiveness of French society during this period, exacerbated by the Dreyfus affair. For all readers interested in 19th-century France and French literature."
— Library Journal (starred)

"Michael Rosen's handsomely-written new book depicts with candor and vivacity the lengths at which one great artist fought for moral clarity."
— The Brooklyn Rail

"A thoughtful examination of anti-Semitism and French jurisprudence in the late 19th-century. The author also tells his story with great wit. Zola had a knack for turbulence, both in his fiction and in his personal life. This lively account documents one of the most turbulent and consequential episodes of all."
— Kirkus Reviews

"Absorbing."
— Publishers Weekly

"Not a dispassionate work of history but a homage to Zola for his fight against anti-Semitism. There is a certain charm in Rosen's portrayal of the great writer's solitary sojourn in south London."
— The Spectator (UK)

"Zola's slogan was 'Reality is Truth,' but how to find that reality? Rosen poses Zola's dilemma, naturalism or impressionism, interestingly. Thought-provoking."
— The Times (UK)

"A gripping account of a lost period in the life of Zola."
— Brian Klug, PhD, University of Oxford
Pegasus Books, 9781681775166, 320pp.
Publication Date: September 19, 2017
About the Author
Michael Rosen MA, PhD, is a poet, broadcaster, former Children's Laureate, and a recipient of one of France's top honors: Chevalier de l'Ordre des Arts et des Lettres. His children's book We're Going on a Bear Hunt has sold over 8 million copies. He has presented Radio 4's "Word of Mouth" since 1996 and his program "Zola in Norwood'" was broadcast on Radio 3 in 2015. He is Professor of Children's Literature at Goldsmiths, University of London.
or
Not Currently Available for Direct Purchase