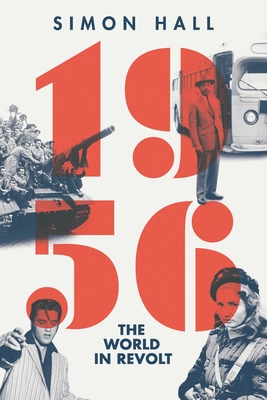 1956
The World in Revolt
Paperback

* Individual store prices may vary.
Other Editions of This Title:
Compact Disc (2/11/2020)
MP3 CD (2/11/2020)
Hardcover (9/6/2016)
Description
Vibrantly and perceptively told, this is the story of one remarkable year—a vivid history of exhilarating triumphs and shattering defeats around the world.

1956 was one of the most remarkable years of the twentieth century. All across the globe, ordinary people spoke out, filled the streets and city squares, and took up arms in an attempt to win their freedom.

In this dramatic, page-turning history, Simon Hall takes the long view of the year's events—putting them in their post-war context and looking toward their influence on the counterculture movements of the 1960s—to tell the story of the year's epic, global struggles from the point of view of the freedom fighters, dissidents, and countless ordinary people who worked to overturn oppressive and authoritarian systems in order to build a brave new world. It was an epic contest.

1956 is the first narrative history of the year as a whole—and the first to frame its tumultuous events as part of an interconnected, global story of revolution.
Praise For 1956: The World in Revolt…
"Hall succeeds admirably in presenting 1956 as a year that belongs in the same revolutionary tradition as 1848 and 1968."
— The Financial Times

"A marvelous social history of that year."
— The Guardian

"Fast-moving and vivid. Hall is a fluent and unobtrusive narrator."
— The Independent

"Taking an ambitious, panoramic view of a single year, Hall examines major events in postwar Europe, America, Africa, the Soviet Union, and the Middle East. Contemporary newspaper reports give the author's month-by-month narrative a vivid, you-are-there quality. An impressive history of a year's political tensions, necessarily limited in focus but still sweeping and in-depth."
— Kirkus Reviews

"Hall deals with the remarkable year of 1956 on the British, American, and world fronts in this nicely written account of opposition to established authority (and resistance—often brutal—to that dissent). Hall does a workmanlike job in putting it all together. He sheds light on some vital events that took place in a very short period of time."
— Booklist

"Hall captures the collective drama of the year 1956. Switching between multiple developments, Hall provides a dramatic and immersive narrative of a tumultuous year of oppression, revolt, and reaction in a decade often considered bland and docile."
— Publishers Weekly

"1956 is a study of revolution in action and in thinking. The parallels from continent to continent are nearly undeniable, and one can postulate from Simon's lively account that there was, if not a direct connection between all these happenings, certainly a notable ricochet effect."
— Bookreporter
Pegasus Books, 9781681775265, 528pp.
Publication Date: October 10, 2017
About the Author
Simon Hall studied history at Cambridge University and held a Fox International Fellowship at Yale, before moving to the University of Leeds to teach American history. His previous books for the academic market include Peace and Freedom: The Civil Rights and Antiwar Movements in the 1960s; American Patriotism, American Protest: Social Movements Since the Sixties; and Rethinking the American Anti-War Movement. 1956 is his first trade book. He lives in England.
or
Not Currently Available for Direct Purchase