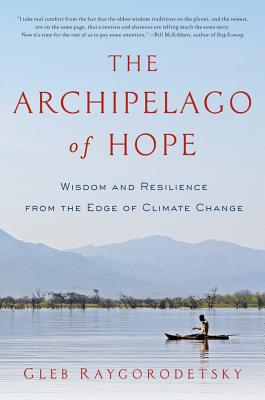 The Archipelago of Hope
Wisdom and Resilience from the Edge of Climate Change
Hardcover

* Individual store prices may vary.
Other Editions of This Title:
Paperback (12/11/2018)
Compact Disc (1/14/2020)
MP3 CD (1/14/2020)
Description
An enlightening global journey reveals the inextricable links between Indigenous cultures and their lands—and how it can form the foundation for climate change resilience around the world.
One cannot turn on the news today without a report on an extreme weather event or the latest update on Antarctica. But while our politicians argue, the truth is that climate change is already here. Nobody knows this better than Indigenous peoples who, having developed an intimate relationship with ecosystems over generations, have observed these changes for decades. For them, climate change is not an abstract concept or policy issue, but the reality of daily life.
After two decades of working with indigenous communities, Gleb Raygorodetsky shows how these communities are actually islands of biological and cultural diversity in the ever-rising sea of development and urbanization.  They are an "archipelago of hope" as we enter the Anthropocene, for here lies humankind's best chance to remember our roots and how to take care of the Earth. These communities are implementing creative solutions to meet these modern challenges. Solutions that are relevant to the rest of us.
We meet the Skolt Sami of Finland, the Nenets and Altai of Russia, the Sapara of Ecuador, the Karen of Myanmar, and the Tla-o-qui-aht of Canada. Intimate portraits of these men and women, youth and elders, emerge against the backdrop of their traditional practices on land and water. Though there are brutal realties?pollution, corruption, forced assimilation—Raygorodetsky's prose resonates with the positive, the adaptive, the spiritual—and hope.
Praise For The Archipelago of Hope: Wisdom and Resilience from the Edge of Climate Change…
Indigenous people around the world are the only ones with a track record of living in relative balance with their surroundings for thousands of years. There was never a more important time in human history for their perspective and wisdom. The Archipelago of Hope is extremely timely and informative as we confront the reality that the growth imperative of the technologically-driven global economy must be abandoned as we embrace the health of Mother Nature as the source of our survival and health.

— David Suzuki, winner of the UNESCO Kalinga Prize for Science and the United Nations Environmental Medal

As this fine book shows, indigenous communities and lands have been among the places hardest hit by climate change—so it should come as no surprise that around the world indigenous people have been in the absolute forefront of a fight for a liveable planet. I take real comfort from the fact that the oldest wisdom traditions on the planet and the newest are on the same page, that scientists and shamans are telling much the same story. Now it's time for the rest of us to pay some attention.
— Bill McKibben, author of DEEP ECONOMY

With a storyteller's gift, Raygorodetsky recounts visits with indigenous peoples from the Arctic to the Amazon, Southeast Asia to Canada, noting that the people who have had the least impact on the earth are suffering the most from human-accelerated climate changes. Raygorodetsky hopes that we can learn from their ways of living in sync with nature and forge more intelligent and compassionate public policies.

Filled with admiration for those at the center of his study, Raygorodetsky delivers a valuable addition for all environmental collections and readers interested in cultural studies and international relations.

An encouraging exploration of how ancestral wisdom and political savvy have led to positive environmental policies.

Few writers, anywhere in the world, know and understand the complex relationship indigenous people have with climate as well and deeply as Gleb Raygorodetsky. I am so gratified, and they should be as well, that he has finally put his knowledge and wisdom in one concise and ever-so-readable document.
— Mark Dowie, author of CONSERVATION REFUGEES

There is no better time then now for the world to learn from this important work by Gleb Raygorodetsky as he respectfully allows the Indigenous voices, those most impacted by climate change, to shine through in his writing.
— Sheila Watt Cloutier, Nobel Peace Prize nominee, author of THE RIGHT TO BE COLD

The Archipelago of Hope is at once a clarion call for action and an inspirational compendium of steps that indigenous peoples around the world are taking to address the world's changing climate. We have much to learn from the peoples whom Gleb Raygorodetsky has met and his elegant, evocative writing will immerse the reader in the places and experiences of those peoples.

— Eleanor Sterling, American Museum of Natural History

There could be no more accurate or prescient way to see our climatic future than through the eyes of Indigenous culture, people whose survival depends directly on the intimacy with which they interact with living systems. In Archipelago, longtime inhabitants of earth give us their eyes and ears, and we, who can be dumbfounded by an overwhelming onslaught of information, find a precious wisdom that is bestowed to those who patiently abide in the life of the world.

— Paul Hawken, New York Times bestselling author of "Blessed Unrest"

Exciting and hugely important. Raygorodetsky listens to the voices of those who are so often unheard and overlooked: the world's indigenous peoples. These people are also in possession of deep knowledge that will be needed for us to heal ourselves and the planet. Archipelago of Hope will be an important resource in the tumultuous years ahead.

— Scott Wallace, NEW YORK TIMES bestselling author of THE UNCONQUERED: In Search of the Amazon's Last Uncontacted Tribe and NATIONAL GEOGRAPHIC contributor

When Indigenous Peoples meet one another for the first time it's as if we've always known each other. Gleb's powerful and knowledgeable book captures that essence and the intimate ties we have to our Mother Earth. This book is like reading my own ancestry. We say that 'all things are connected' and these stories show us how related we all are.
— Patricia Cochrane, Inupiat Eskimo, Executive Director Alaska Native Science Commission

This finite blue-green planet creaks under growing pressure. Solutions must come from within: we will all need to find ways of living with a light touch on the planet, and yet at the same time, bring well-being and contentment. This fine book develops a much-needed narrative of hope. We should listen and learn.
— Dr. Jules Pretty, University of Essex

The Archipelago of Hope shares important stories and sophisticated biocultural strategies. I highly recommend this inspiring book, with warm, loving photographs and many other resources, to lead us to a better appreciation of the rich biocultural diversity of our shared world, and a more inclusive and humble approach to stewarding it through these times and into the future. 

— Dr. Rajindra K. Puri, University of Kent
Pegasus Books, 9781681775326, 336pp.
Publication Date: November 7, 2017
About the Author
Gleb Raygorodetsky is a Research Affiliate with the POLIS Project on Ecological Governance at the University of Victoria and the Executive Director of the Indigenous Knowledge, Community Monitoring and Citizen Science Branch of the Environmental Monitoring and Science Division within the Department of Environment and Parks, Government of Alberta. Gleb has traversed the far corners of the world, from the Brazilian Amazon to remote corners of Siberia, documenting the challenges of sustaining our biological and cultural heritage.  When not on assignment with National Geographic, he lives in Edmonton, Canada.  
All proceeds from the sale of The Archipelago of Hope will go toward  "The Archipelago of Hope Indigenous Resilience Fund," established through Land is Life (www.landislife.org), which will support the communities profiled in the book. 
or
Not Currently Available for Direct Purchase