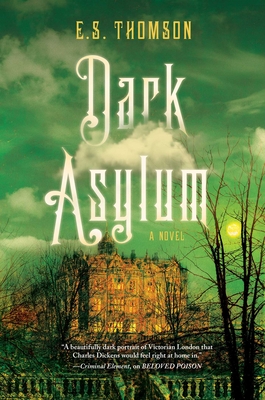 Dark Asylum
A Novel (Jem Flockhart Mysteries)
Hardcover

* Individual store prices may vary.
Other Editions of This Title:
Paperback (12/11/2018)
Library Binding, Large Print (6/1/2018)
Description
Set in a crumbling Victorian asylum where a gruesome murder is committed, this sequel to Beloved Poison explores the early science of brain study while giving chilling insight into an asylum's workings.

1851, Angel Meadow Asylum. Dr. Rutherford, principal physician to the insane, is found dead, his head bashed in, his ears cut off, his lips and eyes stitched closed. The police direct their attention towards Angel Meadow's inmates, but to Jem Flockhart and Will Quartermain the crime is an act of calculated retribution, rather than of madness.

To discover the truth Jem and Will must pursue the story through the darkest corners of the city—from the depths of a notorious rookery, to the sordid rooms of London's brothels, the gallows, the graveyard, the convict fleet and then back to the asylum. In a world where guilt and innocence, crime and atonement, madness and reason, are bounded by hypocrisy, ambition and betrayal, Jem and Will soon find themselves caught up in a web of dark secrets and hidden identities.
Praise For Dark Asylum: A Novel (Jem Flockhart Mysteries)…
"Thomson's captivating second Victorian mystery featuring apothecary Jem Flockhart showcases the author's talent for creating creepy and rewarding plot twists. Thomson makes the most of the asylum as a setting, eerily conveying its claustrophobic confines."
— Publishers Weekly (starred)

"Dark Asylum does for Victorian psychology (if such a word even applies to practices of the era) what Beloved Poison did for Victorian medicine, exposing the ignorant cruelty and indignities inflicted upon the mentally ill in a time when the idea of taking patients outside for leisure was revolutionary. Smart, spine-tingling and sprawling, this second outing shows Thomson has the staying power for a long and delightfully grotesque series."
— Shelf Awareness

"In this sequel to Beloved Poison, Thomson vividly portrays the wretchedness of various venues, from slums to prisons to brothels. A darkly atmospheric historical mystery."
— Booklist

"After a while the Grand Guignol effects start to get under your skin—unless that's just the leeches crawling out of their jar."
— Marilyn Stasio, The New York Times Book Review [Praise for E.S. Thompson's Beloved Poison]

"Rich atmospherics and a Dickensian portrayal of the underbelly of Victorian London elevate Thomson's superb whodunit above most other historical debuts. Thomson excels in evoking the claustrophobic feel of the back alleys Jem must tread in search of the truth."
— Publishers Weekly (starred) [Praise for E.S. Thompson's Beloved Poison]

"This outstanding debut historical enthralls with its meticulously researched details of 19th-century hospitals; the result is a dismal portrait of unrelenting bleakness that will make readers grateful to be living in the 21st century. This is Showtime's Penny Dreadful, brought to life!"
— Library Journal (starred) [Praise for E.S. Thompson's Beloved Poison]

"A beautifully dark portrait of Victorian London that Charles Dickens would feel right at home in. With macabre portrayals of anatomy, science, and death, this Dickensian crime novel is not to be missed, especially if you're missing Showtime's Penny Dreadful and are looking to fill the loss."
— Criminal Element [Praise for E.S. Thompson's Beloved Poison]
Pegasus Crime, 9781681775395, 384pp.
Publication Date: November 7, 2017
About the Author
E. S. Thomson has a Ph.D. in the history of medicine and works as a university lecturer in Edinburgh. Her work has been shortlisted for the Saltire First Novel Award and the Scottish Arts Council First Book Award. Beloved Poison was shortlisted for the Scottish Crime Novel of the Year Award, and Dark Asylum was longlisted for the Crime Writers' Association Historical Dagger Award. Elaine lives in Edinburgh with her two sons.
or
Not Currently Available for Direct Purchase