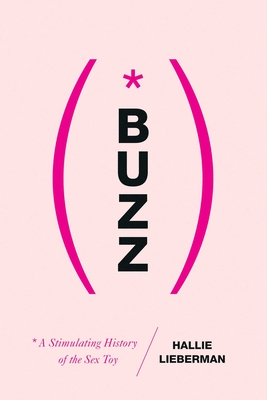 Buzz
The Stimulating History of the Sex Toy
Hardcover

* Individual store prices may vary.
Other Editions of This Title:
Paperback (3/12/2019)
Description
In the vein of Mary Roach's Bonk, a brilliant microhistory of the sex toy that ultimately tells the story of our changing sexual mores and evolving cultural values.

Once only whispered about in clandestine corners, vibrators have become just another accessory for the suburban soccer mom. But how did these once-taboo toys become so socially acceptable? The journey of the devices to the cultural mainstream is a surprisingly stimulating one.

In Buzz, Hallie Lieberman traces the tale from lubricant in Ancient Greece to the very first condom in 1560 to advertisements touting devices as medical equipment in 19th-century magazines. She looks in particular from the period of major change from the 1950s through the present, when sex toys evolved from symbols of female emancipation to tools in the fight against HIV/AIDS to consumerist marital aids to today's mainstays of pop culture. The story is populated with a cast of vivid and fascinating characters including Dell Williams, founder of the first feminist sex toy store; Betty Dodson, whose workshops helped 1960s women discover vibrators; and Gosnell Duncan, a paraplegic engineer who invented the silicone dildo. And these personal dramas are all set against a backdrop of changing American attitudes toward sexuality, feminism, LGBTQ issues, and more.

Both educational and titillating, Buzz will make readers think quite differently about those secret items hiding in bedside drawers across the nation.
Praise For Buzz: The Stimulating History of the Sex Toy…
"A wealth of well-researched and thoughtful social context on the development of the self-stimulation device from antiquity to today."
— New York Times Book Review

"Buzz takes readers along for the long, hard journey (sorry, sorry) that led to the creation of the modern sex toy."
— New York Magazine

"In Buzz, Hallie Lieberman reveals the fascinating role that sex toys played in the burgeoning feminist movement of mid-century America. Lieberman's history is an informative journey that goes from taboo to transcendence."
— Shelf Awareness

"A fascinating account of the way sex toys have touched feminists, queer communities, and American perceptions of sexuality."
— Publishers Weekly

"The unexpected and under-appreciated history of sex toys. A sharp commentary on contemporary society's ever changing sexual landscape and how sex is perceived, judged, accepted, and enjoyed with more variations than ever before. Provocative, illuminating, and consistently entertaining."
— Kirkus Reviews

"Lieberman's diverting book is as much a study of sexual mores — and hypocrisy — in the United States, as it is the story of a multi-million dollar industry. A jauntily written, illuminating history."
— The Spectator

"While you might think it'd be titillating with maybe a few nudge-nudge-winks, that's not the case. Lieberman doesn't do that to her readers. Instead, what you get is exactly what its subtitle promises: Buzz is a history of sex toys from ancient times to modern day and their use by straight people, the disabled, the LGBT community, and feminists. This isn't a book to shock—it's meant to inform and that's accomplished, enjoyably. The prurient, the curious and pop-culture fans will love Buzz, no batteries required."
— Washington Blade

"A lively exploration of the history of sex toys. Lieberman, who has a Ph.D. on the subject, follows the journey of erotic toys—once taboo—into the cultural mainstream, telling the story of changing social mores and attitudes."
— New York Post (This week's must-read books)

"An engaging survey of a largely unconsidered history, Hallie Lieberman's Buzz gives America the long-overdue backstory to the grownup contents of its nightstand drawers with the flair of a practiced storyteller and the research of a well-trained historian."
— Hanne Blank, author of 'Straight: The Surprisingly Short History of Heterosexuality' and 'Virgin: The Untouched History'

"Initially, her plan for Buzz was to offer an in-depth examination of objects, not people, Lieberman says. But readers will find that the majority of her book is dedicated to a colorful cast of characters who have shaped the sex-toy industry in America since the 1950s."
— The Washington Post

"Fascinating. Buzz taught me I have brave and creative erotic business pioneers to thank for the wide array of sex toys on the market—and that I'm not risking jail time for owning a drawer full."
— Rachel Kramer Bussel, Editor, Come Again: Sex Toy Erotica

"A masterclass in how to make academic writing engaging and relevant. From Ancient Greece to Fifty Shades via a profusion of frustrated conservative attempts to police sexual activity, Buzz is at once historical survey and manifesto. Lieberman's style is simultaneously informed and informal, often very, very funny, and occasionally deeply poignant."
— Emma Rees, author of "The Vagina: A Literary and Cultural History"

"In this penetrating text, scholar Hallie Lieberman explores how the history of the vibrator is linked to the history of women's sexual freedom."
— Bust
Pegasus Books, 9781681775432, 384pp.
Publication Date: November 7, 2017
About the Author
Hallie Lieberman obtained her PhD from the University of Wisconsin-Madison in 2014, with a dissertation on Sex Toy History. Her writing has been published in Bitch, Bust, Eater, The Forward, and Inside Higher Ed, among others. She has given talks at many university events and conferences. She lives in Atlanta, Georgia.
or
Not Currently Available for Direct Purchase