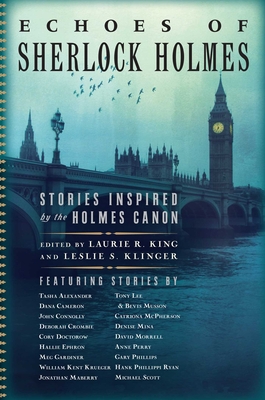 Echoes of Sherlock Holmes
Stories Inspired by the Holmes Canon
Paperback

* Individual store prices may vary.
Other Editions of This Title:
MP3 CD (10/11/2016)
Compact Disc (10/11/2016)
Description
In a stunning follow-up to the acclaimed In the Company of Sherlock Holmes, Laurie R. King and Leslie S. Klinger present a brand-new anthology of stories inspired by the Arthur Conan Doyle canon.

Echoes of Sherlock Holmes puts forth the question: What happens when great writers/creators who are not known as Sherlock Holmes devotees admit to being inspired by Conan Doyle stories? While some of these talented authors are highly-regarded mystery writers, others are best known for their work in the fields of fantasy or science fiction. All of them, however, share a great admiration for Arthur Conan Doyle and his greatest creations, Sherlock Holmes and Dr. Watson.

Some stories tell of Holmes himself (in Victorian Baker Street or modern New York, in various guises or a different gender), while others explore various Conan Doyle characters.

Although not a formal collection of new Holmes stories (though some do fit that mold), these tales are inspired by the Conan Doyle canon. The results are breathtaking—for long-time fans of Holmes and Watson, for readers new to Doyle's writing, and for all readers who love exceptional storytelling. Featuring stories by Tasha Alexander, Cory Doctorow, Hallie Ephron, Meg Gardiner, William Kent Krueger, Jonathan Maberry, Catriona McPherson, David Morrell, Anne Perry, Hank Phillippi Ryan, and more.
Praise For Echoes of Sherlock Holmes: Stories Inspired by the Holmes Canon…
"A most enjoyable and intriguing book"
— The Washington Times

"If you are a fan of Sir Arthur Conan Doyle's consulting detective series, you owe it to yourself to read this collection. I found myself laughing with delight, and turning pages with trembling fingers, driven to see what came next as each new author spun a tale related, in some way, to Conan Doyle's immortal characters. The reader is sure to be amazed, delighted and entertained from one end of the book to the other."
— The Oklahoman

"Every fan will find different reasons to cheer. And they'll all marvel at the inventive range of this salute to the greatest of all fictional detectives."
— Kirkus Reviews

"A treasure."
— Newark Star-Ledger

"A winner for fans of classic mysteries and a complete joy for Holmes fanatics."
— Bookreporter

"This new anthology will obviously appeal to long-time fans of Holmes, as well as those readers who enjoyed the two earlier collections. If those previous collections passed you by, pick up this latest and experience how Holmes and Watson have influenced such a wide-ranging assortment of authors."
— Bookgasm

"King and Klinger's strong third Sherlockian anthology features 17 stories from leading authors who draw on Conan Doyle's work for inspiration. The end result is a rich variety of entries."
— Publishers Weekly

"Yet another outstanding collection of stories (following the widely acclaimed In the Company of Sherlock Holmes) paying homage to the great detective Sherlock Holmes. A powerhouse of a collection, sure to please even the most particular Sherlockian."
— River Heights Book Review
Pegasus Crime, 9781681775463, 368pp.
Publication Date: November 14, 2017
About the Author
Laurie R. King is the New York Times bestselling author of numerous books, including the Mary Russell-Sherlock Holmes stories. She has won or been nominated for a multitude of prizes, has been chosen as the guest of honor at several crime conventions, and is probably the only writer to have both an Edgar Award and an honorary doctorate in theology. She was inducted into the Baker Street Irregulars in 2010.

Leslie S. Klinger is one of the world's foremost authorities on Sherlock Holmes. He is the editor of the three-volume The New Annotated Sherlock Holmes. The first two volumes, The Complete Short Stories, won the Edgar for Best Critical/Biographical work. He is also the editor of the hugely successful The New Annotated H. P. Lovecraft. Klinger is a member of the Baker Street Irregulars and lives in Malibu, California.
or
Not Currently Available for Direct Purchase