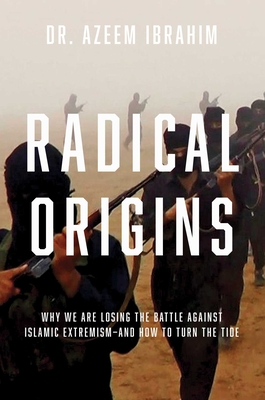 Radical Origins (Hardcover)
Why We Are Losing the Battle Against Islamic Extremism?And How to Turn the Tide
Pegasus Books, 9781681775487, 336pp.
Publication Date: November 7, 2017
Other Editions of This Title:
Paperback (2/12/2019)
* Individual store prices may vary.
Description
Piercing and hard-hitting, an international expert pin-points the menacing rise of a radical ideology that is fueling ISIS and terror cells world-wide.
More than thirteen years ago after the "War on Terror" was declared, many in the West now feel less secure than ever before. Many security experts believe global Jihad is on the rise throughout the West, and yet these same experts do not know how to stop the rising tide.
Military action abroad and police action at home have only attended to the symptoms of terrorism, not the cause. The root, according to Dr. Ibrahim, is actually the extreme ideology of Wahhabism—the puritanical, reactionary, isolationist, xenophobic, and bigoted sect of Sunni Islam that has been the ideological bedrock of the state of Saudi Arabia since its original rise in the 18th Century.
Foreign policy, socio-economic factors, alienation, and identity are often invoked in explaining the rise in radicalization, and while they do have a role to play, these are secondary factors. The primary cause is ideology, and Dr. Ibrahim places the origins of this radical extremism in historic context in a cogent manner, while also articulating specific policy goals and social action points going forward.  Much of it hinges on altering decades of geopolitics regarding Saudi Arabia.
In his groundbreaking Radical Origins, Dr. Ibrahim will provide an accessible primer on radicalism, an understanding of jihadist history, and a way forward, debunking misconceptions about Islam and this jihadist offshoot along the way. This remarkable work culminates in a powerful body of evidence about how to contain, reduce, and stop the spread of radicalization once and for all.
About the Author
Dr. Azeem Ibrahim earned his doctorate at Cambridge University and has lectured at the U.S. Army War College, Harvard, Yale, and the University of Chicago. He was the CEO of a global consultancy firm and worked in international finance before turning to policy work. He is the author of several academic papers and has written for the Los Angeles Times, Newsweek, Foreign Policy and CBS News.  He has advised the U.S. Senate Foreign Relations Committee, the Pentagon, the National Security Council, the U.S. State Department, and more.  He is currently a fellow at Oxford University and splits his time between the U.S. and the United Kingdom.
Praise For Radical Origins: Why We Are Losing the Battle Against Islamic Extremism?And How to Turn the Tide…
In a book that is part chronological religious history and part contemporary political science, Ibrahim offers a refreshingly nuanced approach rather than a jeremiad. Throughout the book, the author writes clearly and accessibly, and he provides summaries at the end of each chapter. His section on the antidotes to violence is especially lucid. Required reading for those who want to understand the connections between Muslims and terrorism.
A factual history of where it all went wrong in the Islamic world.
Ibrahim's perspective and insights are central to our discussion. His contributions undoubtedly make this one of the most substantive dialogues to date.
— Madeleine Albright
The work that Ibrahim has undertaken and published is serious and high quality. The analysis and rigor he brings will provide a firm platform for actions by the professions and government over the years ahead.
— Gordon Brown
Praise for Dr. Azeem Ibrahim
Ibrahim has a unique and valuable perspective on security strategy and counter-terrorism, and I believe would be a major contributor to public discourse and policy formulation in the area of fighting extremism.
— Michael Chertoff, former United States Secretary of Homeland Security
or
Not Currently Available for Direct Purchase