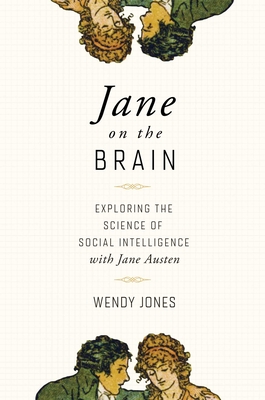 Jane on the Brain
Exploring the Science of Social Intelligence with Jane Austen
Hardcover

* Individual store prices may vary.
Other Editions of This Title:
Digital Audiobook (12/4/2017)
Paperback (2/12/2019)
Compact Disc (12/5/2017)
Compact Disc (12/5/2017)
MP3 CD (12/5/2017)
Description
An Austen scholar and therapist reveals Jane Austen's intuitive ability to imbue her characters with hallmarks of social intelligence—and how these beloved works of literature can further illuminate the mind-brain connection.

Why is Jane Austen so phenomenally popular? Why do we read Pride and Prejudice again and again? Why do we delight in Emma's mischievous schemes? Why do we care that Anne Elliot of Persuasion suffers?

We care because it is our biological destiny to be interested in people and their stories—the human brain is a social brain. And Austen's characters are so believable, that for many of us, they are not just imaginary beings, but friends whom we know and love. And thanks to Austen's ability to capture the breadth and depth of human psychology so thoroughly, we feel that she empathizes with us, her readers.

Humans have a profound need for empathy, to know that we are not alone with our joys and sorrows. And then there is attachment, denial, narcissism, and of course, love, to name a few. We see ourselves and others reflected in Austen's work.

Social intelligence is one of the most highly developed human traits when compared with other animals How did is evolve? Why is it so valuable? Wendy Jones explores the many facets of social intelligence and juxtaposes them with the Austen cannon.

Brilliantly original and insightful, this fusion of psychology, neuroscience, and literature provides a heightened understanding of one of our most beloved cultural institutions—and our own minds.
Praise For Jane on the Brain: Exploring the Science of Social Intelligence with Jane Austen…
"A psychotherapist and an English professor, Jones wears both hats simultaneously to describe why Jane Austen's novels appeal to the human brain, which craves sociability."
— New York Times Book Review (New & Noteworthy)

"Recommended for Janeites and general readers interested in social intelligence—one needn't be a huge Austen fan to enjoy this odd combo. Particularly recommended for those who would delight in using the DSM-5 to diagnose Persuasion's Sir Walter Elliot with narcissistic personality disorder."
— Library Journal

"Brilliantly original and insightful, this fusion of psychology, neuroscience, and literature provides a heightened understanding of one of our most beloved cultural institutions—and our own minds."
— Paste (Best Books of December)

"A fascinating mash-up of literary analysis and neuroscience. Highly recommended for Austenites and pop-psychology fans, as both will find plenty of original, acute concepts to pore over."
— Booklist

"Being a Jane Austen fanatic isn't required for appreciating this fascinating book; Jones, a psychotherapist and former English professor, will win over the initially unconverted by the book's end. Readers will find this book well worth the generous investment of time required and finish it better informed about both the science behind human behavior and the artistry behind Austen's work."
— Publishers Weekly

"Jones has created an absorbing study of the ways our most beloved characters teach us about human interactions and social settings. An accessible introduction to the science of mind and the history of behavioral psychology, written in a warm, engaging, personal style."
— Historical Novels Review

"Drawing on psychology and neuroscience, Jones shows that Austen's works were ahead of their time in terms of how they portrayed social relationships. In other words, it offers a scientific explanation for why we're so obsessed with Emma, Elizabeth, and Anne."
— Real Simple
Pegasus Books, 9781681775548, 336pp.
Publication Date: December 5, 2017
About the Author
Wendy Jones is a practicing psychotherapist and former English professor known for her work on the connection between literature and the mind-brain sciences. Jones received her Ph.D. in English Literature from Cornell University and subsequently was Senior Lecturer and a Fellow at the Society for the Humanities at Cornell and she has been a Visiting Professor at Williams College, University of Rochester, and Syracuse University. She lives in Ithaca, New York.
or
Not Currently Available for Direct Purchase