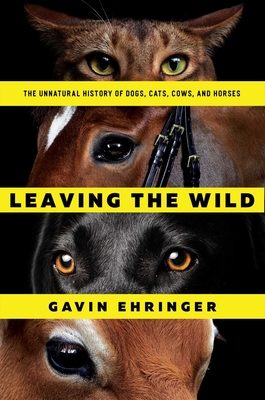 Leaving the Wild
The Unnatural History of Dogs, Cats, Cows, and Horses
Hardcover

* Individual store prices may vary.
Other Editions of This Title:
Paperback (3/12/2019)
Description
A thought-provoking and surprising book that explores the ever-evolving relationship between humans and domesticated animals.

The domestication of animals changed the course of human history. But what about the animals who abandoned their wild existence in exchange for our care and protection? Domestication has proven to be a wildly successful survival strategy. But this success has not been without its drawbacks. A modern dairy cow's daily energy output equals that of a Tour de France rider. Feral cats overpopulate urban areas. And our methods of breeding horses and dogs have resulted in debilitating and sometimes lethal genetic diseases. But these problems and more can be addressed, if we have the will and the compassion.

Human values and choices determine an animal's lot in life even before he or she is born. Just as a sculptor's hands shape clay, so human values shape our animals—for good and or ill. The little-examined, yet omnipresent act of breeding lies at the core of Gavin Ehringer's eye-opening book. You'll meet cows cloned from steaks, a Quarter horse stallion valued at $7.5 million, Chinese dogs that glow in the dark, and visit a Denver cat show featuring naked cats and other cuddly mutants. Is this what the animals bargained for all those millennia ago, when they first joined us by the fire?
Praise For Leaving the Wild: The Unnatural History of Dogs, Cats, Cows, and Horses…
"Animal devotees will be eager to explore Ehringer's interpretative research that blends a mixture of natural history, human history, personal experience and science. His engrossing study presents ways humans can set and maintain high ethical and moral standards for the breeding and care of our animal partners now and in the future."
— Shelf Awareness

"Through four case studies, Leaving the Wild reveals the extent to which humans over the millennia have drastically altered domesticated animals' lives and created ethical quandaries that are now difficult to resolve. As a cowboy, horseman and dog trainer, Ehringer brings an engaging voice to his topic."
— Washington Post

"Solid, well-reported popular science for animal lovers."
— Kirkus Reviews

"Ehringer writes about the different ways dairy cattle are maintained, the 1980s craze for Arabian horses, the problem of feral-cat colonies, and the ongoing issues surrounding the dog known as the pit bull, fodder for Ehringer's tracing of the part humans have played in the unnatural history of domestic animals."
— Booklist (starred)

"Humans have bred animals for centuries. It's only in recent times that our motives, techniques, and results have come into serious question. Gavin Ehringer's Leaving the Wild is a timely compendium of breeding as it spans various species, with suggestions for regaining much-needed balance in the breeder-animal relationship."
— Kim Kavin, author of The Dog Merchants and Little Boy Blue

"Domestication is a two-edged sword. There's no denying that many dogs, cats, and even horses live like royalty in our homes. But that's not always the case. Sometimes the animals we love su er greatly. Leaving the Wild is a powerful entreaty to animal lovers everywhere to improve the lives of the animals in our care by adopting more compassionate breeding standards. I agree wholeheartedly."
— Wendy Williams, New York Times bestselling author of The Horse

"Anybody at all interested in the animals closest to us—dogs, cats, cows, and horses—will want to read Gavin Ehringer's Leaving the Wild. In a romp that is part natural and social history, and part personal storytelling, Ehringer takes us from a story of a scientist who decided to clone cattle from a prime steak to how the internet fueled the millennial generation's cat craze. A highly enjoyable read."
— Peter Heller, bestselling author of The Dog Stars and Celine

"Gavin Ehringer has written a lively and entertaining book on four of the species most commonly found living with humans: dogs, cats, cattle, and horses. No domesticated species has ever gone extinct, but the current state of domesticated animals is not wholly favorable, either. Ehringer has a good instinct for statistics as well as sharp observations that bring home the pitfalls and benefits of domestication."
— Pat Shipman, author of The Animal Connection and The Invaders

"Ehringer interweaves his extensive first-hand experiences of domestic animals with a fascinating account of their history, taking the reader right through to today's mix of sentiment and outright exploitation. Thought-provoking and controversial, this book pulls no punches in exposing the paradoxes implicit in our relationships with 21st century animals."
— John Bradshaw, author of Dog Sense, Cat Sense, and The Animals Among Us

"A fascinating account, taking the reader right through to today's mix of sentiment and outright exploitation. This book pulls no punches in exposing the paradoxes implicit in our relationships with twenty-first century animals."
— John Bradshaw, author of The Animals Among Us
Pegasus Books, 9781681775562, 336pp.
Publication Date: December 5, 2017
About the Author
Award-winning journalist Gavin Ehringer is a former cowboy, a horseman, and a dog trainer. He's written for a wide range of animal publications, including Western Horseman, The Chronicle of the Horse, Dog Fancy, Dogster, and is the author of five animal-related books over a career that spans thirty years. He lives in Colorado Springs.
or
Not Currently Available for Direct Purchase