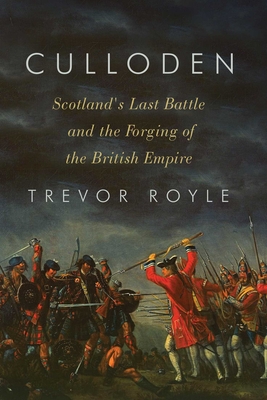 Culloden (Paperback)
Scotland's Last Battle and the Forging of the British Empire
Pegasus Books, 9781681775678, 432pp.
Publication Date: December 12, 2017
Other Editions of This Title:
MP3 CD (1/3/2017)
Hardcover (11/8/2016)
Compact Disc (1/3/2017)
* Individual store prices may vary.
Description
A vigorous and authoritative history of last major battle fought between Scottish and English forces, ending all hope of the Stuarts reclaiming the throne and forming the bedrock for the creation of the British Empire.
The Battle of Culloden in 1746 has gone down in history as the last major battle fought on British soil: a vicious confrontation between the English Royal Army and the Scottish forces supporting the Stuart claim to the throne. But this wasn't just a conflict between the Scots and the English: the battle was also part of a much larger campaign to protect the British Isles from the growing threat of a French invasion.
In Trevor Royle's vivid and evocative narrative, we are drawn into the ranks, on both sides, alongside doomed Jacobites fighting fellow Scots dressed in the red coats of the Duke of Cumberland's Royal Army.  And we meet the Duke himself, a skilled warrior who would gain notoriety because of the reprisals on Highland clans in the battle's aftermath.  Royle also takes us beyond the battle as the men of the Royal Army, galvanized by its success at Culloden, expand dramatically and start to fight campaigns overseas in America and India in order to secure British interests.  We see the revolutionary use of fighting techniques first implemented at Culloden, and we see the creation of professional fighting forces.
Culloden changed the course of British history by ending all hope of the Stuarts reclaiming the throne, cementing Hanoverian rule and forming the bedrock for the creation of the British Empire. Royle's lively and provocative history looks afresh at the period and unveils its true significance, not only as the end of a struggle for the throne but the beginning of a new global power.
About the Author
Trevor Royle is a well-known writer and broadcaster specializing in military history. His previous books include Crimea, The Civil War: The War of the Three Kingdoms, and The Wars of the Roses. He is a script writer for the BBC and a columnist for the Edinburgh Sunday Herald, writing on international affairs and defense-related topics. He is a Fellow of the Royal Society of Edinburgh.
Praise For Culloden: Scotland's Last Battle and the Forging of the British Empire…
Brilliant and engaging, Royle places Culloden and its aftermath into its true military and social context. The narrative is alive with a passion for the subject. A marvelous introduction to Culloden for a wide range of readers, this book deserves a place in all types of library collections.

This lively, exciting book is the perfect introduction to Culloden and why it matters. Trevor Royle, a military historian, is a lucid, elegant writer who excels at explaining the tactics and techniques of warfare and the dynamics of battle.

A good, reliable history of the wars that ended in 1763 with the resounding British victories that led to the Treaty of Paris. Separate chapters covering the fighting in Europe, North America, and India feature first-rate accounts of the major battles at Plassey, Minden, and Quebec.

Refreshing, incisive… Royle's vivid narrative of the Jacobite rebellion resembles a picaresque novel.
— Lawrence James

Excellent account.
— Alex Massie
or
Not Currently Available for Direct Purchase