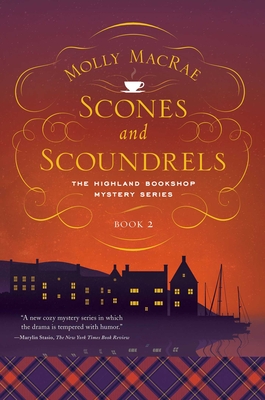 Scones and Scoundrels (Hardcover)
The Highland Bookshop Mystery Series: Book 2
Pegasus Books, 9781681776200, 288pp.
Publication Date: January 2, 2018
Other Editions of This Title:
Paperback (4/9/2019)
MP3 CD (1/1/2018)
Compact Disc (1/1/2018)
Pre-Recorded Audio Player (2/1/2018)
Library Binding, Large Print (3/7/2018)
* Individual store prices may vary.
Description
The new mystery in the Highland Bookshop series, bringing together a body outside a pub, a visiting author determined to find the killer, and a murderously good batch of scones . . .
Inversgail, on the west coast of the Scottish Highlands, welcomes home native daughter and best-selling environmental writer Daphne Wood. Known as the icon of ecology, Daphne will spend three months as the author in residence for the Inversgail schools. Janet Marsh and her business partners at Yon Bonnie Books are looking forward to hosting a gala book signing for her. Daphne, who hasn't set foot in Scotland in thirty years, is . . . eccentric. She lives in the Canadian wilderness, in a cabin she built herself, with only her dog for a companion, and her people skills have developed a few rough-hewn edges. She and the dog (which she insists on bringing with her) cause problems for the school, the library, and the bookshop even before they get to Inversgail. Then, on the misty night they arrive, a young man—an American who'd spent a night in the B&B above Yon Bonnie Books—is found dead outside a pub.
Daphne did her Inversgail homework and knows that Janet and her partners solved a previous murder. She tries to persuade them to join her in uncovering the killer and the truth. To prove she's capable, she starts poking and prying. But investigating crimes can be murder, and Daphne ends up dead, poisoned by scones from the tearoom at Yon Bonnie Books. Now, to save the reputation of their business—not to mention the reputation of their scones—Janet and her partners must solve both murders. And Daphne's dog might be able to help them, if only they can get it to stop howling. . . 
About the Author
Molly MacRae is the national bestselling author of the Haunted Yarn Shop Mystery Series, including Crewel and Unusual, and the Highland Bookshop Mystery Series, including Plaid and Plagiarism and Scones and Scoundrels. Her short stories have appeared in Alfred Hitchcock Mystery Magazines for more than twenty years, and she has won the Sherwood Anderson Award for Short Fiction. Molly lives with her family in Champaign, Illinois.
Praise For Scones and Scoundrels: The Highland Bookshop Mystery Series: Book 2…
An array of neighbors, such as a clueless mystery writer who styles himself a supersleuth, adds color, humor, and even wisdom to the proceedings. Cozy fans are in for a treat.

Enough motives and suspects to provide plenty of twists and turns.

With its cast of appealing amateur sleuths and quirky town residents, this leisurely paced mystery will attract cozy fans of Paige Shelton's 'Scottish Bookshop' mysteries, as well as lovers of biblio­mysteries by Carolyn Hart or Vicki Delany.

MacRae is a skilled writer. She has great characters. A thoroughly enjoyable read.

Details of small-town life on the western coast of Scotland enliven this smooth-flowing cozy, populated by a cast of engaging characters.

MacRae is a sterling storyteller. The girls who own Yon Bonnie Bookshop are an interesting bunch of dedicated women, working hard together to make their business enterprises a success in this charming locale. I look forward to the next in the Highland Bookshop Mystery series. Great job, Ms. MacRae. Tapadh leat!


A new cozy mystery series in which the drama is tempered with humor. 
— Marilyn Stasio