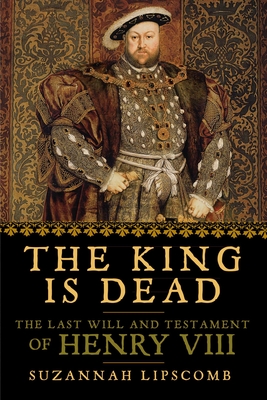 The King is Dead
The Last Will and Testament of Henry VIII
Paperback

* Individual store prices may vary.
Other Editions of This Title:
Hardcover (12/20/2016)
Description
An insightful and elegant examination of Henry VIII's last will and testament that evokes the glittering world of the Tudor king in all its glory, pomp, and paranoia.

On 28 January 1547, the sickly and obese King Henry VIII died at Whitehall. Just hours before his passing, his last will and testament had been read, stamped, and sealed. The will confirmed the line of succession as Edward, Mary, and Elizabeth; and, following them, the Grey and Suffolk families. It also listed bequests to the king's most trusted councillors and servants.

Henry's will is one of the most intriguing and contested documents in British history. Historians have disagreed over its intended meaning, its authenticity and validity, and the circumstances of its creation. As well as examining the background to the drafting of the will and describing Henry's last days, Suzannah Lipscomb offers her own illuminating interpretation of one of the most significant constitutional documents of the Tudor period.

Illustrated with portraits of the key figures at Henry's court, The King is Dead is as boldly evocative as it is beautiful—a work of Tudor history to cherish.
Praise For The King is Dead: The Last Will and Testament of Henry VIII…
"The bequests can still thrill us, even after half a millennium. Fittingly, Lipscomb's book contains a gallery of beautiful illustrations. Both wonkish and elegant, The King Is Dead allows us a peek inside."
— New York Times Book Review

"A delightful story of intrigue and manipulation that shows how Henry really couldn't control his kingdom."
— Kirkus Reviews

"This well-researched book provides an alternative scenario for the preparation and execution of Henry VIII's will. Readers of Tudor England and English history will find this to be a fascinating story."
— Library Journal

"Nimbly scrutinizes Henry VIII's unusual final will to lend new insight into the king's state of mind and religious beliefs during the last months of his life while also settling potential timeline incongruities."
— Publishers Weekly

"A detailed, forensic approach to dismantling the popular conspiracy theories about certain factions messing with Henry's will. A great bit of scholarship that Tudor fans will need on their shelves"
— British Heritage Travel
Pegasus Books, 9781681776217, 232pp.
Publication Date: January 9, 2018
About the Author
Suzannah Lipscomb, PhD, is a Senior Lecturer in History at New College of the Humanities, London, and also teaches Early Modern History at the University of East Anglia. She has appeared on BBC, ITV, and BBC Radio, as well as co-presented Inside the World of Henry VIII on the History Channel. Her new three-part series on the Tower of London aired on National Geographic Channel. She is the author of 1536: The Year that Changed Henry VIII, and writes frequently for BBC History Magazine and History Today.