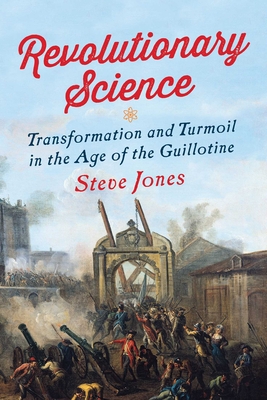 Revolutionary Science (Paperback)
Pegasus Books, 9781681776255, 384pp.
Publication Date: January 9, 2018
Other Editions of This Title:
Hardcover (1/10/2017)
* Individual store prices may vary.
Description
Paris at the time of the French Revolution was the world capital of science. The city was saturated in scientists; many had an astonishing breadth of talents. Paris in the century around 1789 saw the first lightning conductor, the first flight, the first estimate of the speed of light and the invention of the tin can and the stethoscope. The theory of evolution came into being. Perhaps the greatest Revolutionary scientist of all, Antoine Lavoisier, founded modern chemistry and physiology, transformed French farming, and much improved gunpowder manufacture. His political activities brought him a fortune, but in the end led to his execution. The judge who sentenced him to death claimed that "the Revolution has no need for geniuses."In this enthralling and dazzling book, acclaimed science writer Steve Jones shows how wrong this was and takes a new look at Paris, its history, and its science, to give the reader dazzling new insight into the City of Light.
About the Author
Steve Jones is professor of genetics at University College London. He is the author of The Darwin Archipalego; Y: The Descent of Man; Darwin's Ghost; and Almost Like a Whale: The Origin of Species. Jones is the winner of Royal Society Faraday Medal for the Public Understanding of Science.
Praise For Revolutionary Science…
This well-written work covers an interesting, tragic, and dreadful period in France. A terrific background for any individual interested in the scientific events of this period. Highly recommended.

With typical wit and easy storytelling, Jones makes his mark as a popular science historian.

A wonderful read.

Jones' work highlights the crucible of scientific thought that was turn-of-the-18th-century France and all the places it has led human civilization.

A sparkling scientific history. A fine homage to the evolution of game-changing science, born in the City of Light.

An erudite mixture of science and history. Jones's style is engaging and accessible.

An ingenious guidebook to the scientific past of Paris, written in lucid, erudite prose.

Jones fashions an elegant, somewhat meandering, and never dull narrative about the rich contributions by Age of Enlightenment-era French scientists who were encouraged by the wobbly state and monarchy to come up with solutions to mankind's many problems. A passionately presented book that offers sparkling tangents for further study.

Every section provides a richly informative guide to the history of a different scientific subject.
or
Not Currently Available for Direct Purchase