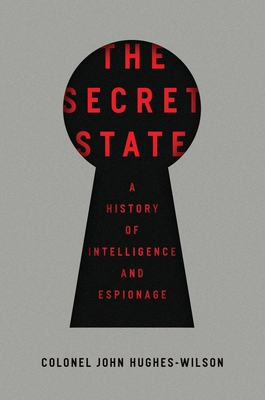 The Secret State (Paperback)
A History of Intelligence and Espionage
Pegasus Books, 9781681776378, 528pp.
Publication Date: February 13, 2018
Other Editions of This Title:
Hardcover (1/10/2017)
* Individual store prices may vary.
Description
A ground-breaking history of intelligence—from its classical origins to the onset of the surveillance state in the digital age—that lifts the veil of secrecy from this clandestine world.
Comprehensive and authoritative,
The Secret State
skillfully examines the potential pitfalls of the traditional intelligence cycle; the dangerous uncertainties of spies and human intelligence; how the Cold War became an electronic intelligence war; the technical revolution that began with the use of reconnaissance photography in World War I and during the Cuban Missile Crisis; the legacy of Stalin's deliberate ignoring of vital intelligence; how signals intelligence gave America one of its greatest victories; how Wikileaks really happened; and whether 9/11 could have been avoided if America's post-Cold War intelligence agencies had adapted to the new world of international terrorism.
Authoritative and analytical, Hughes-Wilson searches for hard answers and scrutinizes why crucial intelligence is so often ignored, misunderstood, or spun by politicians and seasoned generals alike.
From yesterday's spies to tomorrow's cyber world,
The Secret State
is a fascinating and thought-provoking history of this ever-changing and ever-important subject.
About the Author
Colonel John Hughes-Wilson is one of Britain's leading military historians and lectures for a number of international, governmental, and academic organizations. Hugh-Wilson's previous works include Military Intelligence Blunders and A Brief History of the Cold War. He lives in Cyprus.
Praise For The Secret State: A History of Intelligence and Espionage…
In this sweeping history, John Hughes-Wilson anatomizes the intelligence process and the evolution of covert methodologies and technologies that maintain (or disrupt) geopolitical balance. A deft tour of the shadow side of 'speaking truth to power'.

Hughes-Wilson, a leading British authority on intelligence matters, defines and describes the 'intelligence cycle' while delivering a thematically organized account of intelligence in contemporary contexts.

A solid overview of the importance of secret intelligence and case studies of successful and failed spying, from the earliest times to leaks by Edward Snowden and Al Jazeera. A vigorous survey with specific case studies and a useful bibliography for further study.

A sweeping history from the classical origins of intelligence work to modern times in the digital age. A powerful history that asks many hard questions in a wide-ranging survey packed with political, historical, and social analysis. It's a recommended pick not just for political studies readers; but for any interested in the intelligence community and its background.

The author's knowledge and passion for the subject is palpable, while his scrutiny and explanations make this a thoroughly enjoyable read.