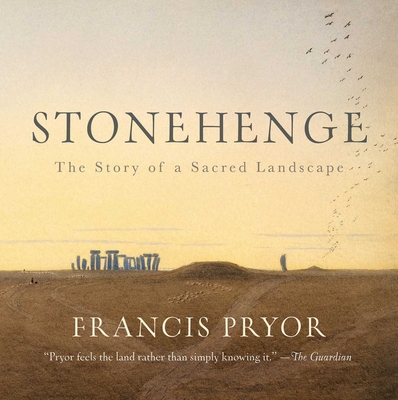 Stonehenge
The Story of a Sacred Landscape
Hardcover

* Individual store prices may vary.
Description
An illustrated, evocative narrative of the nature and history of Stonehenge that places the enigmatic stone megaliths in a wider cultural context.

Perched on the chalk uplands of Salisbury Plain, the megaliths of Stonehenge offer one of the most recognizable outlines of any ancient structure. Its purpose—place of worship, sacrificial arena, giant calendar—is unknown, but its story is one of the most extraordinary of any of the world's prehistoric monuments.

Constructed in several phases over a period of some 1500 years, beginning in 3000 BC, Stonehenge's key elements are its "bluestones," transported from West Wales by unexplained means, and its sarsen stones quarried from the nearby Marlborough Downs.

Francis Pryor delivers a rigorous account of the nature and history of Stonehenge, but also places the enigmatic monument in a wider cultural context, bringing acute insight into how antiquarians, scholars, writers, artists–and even neopagans—have interpreted the mystery over the centuries.
Praise For Stonehenge: The Story of a Sacred Landscape…
"Pryor's journalistic writing and vast knowledge make this a joy for historians and armchair archaeologists alike."
— Kirkus Reviews

"Eminent British archaeologist Pryor examines Stonehenge, the most famous of all ancient British landmarks, in a work that balances the scholarly and the popular. A visually appealing and intellectually stimulating addition to the popular understanding of Stonehenge."
— Publishers Weekly

"Designed with concision and splendid visual illustration [revealing] the past decade's worth of new discovery. Pryor is especially able in conveying the dynamism of prehistory."
— The Times Literary Supplement (UK)

"This beautifully produced book brings us up to date with the latest in Stonehenge thinking. This splendid book is nearly as good as wandering among the stones themselves."
— The Daily Mail

"A masterful overview of the historical hotspot. Pryor's personable, authoritative prose is just what's needed to breathe life into a subject you might have thought long exhausted."
— History Revealed

"Accompanied by beautiful photographs and illustrations, the book takes us back in time to appreciate the complexity and spiritual significance of a 4,000-year-old monument."
— BBC Countryfile

"A beautifully written and illustrated book. A compelling picture of the forces that formed Stonehenge."
— The Mail on Sunday

"Pryor has a way with words that somehow simplify complex data and make it interesting and intelligible for the general reader. This is undoubtedly a most enjoyable read."
— Prehistoric Society
Pegasus Books, 9781681776408, 208pp.
Publication Date: February 6, 2018
About the Author
Francis Pryor is one of Britain's most distinguished archaeologists and the excavator of Flag Fen. He is the author of Home, Britain BC, Britain AD, Seahenge, and The Making of the British Landscape.