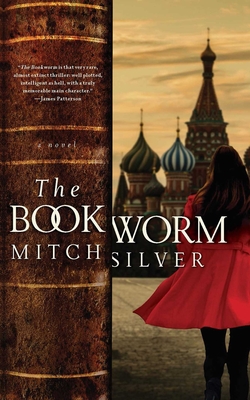 The Bookworm
A Novel
Hardcover

* Individual store prices may vary.
Other Editions of This Title:
Paperback (7/9/2019)
MP3 CD (2/6/2018)
Compact Disc (2/6/2018)
Compact Disc (2/6/2018)
Description
A stunning and surprising new thriller, Mitch Silver's latest novel takes readers from a secret operation during World War II—with appearances by Noel Coward and Winston Churchill—to present day London and Moscow, where Lara Klimt, "the Bookworm," must employ all her skills to prevent an international conspiracy.

Europe, 1940: Posing as a friar, a British operative talks his way into a Belgian monastery just before Nazi art thieves plan to whisk everything of value back to Berlin. But the ersatz man of the cloth is no thief. Instead, that night he adds an old leather Bible to the monastery's library and then escapes.

London, 2017: A construction worker discovers a skeletal arm-bone with a rusty handcuff attached to the wrist, all that remains of a courier who died in a V-2 rocket attack. The woman who will put these two disparate events together—and understand the looming tragedy she must hurry to prevent—is Russian historian and former Soviet chess champion Larissa Mendelovg Klimt, "Lara the Bookworm," to her friends. She's also experiencing some woeful marital troubles.

Lara will learn the significance of six musty Dictaphone cylinders recorded after D-Day by Noel Coward—secretly, a British agent reporting directly to Winston Churchill—and understand precisely why that leather Bible played such a pivotal role in turning Hitler's guns to the East. And she will discover the new secret pact negotiated by the nefarious Russian president and his newly elected American counterpart—maverick and dealmaker—and the evil it portends.

Oh, and she'll reconcile with her husband.
Praise For The Bookworm: A Novel…
"The Bookworm is that very rare, almost extinct thriller: well plotted, intelligent as hell, with a truly memorable main character—'Lara The Bookworm.' This is definitely sterling Silver!"
— James Patterson, #1 New York Times bestselling author

"The historical frame, including an alternate view of why Germany turned its wartime focus from England to the USSR, proves fascinating; the pace is agreeably fast; and the intelligent, capable Klimt makes an engaging lead character."
— Booklist

"It is a masterpiece of speculative revisionism and in this aspect a captivating read, a romp."
— The Washington Times

"I devoured it. It combines elements of a political thriller and a historical novel. A thrill-filled surprise, which keeps you in awe of developments."
— Book Notes by Athina

"A fascinating read for both conspiracy theorists and thriller fans."
— Bookloons

"Phenomenal. Seizing my attention from the very first page, The Bookworm kept me captivated and swiftly turning pages in nail-biting anticipation of the final resolution. The Bookworm is one of the best political thrillers I have had the pleasure to read, and I recommend it highly to fans of this exciting genre."
— Fresh Fiction

"High-speed chases, explosions, gunfights, murders and questionable romantic encounters add to the book's action. An intriguing 'what if' adventure about Hitler and WWII."
— Reviewing the Evidence

"This is fast and fun, with one of the best McGuffins I've ever seen...it's an exciting tale..."
— Historical Novel Society

"Hold on to your seats, readers, because this is a thrill ride of a story, made even more exciting because it's all so current and feels very real. I really liked the character of Dr. Larissa Klimt...she's as complex as the story she is telling. It will definitely satisfy the appetite of the conspiracy theorists out there, and it's a good mystery too."
— A Line From a Book

"A lively, fun diversion that will appeal to fans of The DaVinci Code and the like."
— Criminal Element

"The Bookworm packs a punch similar to that of a Dan Brown novel. It uses a quasi-historical fiction plot mixed with thriller that sees our heroine attempt to solve a mystery by using her mind more than her actions. Combine that with the back-and-forth between the 1940's and present day and The Bookworm has all ingredients in the recipe for my favorite kind of books."
— Lara's Book Club

"Silver romps through history dropping names like so many crumbs...it is a highly entertaining, tongue-in-cheek tale."
— Highland Beach Library

"The Bookworm by Mitch Silver is a gripping thriller...."
— Carol's Notebook

"This was a well-written story. Silver has quite the imagination, which made the book interesting and fun to read. Silver's storytelling skills are strong...the character development is solid and the building of the suspenseful atmosphere is great."
— The Bees Knees Bookish Korner

"This novel has ties to certain political figures that we currently have in office...It also has ties to the Russian and American relationship that is currently unfolding. Silver does an excellent job with keeping mysteries and intrigue going throughout the novel and interweaving interesting bits so that the reader is continuously engaged. I was captivated the entire time..."
— The Written Adventure

"Mitch Silver does a fantastic job of blurring fiction and reality in his global espionage thriller. The Bookworm is an intriguing tale that constantly has the reader wondering where the line between fiction and fact lies. It will keep you engaged from cover to cover. If you are the type to enjoy a great 'spy novel' you will find it especially hard to put down."
— The Lit Buzz

"The build-up of tension was steady throughout, with excellent pacing for the reveals of the historical and modern conspiracies. The writing was engaging and kept me hooked. The characters were well crafted and suited to their respective roles in the story."
— All Things Jill-Elizabeth

"Silver's novel flows smoothly...A very well done novel indeed."
— Book Bitch
Pegasus Books, 9781681776415, 352pp.
Publication Date: February 6, 2018
About the Author
Mitch Silver was born in Brooklyn and grew up on Long Island. He attended Yale (B.A. in History) and Harvard Law School ("I lasted three days. I know the law through Wednesday, but after that…"). He was an advertising writer for several of the big New York agencies, living in Paris for a year with his wife, Ellen Highsmith Silver, while he was European Creative Director on the Colgate-Palmolive account. A previously published novelist (In Secret Service, S&S/Touchstone), Mitch and his wife Ellen live in Greenwich, Connecticut and have two children: Sloane is a nurse at Wake Forest Medical Center and Perry is an actor and the drummer for Sky Pony, a band in New York. Mitch also won the American Song Festival Lyric Grand Prize for "Sleeping Single in a Double Bed." His blood type is O positive, and he always writes his biography in the third person. For more info, please go to mitchsilverauthor.com.
or
Not Currently Available for Direct Purchase