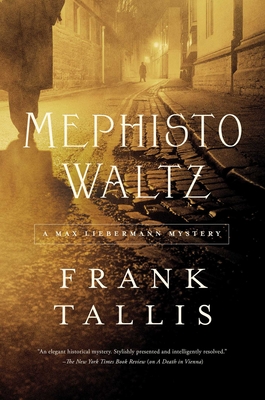 Mephisto Waltz
A Max Liebermann Mystery
Hardcover

* Individual store prices may vary.
Other Editions of This Title:
Paperback (4/9/2019)
Description
In the new novel in the iconic Max Liebermann mystery series, master storyteller Frank Tallis delivers his latest suspenseful and spellbinding tale set in the smoky atmospheric world of fin de siecle Vienna.

Vienna, 1904.

The body of a man—still sitting in a chair—is discovered in an abandoned piano factory on the outskirts of the city. He has been shot dead but his face has been horribly disfigured with acid, making identification impossible. In front of the body are three chairs positioned conspicuously in a straight line. Who were the former occupants? Had they sat in judgement and pronounced a sentence of death?

Detective Inspector Oskar Rheinhardt calls on his good friend Doctor Max Liebermann—psychiatrist and disciple of Sigmund Freud—to assist in an investigation that draws them both into the shadowy and sexually unconventional world of fringe political activism. It is a world populated by Bohemians, Utopian idealists, and anarchists, many of whom endorse acts of terror to achieve their revolutionary aims.

When bomb-making equipment is found in a suburban basement, the sinister Imperial intelligence bureau (who have been secretly monitoring Rheinhardt's investigation) make themselves known. A legendary anarchist known only by his code name—Mephistopheles—is abroad in Vienna. An appalling act of terror has been planned and time is running out. Rheinhardt must hope that Liebermann, with his profound knowledge of psychology and science, will be able to prevent the coming catastrophe.

The latest novel in the iconic Max Liebermann mystery series, Mephisto Waltz is a tale of murder, romance, intrigue, and espionage set in the atmospheric world of fin de siecle Vienna.
Praise For Mephisto Waltz: A Max Liebermann Mystery…
"Mephisto Waltz takes us to Vienna in 1904: a city of widespread culture, fading empire and an abundance of nervous energy. Tallis, a London author and psychologist, has written a marvelous, multi-layered thriller, rich with period detail and studded with cameo appearances by figures such as automaker Ferdinand Porsche and Sigmund Freud. Mephisto Waltz often exhibits the energy of the Franz Liszt pieces after which it's named: a 'wild and sinister delirium,' in Liebermann's perception, in which 'notes sparkled, glittered [and] exploded like fireworks.' Yet the book is also undercut with a dark and sophisticated wit."
— Tom Nolan, The Wall Street Journal

"Paradise, according to Frank Tallis in Mephisto Waltz, is an exact replica of early-20th-century Vienna. That would make angels of the psychoanalyst Dr. Max Liebermann and his friend, Detective Inspector Oskar Rheinhardt, the brainy sleuths in Tallis's erudite series of historical mysteries."
— Marilyn Stasio, New York Times Book Review

"Tallis' seventh period mystery is his most intricate and ambitious yet."
— Kirkus Reviews

"Max Liebermann is a psychiatrist and follower of Freud's theories who often finds himself assisting his friend, police detective Oskar Rheinhardt. They are just two of a large, vividly described cast of characters. Distinctly of their time, the characters nevertheless suggest parallels to people and phenomena of our own time."
— www.historicalnovels.info

"If you're looking for the best in popular fiction, Tallis is well worth seeking out."
— The Washington Post [Praise for Frank Tallis]

"Mephisto Waltz is an intricately but elegantly written mystery as much as it is an immersion in the time. Vienna in 1904 is brought to life through vivid and detailed illustrations of situations, places, food, and the cultural milieu."
— Historical Novel Society

"Clever and spooky. The novel is an elegantly constructed psychiatric Gothic, all spires and gargoyles and ghostly echoes—the sort of vast, dread edifice we sometimes build around ourselves when the lights go out."
— The New York Times Book Review [Praise for Frank Tallis]

"What we have here is a proper scare-your-socks-off horror novel."
— The Financial Times [Praise for Frank Tallis]

"Tallis is a clinical psychologist, which is reflected in his deft character development and realistic dialogue."
— The Sacramento Bee [Praise for Frank Tallis]

"A chilling tale of supernatural snooping. This horror story is undeniably hair-raising."
— Shelf Awareness [Praise for Frank Tallis]

"Gripping. Dialogue is fast paced, and the action is vivid and realistic. A story that is full of adventure and more."
— Foreword Reviews [Praise for Frank Tallis]

"Fans will particularly enjoy the almost palpable feelings of claustrophobia and impending disaster. It succeeds brilliantly."
— Booklist (starred review) [Praise for Frank Tallis]
Pegasus Crime, 9781681776439, 352pp.
Publication Date: February 6, 2018
About the Author
Frank Tallis is a writer and clinical psychologist. Between 1999 and 2012, he received or was nominated for numerous awards, including the New London Writers' Award, the Ellis Peters Historical Dagger, the Elle Prix de Letrice, the Crime Writers' Association Historical Dagger Award, and two Edgar Allan Poe Awards. Under the name F. R. Tallis, he is the author of The Sleep Room, The Forbidden, The Voices, and The Passenger, all available from Pegasus Crime. He lives in London.