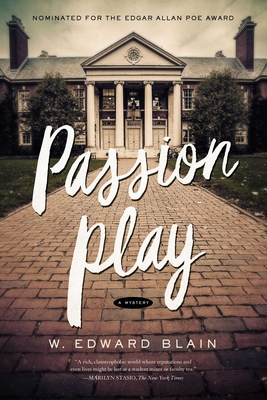 Passion Play
Hardcover

* Individual store prices may vary.
Description
Set in the insular, genteel world of an all-boys prep school, this tense and electrifying Edgar-nominated classic surrounding an all-too-deadly production of Othello is now back in print.

In New York City, a young man is found murdered in a dingy Times Square sex theater—his neck gruesomely snapped—and the only clue is a torn receipt from the Montpelier School for Boys bookstore.

Christmas break is just a couple of weeks away when Montpelier student Russell Phillips fetches up dead. Headmaster Lane, preferring to view Phillips's death as a suicide, decides to keep the school open for the remainder of the term. But as the nights grow longer and colder—and more corpses begin to surface in connection with the rehearsals for Othello, the winter play—it becomes all too clear that the students and faculty are being stalked by a cool and calculating killer.

The local police and school administrators find themselves out of their depth. Even so, many people's suspicions begin to focus on a single suspect—until he, too, turns up dead.

A gripping tour de force that brilliantly uses an isolated boarding school campus as the setting for this propulsive mystery, Passion Play will keep the reader guessing until the final act.
Praise For Passion Play…
"Blain reverentially works events and themes from Othello into Passion Play. Jealousy, lust, racial prejudice, the betrayal of friends—and yes, even a handkerchief—figure in the plot. Blain creates a rich, claustrophobic world where reputations and even lives might be lost at a student mixer or faculty tea."
— New York Times Book Review

"Passion with its power for destruction is Blain's theme in his gripping first novel. Blain keeps the reader guessing as he deftly shifts points of view and suspicion from one character to the next. An exciting and thought-provoking debut."
— Booklist (starred)

"Touching and thoughtful, sensitive and suspenseful. The on-target dialogue is full of humor; the author offers a depth of characterization of faculty and wives and adolescents."
— The San Francisco Chronicle

"Passion Play is back in print after a decade and returns a classic mystery to new audiences. A vivid saga makes for engrossing reading."
— Midwest Book Review

"A whodunit in the old-fashioned style. Compelling reading."
— Popular Culture Association
Pegasus Crime, 9781681776507, 288pp.
Publication Date: April 3, 2018
About the Author
W. Edward Blain, author of Passion Play and Love Cools, is the chairman of the English department at Woodberry Forest School in Virginia.
or
Not Currently Available for Direct Purchase