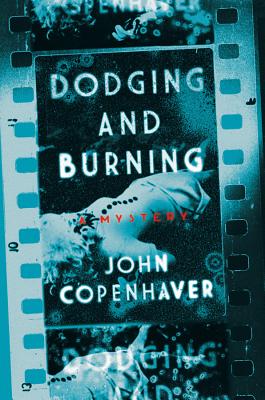 Dodging and Burning
Hardcover

* Individual store prices may vary.
Other Editions of This Title:
Digital Audiobook (11/19/2018)
Paperback (8/13/2019)
Description
In a small Virginia town still reeling from World War II, a photograph of a beautiful murdered woman propels three young people into the middle of a far-reaching mystery.

*Winner of the 2019 Macavity Award for Best First Novel*

*Nominated for 2019 Barry, Lambda Literary, Strand, and Anthony Awards*

A lurid crime scene photo of a beautiful woman arrives on mystery writer Bunny Prescott's doorstep with no return address—and it's not the first time she's seen it. The reemergence of the photo, taken fifty-five years earlier, sets her on a journey to reconstruct the vicious summer that changed her life.

In the summer of 1945, Ceola Bliss is a lonely twelve-year-old tomboy, mourning the loss of her brother, Robbie, who was declared missing in the Pacific. She tries to piece together his life by rereading his favorite pulp detective story "A Date with Death" and spending time with his best friend, Jay Greenwood, in Royal Oak, VA. One unforgettable August day, Jay leads Ceola and Bunny to a stretch of woods where he found a dead woman, but when they arrive, the body is gone. They soon discover a local woman named Lily Vellum is missing and begin to piece together the threads of her murder, starting with the photograph Jay took of her abandoned body.

As Ceola gets swept up playing girl detective, Bunny becomes increasingly skeptical of Jay, and begins her own investigation into the connection between Jay and Lily. She discovers a series of clues that place doubt on Jay's story about the photograph. She journeys to Washington, D.C., where she is forced to confront the brutal truth about her dear friend—a discovery that triggers a series of events that will bring tragedy to Jay and decades of estrangement between her and Ceola.
Praise For Dodging and Burning…
"A riveting debut. The intricate plot melds a coming-of-age story, a coming-out tale and a mystery with realistic characters who want to be accepted for themselves. The brisk pace is augmented by the character studies and an in-depth look at gay rights. Gay and lesbian mysteries have been published for decades. Columnist and short story writer Copenhaver brings a new voice to this genre with Dodging and Burning."
— Oline Cogdill, Associated Press

"Copenhaver makes a powerful debut with this unconventional novel that mixes a coming-of-age tale with a puzzling mystery and a haunting portrait of the experiences of the LGBTQ community in the 1940s. Admirers of William Kent Krueger's Edgar Award–winning stand-alone, Ordinary Grace, may appreciate this candid story."
— Library Journal (Starred Review, Debut of the Month)

"Complex and multilayered, Copenhaver's outstanding debut combines a murder mystery with a coming-of-age tale. Copenhaver's darkly lyrical exploration into the consequences of war—and prejudice—in small-town America will resonate with readers long after the last page is turned."
— Publishers Weekly (starred)

"A masterwork of tone and voice. Dodging and Burning will linger in the minds of fans for a long time; a beacon for voices too often stifled, both then and now."
— BOLO Books

"LGBTQ crime-writing has its heroes. John Copenhaver lists many of them. He may have to add himself to that list now."
— BookTrib

"The level of detail in [Copenhaver's] novel Dodging and Burning displays in full measure the demanding research required to uncover the hidden history of a community marginalized and rendered virtually invisible for much of the 20th century."
— Katherine V. Forrest, author of The Kate Delafield Mystery Series.

"Set in 1945, Dodging and Burning is a striking and important debut illuminating the twin traumas of war and repressed sexual identity. A beautifully rendered literary mystery centered around a missing girl and a WWIII photographer's journey toward adulthood and self-acceptance, the novel keeps you guessing until the very end."
— Aline Ohanesian, author of 'Orhan's Inheritance'

"The mystery also becomes an examination of gay life in the 1940s. The setting is well realized, and, interestingly, in its diction and syntax, the book reads as if it might itself have been written in the 1940s."
— Booklist

"Dodging and Burning is a beautifully rendered coming of age story, a compelling exploration of a young man's struggle with his sexual identity amid the evils of war, and an impeccably executed crime novel that keeps you guessing and ultimately strikes a deep and resounding emotional cord."
— Ayelet Waldman, author of 'Love & Treasure' and 'A Really Good Day'

"Copenhaver beautifully renders the lives of four young people through alternating lenses of photographs, letters, diary entries, notes, and other documents."
— Washington Independent Review of Books

"A photograph of a dead girl prompts some savvy amateur detective work in post-World War II Virginia, but Dodging and Burning ultimately explores deeper mysteries as well: about who we are, who we want to be, and how the bonds of friendship—and of betrayal—can tie people together forever. Copenhaver's first novel also focuses on storytelling, on the stories we tell others, and ourselves, to survive, all of it brilliantly interwoven, with twists mounting even in the final pages. A superior debut—suspenseful, substantial."
— Art Taylor, Agatha Award–winning author of On The Road with Del & Louise

"Copenhaver beautifully addresses the difficulties faced by two gay men in this time period, and the dangers of such a love, a story that will break readers' hearts."
— Mystery Scene

"Compelling."
— Stop, You're Killing Me!

"John Copenhaver's bold mystery confronts the consequences of love and war with unflinching candor. The characters may twist themselves up in lies, but the writing never does, offering a piercing glimpse into small town taboos. This novel flirts with and ultimately subverts the expectations of pulp fiction to create something wholly original—David Lynch meets Harper Lee while she's having drinks with Truman Capote. Nothing is as expected in this America of the 1940s when men were expected to be men and women were expected to be wives. Dodging and Burning is a memorable, brilliant debut."
— Erica Wright, author of 'The Red Chameleon' and 'The Granite Moth'

"Copenhaver's debut novel gives readers a gorgeous, critical look at the LGBTQ community in post-WWII society, revolving around a murder. This is a book that must be read and discussed with as many people as possible. Very highly recommended."
— Historical Novels Review (Editor's Choice)

"I'm a big fan of John Copenhaver's elegant work. He's a sophisticated stylist who can break your heart right before he turns devilish. Highly recommended."
— Luis Alberto Urrea, author of 'Into the Beautiful North' and 'The Water Museum'

"An astonishing piece of writing, Dodging and Burning is a lyrical, compelling, and deeply moving book. A highly original and accomplished novel from a significant talent, it captures its period with elegance and simplicity, and a deftness of touch that brings a tear to the eye. The characters are deeply human in their weaknesses, their loves, and the unfolding tragedy of their lives. It is a book of depth and beauty, surely a classic, to be read and re-read. John Copenhaver is a master storyteller, a confident and gifted writer and this, his first novel, is a clever, brilliant, beautiful work. I cannot praise it enough."
— E. S. Thomson, author of 'Beloved Poison' and 'Dark Asylum'
Pegasus Crime, 9781681776590, 288pp.
Publication Date: March 6, 2018
About the Author
John Copenhaver is the author of Dodging and Burning, which won the Macavity Award for Best First Mystery Novel and garnered Anthony, Strand Critics, Barry, and Lambda Literary Award nominations. Copenhaver writes a crime fiction review column for Lambda Literary called "Blacklight," is a co-host on the House of Mystery Radio Show, and is the six-time recipient of Artist Fellowships from the Washington, DC, Commission on the Arts and Humanities. He's a Larry Neal awardee, and his work has appeared in CrimeReads, Electric Lit, Glitterwolf, PANK, New York Journal of Books, Washington Independent Review of Books. He lives in Richmond, VA, with his husband, artist Jeffery Paul.
or
Not Currently Available for Direct Purchase