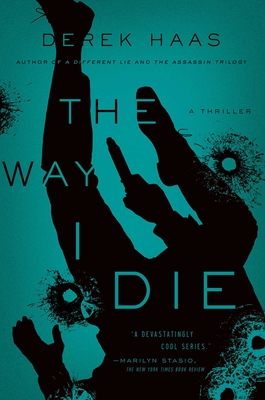 The Way I Die
A Novel (Columbus Thrillers)
Hardcover

* Individual store prices may vary.
Other Editions of This Title:
Paperback (6/11/2019)
Description
An explosive thriller from the acclaimed co-creator of "Chicago Fire" featuring his dynamic and compelling anti-hero, Columbus.

The way I die is two taps to the head, stuffed in the trunk of a rental sedan, my body set on fire. The way I die is both arms broken, both legs broken, tossed off a cigarette boat in the middle of Lake Michigan, bricks in my pockets to weigh down the corpse. The way I die is acid in a bathtub, pushed out of an airplane, strung up and gutted in an old textile warehouse in Boston. My name is Copeland. My name is Columbus. The way I die is a shotgun in my mouth, my finger on the trigger.

It is the middle of February on Mackinac Island, a tiny community off the northern Michigan coast. But Columbus isn't here to enjoy the picturesque surroundings. Reeling after the death of his wife and relinquishing his son, he lives in isolation—in self-imposed punishment and exile. Forgotten and alone. Nameless to his neighbors. But even if he runs and hides, Columbus is never alone for long.

Ten years after Columbus—one of the most original anti-heroes in contemporary fiction—first exploded onto the scene in The Silver Bear, Derek Haas delivers another riveting thriller that promises heart-pounding action and shocking twists until the very last page.
Praise For The Way I Die: A Novel (Columbus Thrillers)…
"'You're not going to like me when this is over,' Haas's hit man warns his readers. Maybe not, but you won't be able to avert your eyes from a single scene in this stripped-down, dead-eyed, professional-grade actioner."
— Kirkus Reviews

"Haas succeeds at making our slightly evolved Columbus as intriguing (and screen-worthy) in this fifth episode as he was in our first dangerous glimpse of him."
— Booklist (starred)

"Gripping. Haas packs solid suspense, vivid action, and well-developed characters into a tight plot that never lags."
— Publishers Weekly

"The beauty of Haas's prose comes from his understanding of the economy of language. The writing in this book is sharp and to the point. Columbus is now easily recognizable as one of the best antiheroes in contemporary crime fiction. A very entertaining read. In the era of bloated thrillers, a book like The Way I Die is refreshing. It is quick, brutal, and packed with moments of self-reflection and tenderness. Furthermore, it proves that Haas is still in fine form and producing the kind of explosive literature that has made him a household name."
— Criminal Element

"Introduces a plot that takes this self-exiled assassin to the Pacific Northwest to protect a software inventor from being eliminated by persons or governments unknown. But there's no time to linger on the particulars when Columbus is stocking up on the latest weaponry and getting ready to face a killer as cool as he is."
— Marilyn Stasio, The New York Times Book Review

"A tense, tightly coiled plot that erupts with action on almost every page. Although Copeland's last outing was three years ago, Haas seamlessly picks up the mantle of his character, quickly re-establishing the world of his assassin. Amid the solid action, Haas also explores Copeland's identity crisis. Is he the cold-blooded killer Columbus, or the reinvented Copeland? Is he "the sword" or "the armor"? he wonders."
— Mystery Scene Magazine

"Haas doesn't know how to write a boring page."
— David Benioff, New York Times bestselling author of City of Thieves, co-creator of GAME OF THRONES on HBO

"Haas's absorbing fourth thriller featuring the contract killer known as Columbus tests the proposition expressed in the book that 'lies are popular and truth is the uninvited guest who spoils the party.' The well-constructed conclusion packs a powerful punch."
— Publishers Weekly

"A devastatingly cool series."
— New York Times Book Review

"Haas builds characters who are complicated, memorable, and sharply drawn. His spare, lean prose wastes no words. Haas develops a powerful and compelling voice and spends his scant 200 pages building suspense, creating atmosphere, and telling a compelling yarn. An unflinching little gem of a story: violent, dark, and unrelentingly entertaining."
— Kirkus Reviews (starred)

"A page turner. A spare thriller fueled by a sinewy plot. Propulsive plotting and compellingly written."
— Boston Globe
Pegasus Crime, 9781681776620, 224pp.
Publication Date: April 3, 2018
About the Author
Derek Haas is the author of the novels The Silver Bear, Columbus, and Dark Men, which make up The Assassin Trilogy, as well as the novel A Different Lie, also featuring Columbus. Derek co-created "Chicago Fire" and executive produces "Chicago P.D." for NBC. He also co-wrote the screenplays for 3:10 to Yuma, Wanted, and The Double. Derek is the creator of PopcornFiction.com and lives in Los Angeles with his family.
or
Not Currently Available for Direct Purchase