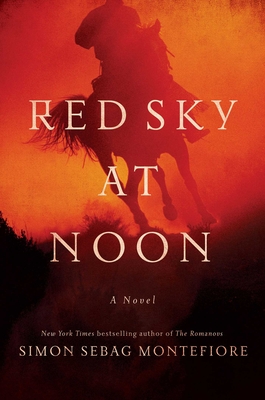 Red Sky at Noon
A Novel
Hardcover

* Individual store prices may vary.
Other Editions of This Title:
Digital Audiobook (1/1/2018)
Compact Disc (1/2/2018)
MP3 CD (1/2/2018)
Compact Disc (1/2/2018)
Paperback (12/11/2018)
Description
The stunning new novel from the New York Times bestselling author of The Romanovs and Jerusalem, set during an epic cavalry ride across the hot grasslands outside Stalingrad during the darkest times of World War II.

"The black earth was already baking and the sun was just rising when they mounted their horses and rode across the grasslands towards the horizon on fire . . ."

Imprisoned in the Gulags for a crime he did not commit, Benya Golden joins a penal battalion made up of Cossacks and convicts to fight the Nazis. He enrolls in the Russian cavalry, and on a hot summer day in July 1942, he and his band of brothers are sent on a suicide mission behind enemy lines—but is there a traitor among them? The only thing Benya can truly trust is his horse, Silver Socks, and that he will find no mercy in onslaught of Hitler's troops as they push East.

Spanning ten epic days, between Benya's war on the grasslands of southern Russia and Stalin's intrigues in the Kremlin, between Benya's intense affair with an Italian nurse and a romance between Stalin's daughter and a war correspondent, this is a sweeping story of passion, bravery, and survival—where betrayal is a constant companion, death just a heartbeat away, and love, however fleeting, offers a glimmer of redemption.
Praise For Red Sky at Noon: A Novel…
"The worthy conclusion to [the Moscow Trilogy]. The vivid interplay between a war story and a love story, and between the Kremlin and the frontline, grants the novel its momentum. Like so much historical fiction, Red Sky at Noon keeps readers turning pages not to learn the end but to better understand the individuals who brought about this end. A gripping adventure, a compelling history, and a work that adds humanity to stories we thought we already knew."
— The Wall Street Journal

"Historian, biographer, and novelist Montefiore has garnered critical acclaim and commercial success in each discipline, and his latest demonstrates his deftness in crafting a deeply engaging story that is only enriched by his skills as a historian and biographer. Offering historical accuracy, a fine empathy for his characters, and a story that illuminates the operatic tragedy of Stalin's rule, Red Sky at Noon is brilliant on multiple levels."
— Booklist (starred)

"A wonderful novel. Highly atmospheric. A truly absorbing read. Red Sky at Noon is like Cormac McCarthy—with Nazis and Cossacks."
— Philip Kerr, author of BERLIN NOIR the Bernie Gunther novels

"Montefiore's third novel in his Moscow Trilogy (after Sashenka and One Night in Winter) is a stunning World War II story set on the bloody Russian front outside Stalingrad in July 1942. Montefiore's immersive portrayal of the Eastern Front makes this a gripping, convincing tale."
— Publishers Weekly (starred)

"The gritty war scenes and the lovers' pursuit keep the pages turning."
— Kirkus Reviews

"Montefiore has legions of fans for his histories (The Romanovs), but his 'Moscow Trilogy' (One Night in Winter; Sashenka) opens the floodgates to the imaginative re-creation of archival facts. Benya's story animates a ten-day, desperate struggle in Stalin's huge gamble against the Nazi war machine. World War II fiction aficionados will want to read this."
— Library Journal

"Red Sky at Noon is an epic adventure story set against the backdrop of the most awful war in human history. The master historian shape-shifts into the brilliant novelist. Ridiculously good."
— Dan Snow

"A gripping novel. Montefiore is brilliant at depicting brooding menace. As the penal battalions are given increasingly risky missions, it is Benya's journey on horseback that we follow behind enemy lines in the grasslands of southern Russia. An epic tale. The language is arresting. It's all beautifully done: a western on the eastern front."
— The Daily Telegraph

"Mythic and murderous violence in Russia. . . there are power-drunk Nazis and Soviet traitors, including a particularly memorable villain. Written with brio & deep knowledge of its fascinating subject matter. Red Sky at Noon is a deeply satisfying page turner. There are atrocities on all sides and a smidgen of love as Benya falls for a brave Italian nurse. A subplot follows the ill-starred affair between Stalin's daughter and a Jewish writer. But Benya's struggle to keep his humanity is the memorable spine of the book"
— The Times "Best of the Month" (London)

"Montefiore's skill with imagery is such that he immerses the reader in an utterly ethereal landscape, only to snap them into horror as men emerge from rippling sunflowers with 'swords streaked with blood and grass,' and that soft horizon is suddenly filled 'squadrons of tanks like steel cockroaches.' Montefiore can effortlessly meld beauty with battle. Vivid and impeccably researched."
— The Time Literary Supplement

"Amidst the killing and the chaos, a group of prisoners are offered a chance of redemption on a secret mission behind enemy lines on horseback. Montefiore has a keen sense of place and an eye of unexpected details. Switching between the frontline on the Russian steppes and Stalin in the Kremlin, this is an exciting and fast-paced adventure and a lament for love in dark and brutal times."
— The Mail on Sunday

"An important and gripping description of conditions early in World War II in Russia, particularly the extensive use of horse cavalry, of which—I suspect—most of us have been unaware."
— Washington Missourian

"Montefiore's encyclopedic knowledge of Russian history gives his stories a gripping vibrancy. There's a twist to the end of the story that is by turns satisfying and heartbreaking. In the end, love does win out."
— The Dayton Daily News

"For the sheer pleasure of being swept away in an epic tale of love and war by a master storyteller, Red Sky At Noon by Simon Sebag Montefiore had me enthralled from beginning to end. This is the final part of his Moscow trilogy – a series of compelling historical novels in the great tradition of Scott, Thackeray and Tolstoy."
— Sunday Herald (UK), a Best Book of the Year

"I devoured Red Sky at Noon. A heart-stopping, heartbreaking, technicolor epic. A grand homage to the Russian masters Babel & Grossman, echoes of Hemingway & Dostoevsky, and a propulsive delight that is entirely Montefiore's own. Gripping storytelling allied with intimate, unsqueamish knowledge of Russian history—a special combination."
— A. D. Miller, author of SNOWDROPS

"The gripping final installment of The Moscow Trilogy tells of a man wrongly imprisoned in the Gulags and his fight for redemption. Meticulously researched. In this searing tale of love and war, most moving is the redemptive relationship between a soldier and a nurse that blooms amid the brutality. An homage to the author's favorite Russian writers and the Western masterpieces of Larry McMurtry, Cormac McCarthy and Elmore Leonard, such influences pervade this atmospheric tale told in the author's distinct own voice."
— The Observer (London)

"In this third volume of The Moscow Trilogy, the fate of combatants and civilians is often harsh. With his feel for vivid and immediate drama and impressive research, the author evokes the extreme turbulence and violence impacting on individuals. Writing with passion, Montefiore makes the point that, up against the huge forces of war, the struggle for personal resolution can be tragic—but never wasted."
— The Daily Mail (London)

"It's Lonesome Dove meets Stalingrad. A band of outlaws riding and fighting for their lives on sweeping plains—but these bandits are not battling tribes in the Wild West, they are on the grasslands of south Russia at war with Nazi Germany and its ally, the Italians. Our hero is not a Texas Ranger but a Jewish writer named Benya Golden. Montefiore has brought his understand of Russian history to life here with great gusto traversing Gulags, battlefields and Kremlin but Golden is a lover not a fighter..."
— Leila McKinnon, Women's Weekly (Australia)

"Montefiore is a natural storyteller who brings his encyclopedic knowledge of Russian history to life in language that glitters. Montefiore shows that the historian seeking the truth must call upon creativity as much as upon meticulous research. Here's hoping we get more spellbinding historical fiction from him."
— The Washington Post (Praise for THE MOSCOW TRILOGY)
Pegasus Books, 9781681776736, 416pp.
Publication Date: January 2, 2018
About the Author
Simon Sebag Montefiore's prize-winning, bestselling novels are published in twenty-seven languages. Red Sky at Noon is the last of the acclaimed Moscow Trilogy, which includes Sashenka and One Night in Winter, which was long-listed for the Orwell Prize. Montefiore's nonfiction books include Jerusalem: The Biography, a #1 Holiday Book Pick on the TODAY show, Young Stalin, winner of the Los Angeles Times Book Prize for Biography, and most recently, The Romanovs, which was a New York Times bestseller. Visit him at www.simonsebagmontefiore.com or on twitter @simonmontefiore.
Coverage from NPR
or
Not Currently Available for Direct Purchase