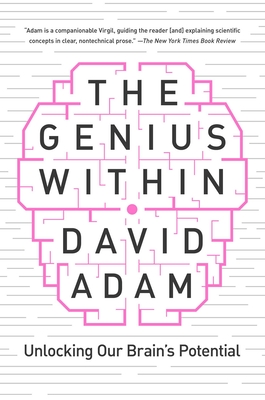 The Genius Within
Unlocking Your Brain's Potential
Hardcover

* Individual store prices may vary.
Other Editions of This Title:
Digital Audiobook (2/7/2018)
Paperback (6/11/2019)
Description
Following the success of The Man Who Couldn't Stop, David Adam now expounds on the latest research into intelligence, revealing how this revolution in neuroscience will help us access the untapped potential locked within us all.

What if you have more intelligence than you realize? What if there is a genius inside you, just waiting to be released? And what if the route to better brain power is not hard work or thousands of hours of practice but to simply swallow a pill?

In The Genius Within, David Adam explores the groundbreaking neuroscience of cognitive enhancement that is changing the way the brain and the mind works—to make it better, sharper, more focused and, yes, more intelligent. He considers how we measure and judge intelligence, taking us on a fascinating tour of the history of brain science and medicine, from gentlemen scientist brain autopsy clubs to case studies of mental health patients with extraordinary savant abilities.

In addition to reporting on the latest research and fascinating case studies, David also goes on his own personal journey to investigate the possibilities of neuroenhancement, using himself as a guinea pig for smart pills and electrical brain stimulation in order to improve his IQ scores and cheat his way into MENSA. Getting to the heart of how we think about intelligence and mental ability, The Genius Within plunges into deep ethical, neuroscientific, and historical pools of enquiry about the science of brain function, untapping potential, and what it means for all of us.

Going to the heart of how we consider, measure, and judge mental ability, The Genius Within asks difficult questions about the science that could rank and define us, and inevitably shape our future.
Praise For The Genius Within: Unlocking Your Brain's Potential…
"The Genius Within moves out of the medical world and into schools and workplaces, bringing us to the cutting edge of neuroenhancement."
— Harvard Business Review

"Writing in an imminently accessible style, Adam treats readers to countless fascinating anecdotes, such as the advent of the IQ test. A fun and at times disturbing romp through the history of brain science and society's attempts to measure intelligence. If cognitive enhancement is in our future, this is an entertaining place to begin to understand what it entails."
— Library Journal

"A fine journalistic account of how science can make you smarter. Adam delivers a sensible, often skeptical review of his subject."
— Kirkus Reviews

"Adam deftly surveys attempts to test intelligence starting more than a century ago. I enjoyed The Genius Within enormously. Eminently readable."
— Trevor Robbins, Nature

"Vastly entertaining. While The Genius Within is hardly alone in the bookstore, it is among the best."
— New Scientist

"A searing account. Adam [writes] with honesty, compassion and even humor about a malady so often stigmatized and caricatured."
— The Washington Post (Praise for David Adam)

"Adam is a companionable Virgil . . . explaining scientific concepts in clear, nontechnical prose."
— The New York Times Book Review (Praise for David Adam)

"A compelling portrait. This is the most comprehensive and compassionate book on OCD to date, and it offers hope that our thinking and behavior both individual and collective can change."
— The Los Angeles Times (Praise for David Adam)

"Part memoir, part exploration of the science behind OCD, The Man Who Couldn't Stop is an obsessive read and one with heart."
— People (Praise for David Adam)
Pegasus Books, 9781681776743, 320pp.
Publication Date: February 6, 2018
About the Author
Dr. David Adam, author of The Man Who Couldn't Stop, is an editor at Nature. The Man Who Couldn't Stop was the winner of the Medical Journalists' Association's Tony Thistlethwaite Award, was a Finalist for the Royal Society Winton Prize for Science Books, and was the recipient of the International OCD Foundation's Illumination Award. David has reported from Antarctica, the Arctic, China, and the depths of the Amazon jungle. He lives in England.
or
Not Currently Available for Direct Purchase