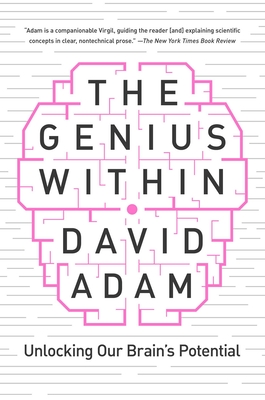 The Genius Within (Hardcover)
Unlocking Your Brain's Potential
Pegasus Books, 9781681776743, 320pp.
Publication Date: February 6, 2018
Other Editions of This Title:
Paperback (6/11/2019)
* Individual store prices may vary.
Description

In The Genius Within, David Adam explores the groundbreaking neuroscience of cognitive enhancement that is changing the way the brain and the mind works--to make it better, sharper, more focused and, yes, more intelligent. He considers how we measure and judge intelligence, taking us on a fascinating tour of the history of brain science and medicine, from gentlemen scientist brain autopsy clubs to case studies of mental health patients with extraordinary savant abilities.

In addition to reporting on the latest research and fascinating case studies, David also goes on his own personal journey to investigate the possibilities of neuroenhancement, using himself as a guinea pig for smart pills and electrical brain stimulation in order to improve his IQ scores and cheat his way into MENSA. Getting to the heart of how we think about intelligence and mental ability, The Genius Within plunges into deep ethical, neuroscientific, and historical pools of enquiry about the science of brain function, untapping potential, and what it means for all of us.

Going to the heart of how we consider, measure, and judge mental ability, The Genius Within asks difficult questions about the science that could rank and define us, and inevitably shape our future.