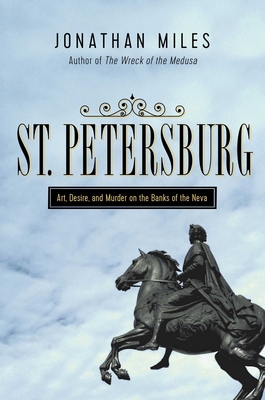 St. Petersburg (Hardcover)
Madness, Murder, and Art on the Banks of the Neva
Pegasus Books, 9781681776767, 560pp.
Publication Date: March 6, 2018
Other Editions of This Title:
Paperback (5/14/2019)
* Individual store prices may vary.
Description
From Peter the Great to Putin, this is the unforgettable story of St Petersburg—one of the most magical, menacing, and influential cities in the world. 
St. Petersburg has always felt like an impossible metropolis, risen from the freezing mists and flooded marshland of the River Neva on the western edge of Russia. It was a new capital in an old country. Established in 1703 by the sheer will of its charismatic founder, the homicidal megalomaniac Peter the Great, its dazzling yet unhinged reputation was quickly cemented by the sadistic dominion of its early rulers. This city, in its successive incarnations—St. Petersburg, Petrograd, Leningrad and, once again, St. Petersburg—has always been a place of perpetual contradiction.
It was a window to Europe and the Enlightenment, but so much of Russia's unique glory was also created here: its literature, music, dance and, for a time, its political vision. It gave birth to the artistic genius of Pushkin and Dostoyevsky, Tchaikovsky and Shostakovich, Pavlova and Nureyev. Yet, for all its glittering palaces, fairytale balls and enchanting gardens, the blood of thousands has been spilt on its snow-filled streets.
It has been a hotbed of war and revolution, a place of siege and starvation, and the crucible for Lenin and Stalin's power-hungry brutality. In St. Petersburg, Jonathan Miles recreates the drama of three hundred years in this paradoxical and brilliant city, bringing us up to the present day, when its fate hangs in the balance once more.
This is an epic tale of murder, massacre and madness played out against squalor and splendor, and an unforgettable portrait of a city and its people.  
About the Author
Cultural historian Jonathan Miles has a personal engagement with St. Petersburg and its people that dates back to the Soviet era. Born in a trunk, Jonathan spent his childhood in America and Canada and currently lives in Paris. Graduating magna cum laude from University College, London, he received his doctorate from Jesus College, Oxford. Early books include studies of British artists Eric Gill and David Jones. His Wreck of the Medusa—currently under option for a full-length motion picture—is a voyage through the artistic, political and moral clashes of Restoration France. The New York Times called it '"enthrallingly recounted. The narrative is brilliantly meted out." His Nine Lives of Otto Katz—the tale of a flamboyant Soviet intriguer and spy—was hailed by the Los Angeles Times "as unique among accounts of that world."  Visit him at jonathanmiles.net.
Praise For St. Petersburg: Madness, Murder, and Art on the Banks of the Neva…
To walk the streets of St. Petersburg, Russia, on a clear evening during the white nights of June is one of the world's more sublime urban experiences.  The Paris-based cultural historian Jonathan Miles has set out to write a sweeping account of a metropolis whose tumultuous, bloody past and dazzling cultural heritage mirror that of Russia as a whole. Miles has conducted extensive research . . . most notably [on] the rich architectural and artistic legacy of a city that was home to such luminaries as Gogol, Dostoyevsky, Shostakovich and Nureyev. Miles dishes up the A-to-Z of St. Petersburg's history: The brutal, westward-looking Peter the Great; the succession of rulers, whose stable of European architects created St. Petersburg's handsome neoclassical facade; the sorrows of a city that spawned the Russian Revolution and endured the 900-day German siege during World War II; and the trials of Soviet-era Leningrad, which gave us its native son, Vladimir Putin, now dragging St. Petersburg and Russia halfway back to their authoritarian past.

Jonathan Miles's cinematic telling shows how the drama, the absurdity, the splendor and the squalor of the imperial capital all found their way into Russia's finest novels, operas and paintings. In this compelling account of St Petersburg's turbulent history, Miles peels back the layers of myth in which the city is swaddled, while never losing sight of its haunting grace.

This extraordinary book brings to life an astonishing place. Beautiful prose renders it brutally vivid, [with] delightful style and an acute sense of absurdity.

Biographer and historian Miles spans three centuries in this profile of St. Petersburg.

Miles' history has a substantial foundation, but what makes it special is the sheer inescapable momentum of his prose, powered by the captivating intensity of his attachment to his subject.  His overwhelming concatenation of fact, observation and opinion is a dazzling history of a dazzling city over centuries of physical and political challenge.

A fresh mix of fascinating contrasts and diverse perspectives. More than just a retelling of historical facts.

A fascinating and rich history. The importance and the epic scale of St. Petersburg comes across vividly in this work. For all readers who enjoy Russian history combined with a rich overview of the arts.

A brilliant history.  So fluent, so textured is Jonathan Miles's ease with prose and argument that his vivid dissection of three hundred years of St Petersburg's history should be devoured in captive sittings.  This is a storyteller entranced with his subject, who makes its brilliant portrayal look deliriously easy.

Lively and entertaining biography. Full of sparkling storytelling and well drawn characters.  A delight.

Compulsive and page-turning.

Miles's spellbinding account of this magnificent yet tragic city reflects the passions, triumphs, and colossal failures of Russia itself. Thoroughly documented and illustrated, this is an eloquently written tribute to a legendary city.

An expansive portrait of the calamity-laden urban center of European Russia. Vigorous and readable.

Of all cities St. Petersburg is most like a novel. Conceived in the mind of a Tsar like a writer might give birth to a book, it has never ceased to be relentlessly dramatic, as if being like a novel is its destiny. Miles tells the tale magnificently. 
— Peter Pomerantzev, author of Nothing is True and Everything is Possible