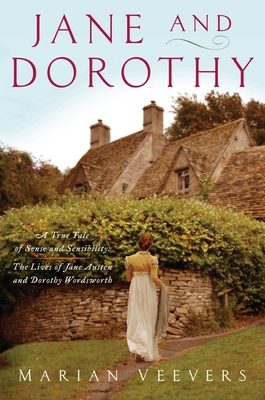 Jane and Dorothy
Hardcover

* Individual store prices may vary.
Other Editions of This Title:
Paperback (9/10/2019)
Description
An intimate portrait of Jane Austen, Dorothy Wordsworth, and their world—two women torn between revolutionary ideas and fierce conservatism, artistic creativity and emotional upheavals.

The lives of Dorothy Wordsworth and Jane Austen have never been examined together before. Born just four years apart, they came from the same class of landed gentry with clergymen for fathers (who both died young); with friends, family and many interests in common. Living in Georgian England, they navigated strict social conventions and new ideals, and were influenced by Dorothy's brother, the Romantic poet William Wordsworth, and his coterie. They were supremely talented writers yet often lacked the necessary peace of mind in their search for self-expression. Neither ever married.

Jane and Dorothy uses each life to illuminate the other. For both women, financial security was paramount and whereas Jane Austen hoped to achieve this through her writing, rather than being dependent on her family, Dorothy made the opposite choice and put her creative powers to the use of her brilliant brother with whom she lived all her adult life.

Though neither path would bring lasting fulfillment and independence, both women's mark on literary culture is undeniable. This probing book reveals a crucial missing piece to the puzzle of Dorothy and William's relationship and addresses enduring myths surrounding the one man who seems to have stolen Jane's heart, only to break it . . .
Praise For Jane and Dorothy…
"An intelligent and sometimes searing portrait of two pivotal women in English literature. Veevers's writing flows effortlessly and sustains interest by moving back and forth between the two women."
— Publishers Weekly

"In this entertaining biography, written in an intimate, personal style, the author employs a chronological narrative to explore the different ways in which these two women responded to the obstacles presented by Georgian society. A well-researched, wonderfully told story of two women of their times."
— Kirkus Reviews

"Beautifully written. Characters one cares about immediately and a mystery which becomes more urgent with every page."
— Ann Perry (Praise for BELLFIELD HALL)

"An admirably researched, sensitive study of authors Jane Austen and Dorothy Wordsworth. Readers familiar with Austen will easily fall in love with Wordsworth as a character in this storied version of the women's lives, and scholars will discover new ways of looking at both women's relationships with their families. Striking a balance between specialized knowledge and general interest, this will be a great fit for Austen fans who want to delve deeper into her life or expand their views on women's roles during the Regency period."
— Library Journal (starred)

"Captured the tricky business of presenting a clever and resourceful woman, hedged in by a tight-laced society, who turns those limitations to her own benefit. Decorative and thoughtful, Bellfield Hall is a worthy addition to the historical crime tradition."
— Laurie R. King, author of TOUCHSTONE
Pegasus Books, 9781681776781, 336pp.
Publication Date: April 3, 2018
About the Author
Marian Veevers lives in the Lake District, just five miles from Grasmere, and works for the Wordsworth Trust. She lectures on Dorothy Wordsworth for the Wordsworth Trust and is the author of several novels set in Georgian England under the pseudonym Anna Dean, including Bellfield Hall and A Gentleman of Fortune.
or
Not Currently Available for Direct Purchase