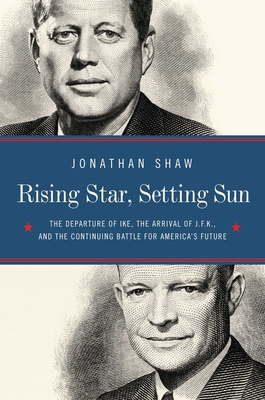 Rising Star, Setting Sun
Dwight D. Eisenhower, John F. Kennedy, and the Presidential Transition that Changed America
Hardcover

* Individual store prices may vary.
Other Editions of This Title:
Paperback (9/10/2019)
Description
A monumental new history reveals how the transition of power from Eisenhower to Kennedy marked more than a succession of presidents—it was the culmination of a generational shift in American politics, policy and culture.

After winning the presidency by a razor-thin victory on November 8, 1960 over Richard Nixon, Dwight D. Eisenhower's former vice president, John F. Kennedy became the thirty-fifth president of the United States. But beneath the stately veneers of both Ike and JFK, there was a complex and consequential rivalry.

In Rising Star, Setting Sun, John T. Shaw focuses on the intense ten-week transition between JFK's electoral victory and his inauguration on January 20, 1961. In just over two months, America would transition into a new age, and nowhere was it more marked that in the generational and personal difference between these two men and their dueling visions for the country they led. The former general espoused frugality, prudence, and stewardship. The young political wünderkid embodied dramatic themes and sweeping social change.

Extensively researched and eloquently written, Shaw paints a vivid picture of what Time called a "turning point in the twentieth century" as Americans today find themselves poised on the cusp of another watershed moment in our nation's history.
Praise For Rising Star, Setting Sun: Dwight D. Eisenhower, John F. Kennedy, and the Presidential Transition that Changed America…
"With telling details and anecdotes, a keen understanding of the principals and their times, and a vigorous narrative that sweeps the reader through his story, Shaw provides a colorful and constructive account of American democracy at work."
— Richmond Times-Dispatch

"A focused history of the period between Election Day 1960 and Inauguration Day 1961."
— Kirkus Reviews

"A gripping examination of the transfer of power between Presidents Eisenhower and Kennedy at a critical moment in history."
— Publishers Weekly

"While Shaw ostensibly focuses on the transition period between the two administrations exiting and entering the White House, his sweeping book covers much more ground. Shaw's elegant style and attention to history serve as a reminder of that peaceful transition that was a turning point in the 20th century."
— Bookreporter

"With a stirring address and the passing of the torch to a new generation, the 1961 presidential inauguration marked a pivotal moment in U.S. history. We take these quadrennial rituals of peaceful transition for granted, but in fact they are carefully planned and executed. John Shaw provides fascinating behind-the-scenes detail of this iconic event while exploring the broader context of a nation in evolution. Extensive research, insightful analysis, and a journalist's knack for telling a good story makes Rising Star, Setting Sun essential and entertaining reading for anyone interested in the American presidency."
— Betty K. Koed, Historian

"Shaw vividly portrays the generational clash between the upstart former lieutenant and the iconic general. Following a campaign marked by raw personal attacks, they overcame their disdain, with a passing of the torch and stirring rhetoric that became a high point in each president's career."
— Richard Cohen, Chie Author of The Almanac of American Politics

"The presidential transition from Dwight Eisenhower to John Kennedy starkly contrasted the parties, temperaments, and generations of the two leaders, yet the transfer of power proceeded amicably in the national interest. John Shaw's Rising Star, Setting Sun slips behind the veil of civility to take the measure of both men and assess their personal antagonisms."
— Donald A. Ritchie, author of Electing FDR: The New Deal Campaign of 1932

"John Shaw does a brilliant job of capturing the hidden tensions during the transition from Eisenhower to Kennedy. The two men couldn't have been more different in personal style and policy priorities. Shaw brings to life the sharp contrast between Ike and J.F.K. as the old gave way to the new."
— Larry J. Sabato, Author, The Kennedy Half-Century, and Director of the UVA Center of Politics

"John Shaw's Rising Star, Setting Sun is a riveting account centered on the ten weeks between the electoral victory of John Kennedy on 8 November 1960 to his inauguration on 20 January 1961. While the focus of action rests on the transfer of power from Dwight Eisenhower to his successor, Shaw additionally provides snapshots of the trends that coursed through American society in the 1950s-1960s. He deftly handles matters related to that era's economic vitality, demographic shifts, cultural happenings, scrappy partisan politics, and international dilemmas. Shaw's analysis of rival types of statecraft, particularly in the foreign policy field, rewards close reading as he compares the cautious, prudent, skeptical Eisenhower with the taut, enthusiastic, gung-ho Kennedy. This sharp difference, as Shaw explains in crisp prose, was highlighted in Eisenhower's farewell speech which contained apt warnings against the "military-industrial complex" versus Kennedy's inaugural address with its declaration that the United States would "pay any price" to ensure the global "success of liberty."
— David Mayers, Boston University, author of America and the Postwar World

"Even though John Shaw's superbly-written narrative concentrates on the transition from Dwight Eisenhower to John Kennedy, he has accomplished far more by characterizing the strengths and weaknesses of these two epochal figures throughout their presidential years."
— Irwin F. Gellman author, The President and the Apprentice

"Shaw's account deftly balances anecdote and analysis, making this a valuable read for those interested in both J.F.K. the pol and J.F.K. the person. "
— Publishers Weekly (starred) [praise for 'JFK in the Senate']

"A captivating account of Kennedy's often overlooked formative years in the Senate. A fascinating read."
— Senator Robert Casey of Pennsylvania [praise for 'JFK in the Senate']
Pegasus Books, 9781681777320, 336pp.
Publication Date: May 1, 2018
About the Author
John T. Shaw is the author of four previous books, including most recently JFK in the Senate: A Pathway to the Presidency. He's covered Congress for Market News International for nearly twenty-five years, and has also been a contributing writer for the Washington Diplomat and has been a guest on PBS NewsHour and C-SPAN. He lives in Washington D.C.
or
Not Currently Available for Direct Purchase