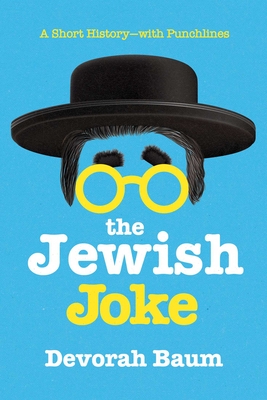 The Jewish Joke
A Short History-with Punchlines
Hardcover

* Individual store prices may vary.
Other Editions of This Title:
Paperback (11/12/2019)
Description
Heard the one about the Rabbi and the cow from Minsk? Look no further than this witty compendium, a fascinating and revealing celebration of the great Jewish Joke.

Comedy is full of famously funny Jews, from Groucho Marx to Sarah Silverman, from Larry David to Jerry Seinfeld. This smart and funny book includes tales from many of these much-loved comics, and will appeal to their broad audience, while revealing the history, context and wider culture of Jewish joking.

The Jewish joke is as old as Abraham, and like the Jews themselves it has wandered over the world, learned countless new languages, worked with a range of different materials, been performed in front of some pretty hostile crowds, and yet still retained its own distinctive identity. So what is it that animates the Jewish joke? Why are Jews so often thought of as "funny"? And how old can a joke get?

The Jewish Joke is a brilliant—and laugh-out-loud funny—riff on what sets Jewish jokes apart from other jokes, why they are important to Jewish identity, and how they work. Ranging from self-deprecation to anti-Semitism, politics to sex, Devorah Baum looks at the history of Jewish joking and asks whether the Jewish joke has a future.

With jokes from Lena Dunham to Woody Allen, as well as Freud and Marx (Groucho, mostly), Baum balances serious research with light-hearted humor and provides fascinating insight into this well-known and much loved cultural phenomenon.
Praise For The Jewish Joke: A Short History-with Punchlines…
"Delightfully entertaining and cheerfully insightful."
— Kirkus Reviews

"Baum effectively considers the roles Jewish humor has played as a response to oppression and as a way to mock hypocrisy about religious observance."
— Publishers Weekly

"[Baum is] intellectually luminous, psychologically penetrating, existentially anxious, and wonderfully funny."
— Zadie Smith

"In her slim volume The Jewish Joke, the British academic Devorah Baum collects enough humor of this ilk to unstick the slowest dinner party. I closed her book a prouder Jew than I had begun it."
— Washington Post

"This book is funny, clever and, at times, heartbreaking. In other words, Jewish."
— David Baddiel, comedian

"A Jew and a non-Jew read Devorah Baum's The Jewish Joke. They both found it hilarious and thought-provoking. Because it is."
— David Schneider, actor, Mission: Impossible
Pegasus Books, 9781681777429, 208pp.
Publication Date: May 1, 2018
About the Author
Devorah Baum is the author of Feeling Jewish: A Book for Just About Anyone (Yale, 2017) and co-director of the documentary film The New Man. She is Lecturer in English Literature and Critical Theory at the University of Southampton and affiliate of the Parkes Institute for the Study of Jewish/non-Jewish Relations.
or
Not Currently Available for Direct Purchase