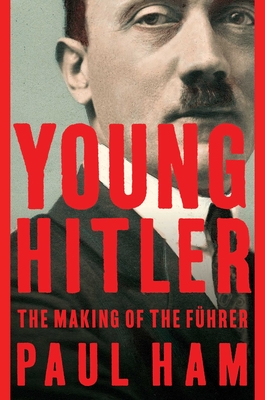 Young Hitler (Hardcover)
The Making of the Führer
Pegasus Books, 9781681777474, 320pp.
Publication Date: June 5, 2018
Other Editions of This Title:
Paperback (11/12/2019)
MP3 CD (7/1/2018)
Compact Disc (7/1/2018)
* Individual store prices may vary.
Description
By looking deeply into the Führer's childhood, war experiences, and early political career, this rigorous narrative seeks to answer this question: How did the early, defining years of Hitler's life affect his rise to power?
When Adolf Hitler went to war in 1914, he was just 25 years old. It was a time he would later call the "most stupendous experience of my life."
That war ended with Hitler in a hospital bed, temporarily blinded by mustard gas. The world he eventually opened his newly healed eyes to was new and it was terrible: Germany had been defeated, the Kaiser had fled, and the army had been resolutely humbled.
Hitler never accepted these facts. Out of his fury rose a white-hot hatred, an unquenchable thirst for revenge against the "criminals" who had signed the armistice, the socialists he accused of stabbing the army in the back, and, most violently, the Jews—a direct threat to the master race of his imagination—on whose shoulders he would pile all of Germany's woes.
By peeling back the layers of Hitler's childhood, his war record, and his early political career, Paul Ham's
Young Hitler: The Making of the Führer 
seeks the man behind the myth. More broadly, Paul Ham seeks to answer the question: Was Hitler's rise to power an extreme example of a recurring type of demagogue—a politician who will do and say anything to seize power; who thrives on chaos; and who personifies, in his words and in his actions, the darkest prejudices of humankind?
About the Author
Paul Ham is the author of several histories, including Hiroshima Nagasaki and 1914: The Year the World Ended. A former journalist and publisher, he has worked for the Financial Times Group and was the Australia correspondent for the Sunday Times of London for many years. He now lives in Paris.
Praise For Young Hitler: The Making of the Führer…
A biographical inquiry of disquieting contemporary relevance. As he marvels at the impotence of Hitler's critics to stop his ascent, Ham worries about the rise of populist demagogues in the twenty-first-century world, and he summons his readers to the imperative task of fighting their influence.

Perhaps the greatest contribution of this book in a time of resurgent nationalism is its quiet reminder that Hitler was an all-too-human product of his time who 'personified the feelings of millions, and still does.'

In addition to providing a detailed recounting of Hitler's personal history, Ham also places most events and ideologies of the time into their historical context.

A useful general-audience perspective on Hitler as more drummer than leader.

Ham is a splendid storyteller, a master of engrossing and exciting narrative. He digs deeper, and brings back to life the figures who dominated this history, in a page-turner.

A vivid, comprehensive, and quietly furious account. Paul Ham brings new tools to the job, unearthing fresh evidence of a deeply disturbing sort. He has a magpie eye for the telling detail.
— Ben Macintyre

Ham presents a forceful argument. In this sweeping and comprehensive history, Ham details the geopolitical considerations and huge egos behind evolving theories of warfare.