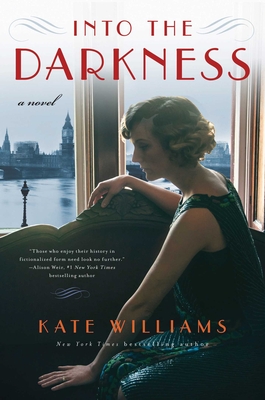 Into the Darkness
A Novel (The Storms of War #3)
Hardcover

* Individual store prices may vary.
Other Editions of This Title:
Paperback (11/12/2019)
Description
Alive with rich characters and evoking love, loss, and one woman's surprising strength during the tumult of the 1920s and 30s, the new novel in the "Storms of War" trilogy brings this acclaimed series to a dramatic conclusion.
This scintillating third part of the "Storms of War" trilogy finds Celia in the glittering new city of 1920s New York, hunting for her son, Michael, who was taken from her at birth. In her desperation to find him, thwarted at every turn, she looks to the valiant girls of an underground flapper army and runaway boy with the biggest heart who knows New York inside and out for help. While in New York, she reconnects with Jonathan Corrigan—the best friend of her long-dead brother—and falls in love. In the hope of saving her family—and their home, Stoneythorpe—Celia sets up a business in New York. Her "Flapper Foods," beautiful cans and jars of convenience food for the modern girl takes off. Then the Great Depression falls and everything seems lost.
But the Depression brings Michael to her, and although Celia has lost her brother and her business, she has her child. They return to England, and Celia finds her family poor and in desperate need. She starts her business back up in a battle to save the house.
But Celia's attempt to save her family—and keep everybody's secrets—is so all consuming, her business so absorbing that she doesn't see what's going around her. She refuses to see Tom when he begs to see his son. She doesn't see the advance of German rearming and nationalism, nor how it distresses her parents. And most of all, she doesn't see how Michael and his cousin, Lily, are becoming obsessed with each other. The adults attempt to separate the children. And this act tears the family apart.
Michael and Lily disappear, World War II is coming, and Stoneythorpe, despite Celia's efforts, must be sold. Jonathan realizes she is never coming back to the United States, and Tom is furious with her. It seems to Celia that she has lost everything, especially her son and niece. But the world around her is watching, and hope is on the horizon. But there are big decisions to make, and Celia will have to risk everything to save her family.
Full of joy, wonder, bittersweet emotion, humor and redemption,
Into the Darkness
is filled with rich characters and a marvelous story about loss, love, new life, and one woman's surprising strength...
Praise For Into the Darkness: A Novel (The Storms of War #3)…
Those who enjoy their history in fictionalized form need look no further.
— Alison Weir, #1 New York Times bestselling author

Touching on topics as wide ranging as the horrors of trench warfare, battlefield hospitals, women-volunteer ambulance drivers, women's suffrage, and blatant discrimination, this detailed, descriptive novel brings an era to life. As atmospheric as Anne Perry's WWI books and as spellbinding as Ken Follett's Fall of Giants.


Quietly impressive. It echoes of classic novels (Atonement, Brideshead Revisited). Hard to put down. A new perspective on an old war. Gripping, thoughtful, heartbreaking, and, above all, human.


The new novel by the historian Kate Williams, is an epic story about a young woman whose idyllic world is shattered by the First World War.

Shades of Downton, with a dash of Atonement.


A big juicy drama set on the eve of the First World War. Kate Williams paints a spellbinding portrait of a family clinging on desperately to their privileged way of life.

Kate Williams in a vivid writer, conjuring atmosphere through scents and tastes as well as period props.

Williams keeps her story moving and the result is a vivid portrait of a perennially fascinating period of history.

This terrific saga comes with a fascinating twist. Williams has a gift for showing how great movements in history affect the lives of people caught up in them.
Pegasus Books, 9781681777627, 400pp.
Publication Date: August 7, 2018
About the Author
Kate Williams is a professor of history at the University of Reading and the author of England's Mistress, Becoming Queen Victoria, and The Betrayal of Mary, Queen of Scots.