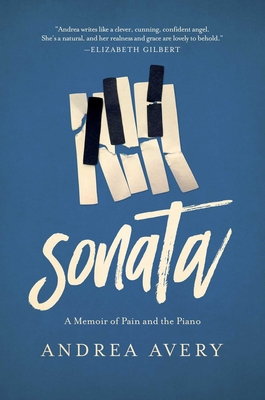 Sonata
Paperback

* Individual store prices may vary.
Other Editions of This Title:
Hardcover (5/9/2017)
Description
Andrea, already a promising and ambitious classical pianist at twelve, was diagnosed with a severe case of rheumatoid arthritis that threatened not just her musical aspirations but her ability to live a normal life. As Andrea navigates the pain and frustration of coping with RA alongside the usual travails of puberty, college, sex, and just growing-up, she turns to music—specifically Franz Schubert's sonata in B-flat D960, and the one-armed pianist Paul Wittgenstein for strength and inspiration. The heartbreaking story of this mysterious sonata—Schubert's last, and his most elusive and haunting—is the soundtrack of Andrea's story. Sonata is a coming of age story that explores a "Janus-head miracle"—Andrea's extraordinary talent and even more extraordinary illness—in a manner, reminiscent of Brain on Fire and Poster Child. Like the goshawk becomes a source of both devotion and frustration for Helen Macdonald in H Is for Hawk, so the piano comes to represent both struggle and salvation for Andrea in this extraordinary debut.
Praise For Sonata…
Readers will be rooting for Avery as she builds a life she can cherish regardless of her symptoms.

Avery's love of music is patent on almost every page. Dazzling. As much as this is the story of Avery's mind and psychology, it is even more so the story of her adjustments to her traitorous body, to how people perceive her, that composes the capacious heart of this narrative. Through it all we see a bright, determined person trying to come to peace with herself and with a world that is not always kind. [Avery is] determined to maintain the music of her life in whatever forms are possible.

In 1989, at the age of 12, Avery was diagnosed with rheumatoid arthritis. She was also a promising pianist. This excellent memoir illuminates both elements of her life with equal dignity and insight. Her story offers inspiration, and education on building a beautiful and meaningful life even when what you love most slips away.

Andrea writes like a clever, cunning, confident angel. She's a natural, and her realness and grace are lovely to behold.
— Elizabeth Gilbert, New York Times bestselling author of 'Eat, Pray, Love'

When pure bad luck forces a talented person to go to Plan B, how does that person create a life that's richer, happier, and more fulfilled than Plan A? Andrea's book answers that
question. It is a smart, moving, and funny testimony to the sturdiness of the human will.
— Joe Theismann, Super Bowl champion quarterback

Despite her devastating condition, Avery makes it clear that her illness does not define who she is. She may be always sick, but, as she notes, she is not 'sickly.' A moving memoir of living with pain, and with music.


Subdued and introspective, Sonata examines the 'cruel synchrony to be gifted with music and arthritis nearly simultaneously'—the aftermath of hopes and dreams erased before fully realizing one's potential and the connective force of music in our lives.


A brave and honest memoir. An astonishing and thought-provoking book. Highly recommended. Sonata has something in it to help you fight. Avery is a wonderful writer, and her book is written with truth, grace, and a lot of wit.

— Randy Kinkle, Arizona Public Radio, "Book Notes pick"

[Avery is] not afraid to embrace a both a hip tone peppered with slang and references from her favorite grunge bands, as well as the academic elegance of research and her mother's copious medical notes. Relatable to most every reader, she extends to us the same encouragement as the teachers she takes after to 'put some oomph in it!'

Remarkable. By so eloquently sharing her own 'scars,' Andrea Avery enriches us all.

Beautifully written, deeply thought and felt. The interweaving of music and disability works extremely well throughout, and Avery describes life with disability in a moving, engrossing way, and without giving way to any of the punishing tropes that bedevil not only outsider account of disability but even lots of first-person narratives.
Pegasus Books, 9781681777795, 336pp.
Publication Date: August 14, 2018
About the Author
Andrea Avery holds an MFA from Arizona State University and teaches English in Phoenix. Her short pieces have been published in Real Simple, Ploughshares, and The Oxford American, among others, and she was a finalist in Glamour magazine's annual essay contest. This is her first book.
or
Not Currently Available for Direct Purchase