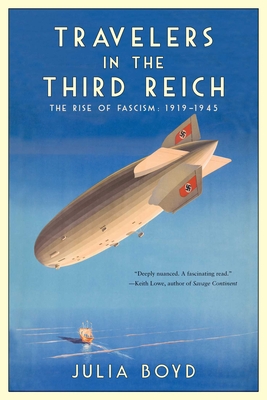 Travelers in the Third Reich
The Rise of Fascism: 1919-1945
Hardcover

* Individual store prices may vary.
Other Editions of This Title:
Digital Audiobook (1/9/2019)
Paperback (12/10/2019)
Description
This fascinating and shocking history of the rise of the Nazis draws together a multitude of expatriate voices—even Charles Lindbergh and Samuel Beckett—into a powerful narrative charting this extraordinary phenomenon.

Without the benefit of hindsight, how do you interpret what's right in front of your eyes?

The events that took place in Germany between 1919 and 1945 were dramatic and terrible, but there were also moments of confusion, of doubt—even of hope. How easy was it to know what was actually going on, to grasp the essence of National Socialism, to remain untouched by the propaganda, or predict the Holocaust?

Travelers in the Third Reich is an extraordinary history of the rise of the Nazis based on fascinating first-hand accounts, drawing together a multitude of voices and stories, including politicians, musicians, diplomats, schoolchildren, communists, scholars, athletes, poets, fascists, artists, tourists, and even celebrities like Charles Lindbergh and Samuel Beckett. Their experiences create a remarkable three-dimensional picture of Germany under Hitler—one so palpable that the reader will feel, hear, even breathe the atmosphere.

These are the accidental eyewitnesses to history. Disturbing, absurd, moving, and ranging from the deeply trivial to the deeply tragic, their tales give a fresh insight into the complexities of the Third Reich, its paradoxes, and its ultimate destruction.
Praise For Travelers in the Third Reich: The Rise of Fascism: 1919-1945…
"While there have been countless books written about the rise of Hitler, Travelers in the Third Reich relies on firsthand accounts by foreigners to convey what it was really like to visit, study or vacation in Germany during the 1920s and '30s. As Julia Boyd emphasizes, too many people allowed reverence for a nation's glorious past to warp their judgment about its morally repugnant present. That's a lesson still worth thinking about."
— Michael Dirda

"Conveys how challenging it must have been to forecast the dimensions of the impending tragedy. Boyd notes that, in 1936, even so astute and well-intentioned an observer as the African-American educator W.E. B. DuBois — who should have been particularly attuned to race-baiting and prejudice — stopped short of demonizing the regime. Instead, in common with the European political leaders who failed to arrest Hitler's momentum, he temporized. 'It is extremely difficult,' he wrote, 'to express an opinion about Germany today which is true in all respects without numerous modifications and explanations."
— Boston Globe

"Far fewer travelers were free to move about the country during those years, and the accounts they left behind are, as Boyd puts it, 'both horrifying and touching.' Those terms apply intensely to the whole of Travelers in the Third Reich, and readers will likely share Boyd's quiet outrage that more Germans didn't see – or weren't willing to admit – what was happening right in front of their eyes."
— Christian Science Monitor

This fresh, surprising perspective on how Nazi Germany was seen at the time will appeal to anyone looking for a new angle on that historical moment.
— Publishers Weekly

"A well-conceived study of a little-known corner of history."
— Kirkus Reviews

"Boyd's fresh and instructive look at 1930s Germany as described in contemporaneous travel narratives reveals a tourist destination that continued to attract visitors even as the true intentions of the Nazis became obvious."
— Booklist

"Extraordinary and absorbing. These firsthand glimpses of a dark time in Germany show us the complexity of appearances, and Boyd's book should be widely read."
— BookPage

"A compelling historical narrative. [Boyd] lets her voices, skilfully orchestrated, speak for themselves, which they do with great eloquence."
— The Daily Telegraph (UK)

"In the 1930s, the most cultured and technologically advanced country in Europe tumbled into the abyss. In this deeply researched book, Julia Boyd lets us view Germany's astonishing fall through foreign eyes. It also offers sobering lessons for our own day when strong leaders are again all the rage."
— Professor David Reynolds, author of The Long Shadow
Pegasus Books, 9781681777825, 464pp.
Publication Date: August 7, 2018
About the Author
Julia Boyd is the author of A Dance with the Dragon: The Vanished World of Peking's Foreign Colony; The Excellent Doctor Blackwell: The Life of the First Woman Physician; and Hannah Riddell: An Englishwoman in Japan. Previously a trustee of the Winston Churchill Memorial Trust, she now lives in London.
or
Not Currently Available for Direct Purchase