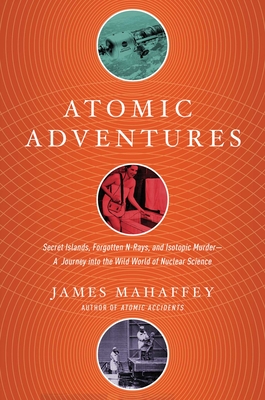 Atomic Adventures
Paperback

* Individual store prices may vary.
Other Editions of This Title:
Digital Audiobook (6/5/2017)
MP3 CD (6/6/2017)
Compact Disc (6/6/2017)
Compact Disc (6/6/2017)
Description
The latest investigation from acclaimed nuclear engineer and author James Mahaffey unearths forgotten nuclear endeavors throughout history that were sometimes hair-brained, often risky, and always fascinating.

Whether you are a scientist or a poet, pro-nuclear energy or staunch opponent, conspiracy theorist or pragmatist, James Mahaffey's books have served to open up the world of nuclear science like never before. With clear explanations of some of the most complex scientific endeavors in history, Mahaffey's new book looks back at the atom's wild, secretive past and then toward its potentially bright future.

Mahaffey unearths lost reactors on far flung Pacific islands and trees that were exposed to active fission that changed gender or bloomed in the dead of winter. He explains why we have nuclear submarines but not nuclear aircraft and why cold fusion doesn't exist. And who knew that radiation counting was once a fashionable trend? Though parts of the nuclear history might seem like a fiction mash-up, where cowboys somehow got a hold of a reactor, Mahaffey's vivid prose holds the reader in thrall of the infections energy of scientific curiosity and ingenuity that may one day hold the key to solving our energy crisis or sending us to Mars.
Praise For Atomic Adventures…
"A rewarding book. H.G. Wells would have been fascinated by Atomic Adventures, especially by the ways its cast of scientists—who range from authentic experts to the shadiest of con artists—have tried to make use of atomic energy in war and in peace. Mahaffey, a former research scientist at Georgia Tech, is a knowledgeable narrator who plainly loves his subject. He knows how to tell a good story and, no less important, has an eye for unfamiliar and revealing details. An enlightening read."
— The Wall Street Journal

"In some ways, Atomic Adventures is reminiscent of historian Richard Rhodes's book The Making of the Atomic Bomb. But Mahaffey offers more than just history. He sets out to teach his readers about the science behind the stories. In a culture fixated on accomplishment, it's important to talk about the things that didn't work. What Atomic Adventures does well is to celebrate the full arc of science: the good, the bad, and the quirky."
— Science

"Did you mourn the ending of Simon Winchester's Pacific? Fret no longer, the companion is here, and it's no less filled with batty geniuses who want to power the world with a scary mixture of nuclear energy and hubris. Stellar nonfiction."
— Booklist (starred)

"Irresistible"
— Publishers Weekly (starred)

"A gloriously nerdy tour of atomic research."
— Nature

"Delivers an expert, equally amusing chronicle of the wide world of nuclear science. Mahaffey's account is not the first but definitely the funniest."
— Kirkus Reviews

"Although the atomic craze peaked in the mid-20th century, the topic continues to fascinate, and Mahaffey has tapped into the excitement."
— Library Journal
Pegasus Books, 9781681777856, 424pp.
Publication Date: August 14, 2018
About the Author
James Mahaffey was a senior research scientist at the Georgia Tech Research Institute where he worked under contract for the Defense Nuclear Agency, the National Ground Intelligence Center, the Air Force Air Logistics Center, and Georgia Power Company. He is the author of Atomic Awakening and Atomic Accidents and lives in Atlanta, Georgia.
or
Not Currently Available for Direct Purchase