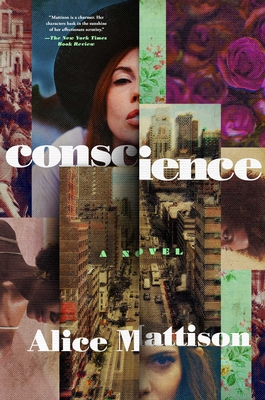 Conscience (Hardcover)
A Novel
Pegasus Books, 9781681777894, 368pp.
Publication Date: August 7, 2018
Other Editions of This Title:
MP3 CD (2/25/2020)
Compact Disc (2/25/2020)
Paperback (12/10/2019)
* Individual store prices may vary.
Description
A Washington Post Notable Book of the Year



Acclaimed author Alice Mattison's new novel explores the hard choices a young woman and her friends made decades earlier at the height of the Vietnam War.
Decades ago in Brooklyn, three girls demonstrated against the Vietnam War, and each followed a distinct path into adulthood. Helen became a violent revolutionary. Val wrote a controversial book,
Bright Morning of Pain
, which was essentially a novelization of Helen's all-too-short but vibrant life. And Olive became an editor and writer, now comfortably settled with her husband, Griff, in modern-day New Haven.
When Olive is asked to write an essay about Val's book, a work that attracts and repulses her in equal measure, doing so brings back to the forefront Olive and Griff's tangled histories and their complicated reflections on that tumultuous time in their young lives. Things only become more fraught when Griff borrows Olive's treasured first edition of the novel—and loses it. Then Griff's quirky and audacious new colleague, Jean Argos, finds the book and begins reading it, setting off a series of events that will introduce new conflicts, tragedies, and friendships into the precarious balance of Olive and Griff's once stable home.
Conscience
, the dazzling new novel from award-winning author Alice Mattison, paints the nuanced relationships between the palpable personalities of Olive, Griff, and Jean with her signature wit and precision. And as Mattison explores the ways in which women make a difference—for good or ill—in the world, she elegantly weaves together the past and the present, and the political and the personal.
About the Author
Alice Mattison's novels include The Book Borrower, Nothing Is Quite Forgotten in Brooklyn, and When We Argued All Night. Her stories have appeared in The New Yorker, The New York Times, Ploughshares, and Ecotone, and been anthologized in The Pushcart Prize, PEN/O. Henry Prize Stories, and Best American Short Stories. Her most recent work is The Kite and the String: How to Write with Spontaneity and Control—and Live to Tell the Tale. She lives in New Haven, Connecticut.
Praise For Conscience: A Novel…
Alice Mattison's novels often revolve around an intense friendship between women in a leftish milieu. So does her latest, which offers many of the pleasures of those earlier works. A careful observer of gesture and language, Mattison writes warmly about her characters. The inhabitants of this novel all struggle to live ethical lives.

A novel that's a lot like life: jumbled and challenging and wonderfully real. Conscience will please those who complain that so much literary fiction is a little too neat, ironical or even adolescent. Indeed, Mattison never hesitates to let her characters worry away at what's troubling them, cycling back over their own shame and others' slights in a way that seems wholly, sometimes maddeningly, realistic. But the real triumph of this ruminative novel is that it transports us back to a period when exercising one's conscience was a national emergency. And then Mattison slyly insists that we acknowledge the moral complexity of our own era with its own equally urgent demands.


Mattison tells several stories in Conscience, and watching them grow and intersect is one of the greatest pleasures of the book. The shifting perspective works well, as a chorus of "I"s helps build a collective sense of the collateral damage of the war and the noisy overlap of friends, family, and lovers that make up a community. The female characters in Conscience are part of a long line of women — working women, sexual women, family women, thinking women — whose lives Mattison has lovingly captured and explored. Mattison gives us an intimate portrait of the struggles and sacrifices of the men and women who protested against the war in Vietnam. She also reminds us of what it is to have, and act on, a conscience, what it is to make a choice and accept the consequences.


Friendship tested in the crucible of political upheaval fascinates Mattison, a writer of extraordinary psychological acuity and crisp wit. It shaped her previous novel, When We Argued All Night, and comes to even stronger fruition in this riveting tale. Mattison's engrossing exploration of diverse matters of conscience is dynamic, precise, many-layered, funny, ambushing, and provocative.


While exploring the deeply flawed yet enduring marriage of two Vietnam War-era activists now leading comfortable bourgeois lives in New Haven, Connecticut, Mattison also tackles broader issues. Rewarding and certainly timely; Mattison's complex prose matches the multidimensional moral arguments raging inside her prickly, multidimensional characters.

Conscience will be a bittersweet read for many who remember the Vietnam War era. Using two narrative strands, related by three richly complex narrators, the book explores a half century in emotional and political depth.


A complex, challenging, riveting new Alice Mattison novel.