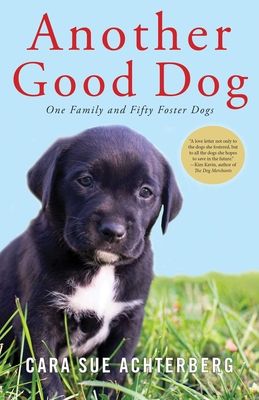 Another Good Dog
One Family and Fifty Foster Dogs
Hardcover

* Individual store prices may vary.
Other Editions of This Title:
Digital Audiobook (8/6/2018)
MP3 CD (8/7/2018)
Compact Disc (8/7/2018)
Paperback (12/10/2019)
Description
A warm and entertaining memoir about what happens when you foster fifty dogs in less than two years—and how the dogs save you as much as you save them.

When Cara felt her teenaged children slipping away and saw an empty nest on the horizon, she decided the best way to fill that void was with dogs—lots of them—and so her foster journey began.

In 2015, her Pennsylvania farm became a haven for Operation Paws for Homes. There were the nine puppies at once, which arrived with less than a day's notice; a heart- worm positive dog; a deeply traumatized stray pup from Iraq; and countless others who just needed a gentle touch and a warm place to sleep. Operation Paws for Homes rescues dogs from high-kill shelters in the rural south and shuttles them north to foster homes like Cara's on the way to their forever homes.

What started as a search for a good dog, led to an epiphany that there wasn't just one that could ll the hole left in her heart from her children gaining independence—she could save dozens along the way. The stories of these remarkable dogs— including an eighty-pound bloodhound who sang arias for the neighbors—and the joy they bring to Cara and her family (along with a few chewed sofa cushions) fill the pages of this touching and inspiring new book that reveals the wonderful rewards of fostering.

When asked how she can possibly say goodbye to that many loveable pups, Cara says, "If I don't give this one away, I can't possibly save another." Filled with humanity and hope, Another Good Dog will take the reader on an journey of smiles, laughs, and tears—and lead us to wonder how many other good dogs are out there and what we can do to help.
Praise For Another Good Dog: One Family and Fifty Foster Dogs…
"Saddened by her emptying nest, Cara Sue Achterberg started fostering dogs—dozens of them. Here she shares the journey (and some supercute photos)."
— People

"Another Good Dog is heartwarming and humorous. Achterberg fills her readers with the warmth of hope and light of inspiration, which will likely galvanize a new wave of fosters."
— Shelf Awareness

"As expected, the narrative revolves around tales of dogs and puppies. What's unexpected are Achterberg's personal reveals. The stories and photos will delight those who have a soft spot for dogs and the dog rescue mission."
— Publishers Weekly

"In this heartwarming memoir, Achterberg lovingly describes the ups and downs of her first two years rehabilitating 50 dogs for new lives in 'forever homes.' Illustrated with photographs of some of Achterberg's many fosters, this book blends insight and entertainment to tell an unforgettable story about seeking, and finding, life purpose through caring for abandoned dogs. A compassionate and humane canine tale."
— Kirkus Reviews

"Witty and full of love, [Achterberg's] memoir beautifully captures the personalities of the dogs she's helped save and recounts the concurrent struggles in her family life, particularly watching her teenagers fly the nest. This easy read is a must for animal lovers and those interested in volunteering with animals and a good choice for reluctant readers."
— Booklist

"A big hearted, inspiring and passionate look at a critical piece of the rescue puzzle. Lucky are the dogs who pass through Achterberg's arms on their way to the lives they so richly deserve. It takes a very special person to open her heart and home to a succession of hard luck dogs looking for their forever families for it means falling in love every time and then saying goodbye over and over and over again. Honest and engaging."
— Peter Zheutlin, New York Times bestselling author of 'Rescue Road'

"A love letter not only to the dogs she fostered, but to all the dogs she hopes to save in the future."
— Kim Kavin, author of 'The Dog Merchants'

"Cara Sue Achterberg has in fact written another good book about dogs, but even more so she has produced a manifesto on how to change the world: through single acts of caring and compassion stacked one on top of another without end."
— Jim Gorant, author of the New York Times bestseller 'The Lost Dogs'

"Ask any homeless dog to name his heart's desire, and I suspect the answer would be a forever home. Sometimes, though, there are stops along the way to that longed-for destination. That's where people like Cara Sue Achterberg come into the picture. Another Good Dog has to be the 'feel good' book of the year. The perfect gift."
— Best Friends
Pegasus Books, 9781681777931, 296pp.
Publication Date: August 7, 2018
About the Author
Cara Sue Achterberg is the author of several books, including I'm Not Her and Girls Weekend, which were national bestsellers. She is the author of Another Good Dog, also available from Pegasus Books, and lives in New Freedom, Pennsylvania.
or
Not Currently Available for Direct Purchase