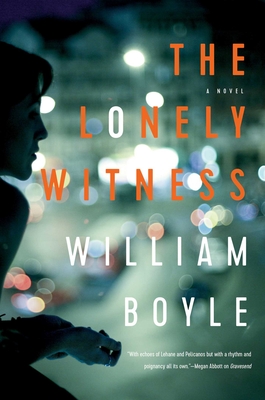 The Lonely Witness
A Novel
Hardcover

* Individual store prices may vary.
Other Editions of This Title:
Paperback (2/11/2020)
Description
When a young woman with a sordid past witnesses a murder, she finds herself fascinated by the killer and decides to track him down herself.

Amy lives a lonely life, helping the house-bound receive communion in the Gravesend neighborhood of Brooklyn. Oneof her regulars, Mrs. Epifanio, says she hasn't seen her usual caretaker, Diane, in a few days. Supposedly, Diane has the flu—or so Diane's son Vincent said when he first dropped by and vanished into Mrs. E's bedroom to do no-one-knows-what.

Amy's brief interaction with Vincent in the apartment that day sets off warning bells, so she assures Mrs. E that she'll find out what's really going on with both him and his mother. She tails Vincent through Brooklyn, eventually following him and a mysterious man out of a local dive bar. At first, the men are only talking as they walk, but then, almost before Amy can register what has happened, Vincent is dead.

For reasons she can't quite understand, Amy finds herself captivated by both the crime she witnessed and the murderer himself. She doesn't call the cops to report what she's seen. Instead, she collects the murder weapon from the sidewalk and soon finds herself on the trail of a killer.

Character-driven and evocative, The Lonely Witness brings Brooklyn to life in a way only a native can, and opens readers' eyes to the harsh realities of crime and punishment on the city streets.
Praise For The Lonely Witness: A Novel…
"When a young woman with a sordid past witnesses a murder, she finds herself fascinated by the killer and decides to track him down herself."
— The Associated Press

"A beautifully nuanced novel that has an unhurried but compelling narrative drive, a central character you are totally invested in, and a locale—the Gravesend neighborhood in Brooklyn—that does indeed function as a major character, interacting with and psychically affecting each and every person in the book."
— Criminal Element

"A knockout combination of in-depth character work, Brooklyn atmosphere, and straight-up gritty noir. The devotion Boyle demonstrates for character, story and place is perhaps the one unadulterated emotion on display in a story imbued with ambiguous morality and loyalty."
— Shelf Awareness (Starred)

"The Lonely Witness is a tense, and, at times, darkly funny, thriller. Reminiscent of writers from Daniel Fuchs to George Pelecanos, it's safe to say that if you liked Gravesend, you'll love The Lonely Witness. And if you haven't read Gravesend, you will no doubt want to do so after reading The Lonely Witness."
— Woody Haut, author of Pulp Culture, Neon Noire, Heartbreak & Vine

"William Boyle has worked his way into becoming one of crime fiction's talents. In both his short story collection and debut novel, he chronicles the battered souls of working class East Coast in a way that hits the heart without being maudlin. His second novel, The Lonely Witness, proves he is taking his skills further. What makes William Boyle's work ring with such a strong and true voice is that he realizes for many daily life is a struggle. His writing prays for them."
— Mystery People (Pick of the Month

"Boyle is from Brooklyn, and his easy familiarity with this milieu shows up on virtually every page. If you like the richly nuanced novels of George Pelecanos or Dennis Lehane, be prepared to add Boyle to your regular reading list."
— BookPage

"The Lonely Witness is a map of Brooklyn's genome. Amy Falconetti is that rarest of noir characters, a woman redeemed and a redeemer. Walking in her shoes for only a few blocks is worth the price of admission."
— Reed Farrel Coleman New York Times bestselling author of 'What You Break'

"In true noir fashion, William Boyle gives us an intimate portrait of a neighborhood in vivid, evocative prose, and explores how place and the past make us who we are. The Lonely Witnessmoves with unstoppable momentum, powered by Amy Falconetti's impulsive human heart. I would gladly follow her anywhere."
— Melissa Ginsburg, author of 'Sunset City'

"A powerful, character-driven suspense novel that can keep you on the edge of your seat."
— Popular Culture Association

"In The Lonely Witness, William Boyle has created a classic noir and a classic of Brooklyn. I loved this character, this world, and this book. Boyle has written a slim, unputdownable book that gets into every dark corner in the outskirts of Brooklyn, a world no one knows better. Gravesend and the rest of outer, unknown, still-mysterious Brooklyn shine in this compulsively readable thriller."
— Sara Gran, author of 'Dope,' 'Come Closer,' 'Saturn's Return to New York,' and the Claire DeWitt series

"Boyle is a bard of Brooklyn."
— Nick Mamatas, author of I Am Providence

"Once a party girl, Amy now lives a solitary existence. This remarkable discordance is riveting, especially after Amy witnesses a murder and becomes at once traumatized by the crime and obsessed with the murderer. Amy elicits the same dark fascination as Sara Gran's stellar neo-noir detective, Claire DeWitt. Boyle was featured in a Guardian write-up that compared him to Elmore Leonard and declared him a 'new name to watch.' That watching continues with this outstanding thriller."
— Booklist (starred)

"As Amy's old life catches up with her, the small, safe world she's built for herself quickly unravels. Binge-worthy and gorgeously written, with prose so vivid it's as if Boyle is taking you down streets you've known your entire life, The Lonely Witness will make you wonder if you can ever escape your past self, or if you'd even want to."
— Mary Miller, author of 'Big World,' 'The Last Days of California,' and 'Always Happy Hour'

"Powered by brilliantly realized characters, a richly described and grittily realistic backdrop, and subtle yet powerful imagery, this is crime fiction at its best: immersive, intense, and darkly illuminating."
— Publishers Weekly (starred)

"A 'thread' of suspense doesn't begin to describe the tension William Boyle has created in his novel The Lonely Witness. Amy is one of those refreshingly complex characters we see more and more of in today's novels."
— NJ.com
Pegasus Crime, 9781681777955, 272pp.
Publication Date: May 1, 2018
About the Author
William Boyle is from Brooklyn, New York. His novels include: Gravesend, which was nominated for the Grand Prix de Littérature Policière in France; The Lonely Witness, which was nominated for the Hammett Prize and the Grand Prix de Littérature Policière; A Friend Is a Gift You Give Yourself, an Amazon Best Book of the Year; and, most recently, City of Margins, a Washington Post Best Thriller and Mystery Book of 2020. He lives in Oxford, Mississippi.
or
Not Currently Available for Direct Purchase