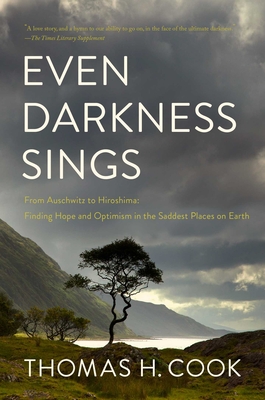 Even Darkness Sings
From Auschwitz to Hiroshima: Finding Hope and Optimism in the Saddest Places on Earth
Hardcover

* Individual store prices may vary.
Description
A memoir of a lifetime's adventure to some of the darkest places on earth—and the first work of nonfiction from this award-winning crime novelist.

Thomas Cook has always been drawn to dark places, for the powerful emotions they evoke and for what we can learn from them. These lessons are often unexpected and sometimes profoundly intimate, but they are never straightforward.

With his wife and daughter, Cook travels across the globe in search of darkness—from Lourdes to Ghana, from San Francisco to Verdun, from the monumental, mechanised horror of Auschwitz to the intimate personal grief of a shrine to dead infants in Kamukura, Japan. Along the way he reflects on what these sites may teach us, not only about human history, but about our own personal histories.

During the course of a lifetime of traveling to some of earth's most tragic locals, from the leper colony on Molokai to ground zero at Hiroshima, he finds not only darkness, but a light that can illuminate the darkness within each of us. Written in vivid prose, this is at once a personal memoir of exploration (both external and internal) and a strangely heartening look at the radiance and optimism that may be found at the very heart of darkness.
Praise For Even Darkness Sings: From Auschwitz to Hiroshima: Finding Hope and Optimism in the Saddest Places on Earth…
"Perhaps the season's most unlikely narrative turn. As Cook's journeys accumulate, a reader loses any trepidation about approaching these sites of sorrow, awakening instead to Cook's main purpose as the narrative acquires a humble gravitas. Cook promises that 'there is much to be gained where much has been lost, and we deny ourselves that bounty at the peril of our souls,' a truth to which this surprising volume attests."
— New York Times Book Review

"A fascinating, troubling memoir from a fine writer."
— Mick Herron

"Cook doesn't reach for moral lessons in the awful past; instead they emerge tacitly from signs of life and compassion he discovers in the present. The result is a gripping exploration of how hope sprouts from despair."
— Publishers Weekly

"Cook writes movingly, perceptively, fulfilling his assertion that 'there is much to be gained where much has been lost.'"
— Irish Times

"Engrossing and insightful."
— Kirkus Reviews
Pegasus Books, 9781681778471, 392pp.
Publication Date: October 2, 2018
About the Author
Thomas H. Cook has been nominated for the Edgar Award seven times in five different categories. He has received the Edgar Award, the Martin Beck Award, the Herodotus Prize for best historical short story, and the Barry Award and has been nominated for numerous other prizes. He divides his time between Cape Cod and Manhattan.
or
Not Currently Available for Direct Purchase