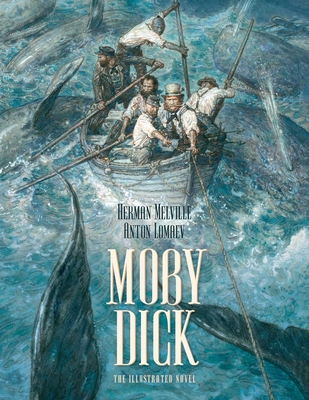 Moby Dick (Hardcover)
The Illustrated Novel
Pegasus Books, 9781681778488, 544pp.
Publication Date: September 4, 2018
Other Editions of This Title:
Digital Audiobook (3/28/2010)
Digital Audiobook (7/25/2016)
Digital Audiobook (6/15/2005)
Paperback (4/30/2016)
Paperback (5/11/2015)
Paperback (11/11/2015)
Paperback (11/4/2011)
Paperback, Spanish (6/28/2016)
Paperback (11/2/2015)
Paperback (9/9/2014)
Paperback (5/22/2017)
Paperback, Spanish (12/1/2000)
Paperback (8/10/2015)
Paperback (5/4/2013)
Paperback, Spanish (5/3/2016)
Paperback (4/18/2010)
Paperback (2/27/2017)
Paperback (12/16/2011)
Paperback (11/17/2015)
* Individual store prices may vary.
Description
Based on the events depicted in the "Narrative of the Most Extraordinary and Distressing Shipwreck of the Whale-Ship Essex" and the legend of "Mocha Dick," it is the story of the wandering sailor Ishmael and his voyage aboard the whaling ship the
Pequod
. Commanded by the obsessed Captain Ahab, a man who is hell-bent on revenge against a white whale of incredible ferocity, the
Pequod
and its crew are tasked with this singular goal, whatever the emotional or human cost. It is a novel rich with symbolism and complex themes.
But this mythical adventure has never been portrayed in such a powerful way and with such striking illustrations, presenting a new perspective on this cornerstone of American literature. It marks a wonderful entry point for new readers to discover Melville's universe--and a beautiful edition for the countless dedicated readers of this unique novel.