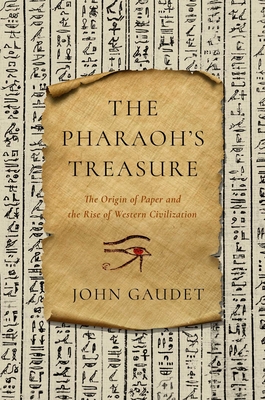 The Pharaoh's Treasure
The Origin of Paper and the Rise of Western Civilization
Hardcover

* Individual store prices may vary.
Other Editions of This Title:
Paperback (2/11/2020)
Description
A thought-provoking history of papyrus paper—from its origins in Egypt to its spread throughout the world—revealing how it helped usher in a new era of human history.

Throughout our entire history, humans have always searched for new ways to share information. This innate compulsion led to the origin of writing on the rock walls of caves and coffin lids or carving on tablets. But it was with the advent of papyrus paper when the ability to record and transmit information exploded, allowing for an exchanging of ideas from the banks of the Nile throughout the Mediterranean—and the civilized world—for the first time in human history.

In The Pharaoh's Treasure, John Gaudet looks at this pivotal transition to papyrus paper, which would become the most commonly used information medium in the world for more than 4,000 years. Far from fragile, papyrus paper is an especially durable writing surface; papyrus books and documents in ancient and medieval times had a usable life of hundreds of years, and this durability has allowed items like the famous Nag Hammadi codices from the third and fourth century to survive.

The story of this material that was prized by both scholars and kings reveals how papyrus paper is more than a relic of our ancient past, but a key to understanding how ideas and information shaped humanity in the ancient and early modern world.
Praise For The Pharaoh's Treasure: The Origin of Paper and the Rise of Western Civilization…
"A lively overview of a medium that was central to public and private life in the ancient world. An engaging journey to the distant past."
— Kirkus Reviews

"A fascinating account of the plant that provided the world with paper for the first four thousand years of its history. Lively and well written."
— Jean-Daniel Stanley, Senior Scientist Emeritus, National Museum of Natural History, Smithsonian Institution, Washington, DC (Praise for PAPYRUS)

"A fascinating, thought-provoking history of papyrus's use in communication. Accessible and engagingly written."
— Publishers Weekly

"This fascinating and beautifully written book is an absolute eye opener. John Gaudet has a remarkable story to tell, and he tells it extremely well. A wonderful, enlightening book."
— Alexander McCall Smith, NEW YORK TIMES bestselling author (Praise for PAPYRUS)

"Is there anything that papyrus can't do? Offering abundant information, Gaudet's combination of environmental advocacy and botanical objectivity forms a unique resource about a unique organism."
— Booklist (Praise for PAPYRUS)
Pegasus Books, 9781681778532, 392pp.
Publication Date: October 2, 2018
About the Author
A Fulbright Scholar to both India and Malaya, John Gaudet is a writer and practicing ecologist. His early research on papyrus, funded in part by the National Geographic Society, took him to Uganda, Kenya, Sudan, and Ethiopia. A trained ecologist with a PhD from University of California at Berkeley, he is the author of Papyrus: The Plant that Changed the World, and his writing has appeared in Science, Nature, Ecology, the Washington Post, Salon and the Huffington Post. He lives in McLean, Virginia.
or
Not Currently Available for Direct Purchase