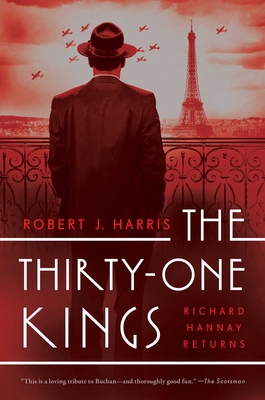 The Thirty-One Kings
A Richard Hannay Thriller
Hardcover

* Individual store prices may vary.
Other Editions of This Title:
Paperback (12/10/2019)
Description
Richard Hannay returns to action in this new spy thriller set in wartime Paris, as John Buchan's famed hero (from The 39 Steps) races to track down a mysterious figure holding vital war secrets before the Nazis beat him to it . . .

June, 1940. Richard Hannay has returned.

As German troops pour across France, the veteran soldier and adventurer Richard Hannay is called back into duty. In Paris, an individual code named "Roland" has disappeared and is assumed to be in the hands of Nazi agents. Only Roland knows the secret of The 31 Kings, a secret upon which the future of Europe depends. Hannay is dispatched to Paris to find Roland before the Germans overrun the city.

On a hazardous journey across the battlefields of France, Hannay is joined by old friends and new allies as he confronts a ruthless foe who will stop at nothing to destroy him.
Praise For The Thirty-One Kings: A Richard Hannay Thriller…
"Riveting. Daring measures and hairbreadth escapes are the rule in this first-person chronicle. The can-do spirit of Mr. Harris's book evokes a time when it seemed the fate of the world might hinge on the acts of a handful of brave souls. The Thirty-One Kings is old-fashioned in many ways—which is what makes it such a reassuring pleasure to read."
— Wall Street Journal

"Fans of John Buchan will be wooed by this new adventure. Harris's new World War II story picks up the threads of Buchan's last novel, Sick Heart River, and cleverly weaves them into this thrilling tale."
— The Sunday Post (Scotland)

"A little bit of James Bond, a smattering of Indiana Jones, and perhaps even a bit of Buckaroo Bonzai—clever, well-plotted, and big fun."
— BookPage

"The plot whips along, embellished by dogfights, perilous car journeys, personal vendettas, and plenty of derring-do—plus a whiff of enjoyable parody to lend an edge. I was beguiled."
— The Daily Mail (London)

"This fast-moving tale will delight Buchan fans. Gripping and fun; it will encourage devotees to return to Buchan and newcomers to seek him out."
— Country Life Magazine

"Harris does a fine job integrating characters from Buchan's works, imagining the way they might have aged and grown. The plotline is as one would imagine the next Hannay story might have been, had Buchan written it. Harris knows his history, and he knows his Buchan. This is a fine, fast, exciting read. Recommended."
— Historical Novels Review

"A loving tribute to Buchan and thoroughly good fun."
— Allan Massie
Pegasus Crime, 9781681778549, 224pp.
Publication Date: September 4, 2018
About the Author
Robert J. Harris has written numerous books with HarperCollins, including Leonardo and the Death Machine, Will Shakespeare and the Pirate's Fire, and, most recently, The Gravedigger's Club, first in a new series of mysteries starring a young Arthur Conan Doyle. Robert is also the designer of the bestselling fantasy board game Talisman. He lives in St. Andrews, Scotland.
or
Not Currently Available for Direct Purchase