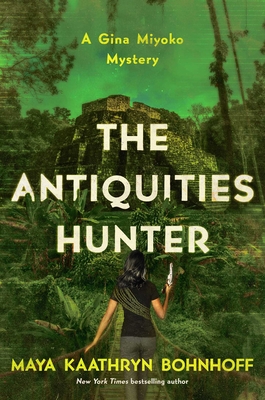 The Antiquities Hunter
A Gina Miyoko Mystery
Hardcover

* Individual store prices may vary.
Other Editions of This Title:
MP3 CD (4/14/2020)
Compact Disc (4/14/2020)
Paperback (2/11/2020)
Description
From New York Times bestselling author Maya Kaathryn Bohnhoff, a new private detective series featuring Gina "Tinkerbell" Miyoko, who must go undercover in the Mexican jungle to hunt down a mysterious antiquities dealer.

Gina "Tinkerbell" Miyoko is not your typical private eye. Armed with a baby blue Magnum, a Harley blessed with Holy Water by her dramatically disposed mother, and a Japanese mingei tucked in her pocket (a good luck charm from her Sherlock Holmes-obsessed father) Tink spends her time sniffing out delinquent dads in the San Francisco Bay area and honing her detective skills.

But when her best friend Rose, an undercover agent, discovers there's a stalker on her tail, she hires Tink as a bodyguard. Someone must be trying to intimidate Rose and scare her out of testifying in an upcoming case on looted Anasazi artifacts. But when Tink tries to flush-out the stalker, things take a far more dangerous turn.

Now, with a dead black-market dealer and an injured Rose on her hands, Tink must take her best friend's place and follow the looters' trail towards a powerful and lucrative antiquities collector in Cancun, Mexico. Equipped with an ingenious disguise and a teasingly coy persona to match, Tink is determined to find out who is behind the attack on Rose and the illegal trafficking of these priceless artifacts. Along the way, she will find help in the most unlikely of partners…

Deep in the jungle and far from civilization, Tink must decide who she can trust as she tries to unearth the ones responsible behind the pilfering and bloodshed—and still make it out alive.
Praise For The Antiquities Hunter: A Gina Miyoko Mystery…
"Action-packed. Gina's mixed heritage and insatiable curiosity make her a wildly entertaining character, sure to appeal to fans of Stephanie Plum."
— Shelf Awareness

"Bohnhoff combines well-paced adventure and double-crossing in her mystery debut."
— Kirkus Reviews

"This energetic series launch from bestseller Bohnhoff introduces San Francisco PI Gina Miyoko. A tough, sassy, and relatable investigator, Gina drives a Harley, packs a baby blue Magnum, and is trained in the martial arts. Her rich backstory and family life adds unusual depth to a fun story. Readers will want to see a lot more of Gina."
— Publishers Weekly

"Bohnhoff's The Antiquities Hunter is a wild, breathless ride, a true pager turner. The plot alone, although full of exciting and unexpected turns, isn't what makes it so compelling. Rather, it's the energy, humor, and no-nonsense of its lead detective, Gina "Tink" Miyoko, an absolute original, that grounds the story, pulls us in, and makes us care."
— John Copenhaver, author of 'Dodging and Burning'

"Maya Bohnhoff has delivered a delightful mystery with an intrepid heroine who is part female Sam Spade and part Indiana Jones. A page-turner to the very end. A fast-paced, action-packed tale that will have you turning the pages into the wee hours of the morning. Sequel, please!"
— Julie McElwain, author of the Kendra Donovan Mystery Series

"An entertaining debut introducing PI Gina "Tinkerbell" Miyoko. Gina is a unique series lead, but she sweeps across the pages like an adrenalin-fueled soul sister of Janet Evanovich's flamboyant characters, presented in an equally biting and outrageous narrative that turns on a dime. A promising start to an exciting new series with plenty of crossover YA appeal."
— Booklist

"Maya Kaathryn Bohnhoff's The Antiquities Hunter breathes new life into the PI genre. Fast-paced, witty, and full of intrigue, it's a layered mystery with a deeply complicated and memorable main character in Gina Miyoko. Such a terrific ride."
— William Boyle, author of The Lonely Witness

"The Antiquities Hunter is a great read, with a mystery that kept me guessing. I love feisty Gina Miyoko, I could read her all day! She is intriguing, exciting, witty and cool. Next one please!"
— Tessa Lunney, author of April in Paris, 1921

"Bohnhoff's The Antiquities Hunter is a fast, fun ride into the fresh world of high stakes, black market artifacts trading. Her cast of fantastically unique characters sucked me in from the start. I especially loved Tink—a sharp, witty, but still soft-around-the-edges female protagonist who is tiny but fierce—and I can't wait to see what trouble she gets into next."
— Dana Chamblee Carpenter, author of Bohemian Gospel

"Witty, feisty, sassy—a character to give Philip Marlowe a run for his money any day of the week—Gina 'Tink' Miyoko is my new favorite heroine. With whip-smart crackling dialogue and a plot that could turn on a sixpence, this is a fine and exciting debut and a thrilling piece of modern crime writing. Maya Kaathryn Bohnhoff, I salute you."
— E.S. Thomson, author of the Jem Flockart series

"A witty and thoroughly engaging page-turner that would make Lara Croft's head spin. Gina Miyoko is a unique, sassy, and very welcome addition to the top rank of fictional private eyes."
— Zoë Sharp, author of the Charlie Fox thriller series
Pegasus Crime, 9781681778570, 304pp.
Publication Date: October 2, 2018
About the Author
Maya Kaathryn Bohnhoff is the award-winning author of short fiction that has appeared in publications such as Analog and Interzone. She has authored a number of Star Wars novels, including the New York Times bestseller The Last Jedi. Maya lives in San Jose, California.
or
Not Currently Available for Direct Purchase