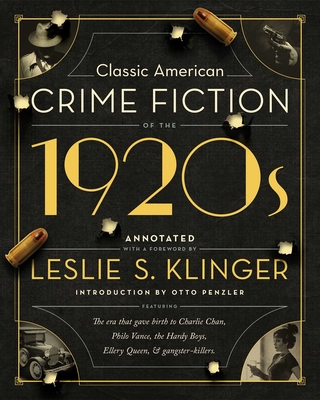 Classic American Crime Fiction of the 1920s
Hardcover

* Individual store prices may vary.
Description
A riveting collection of five of the most famous crime novels of the 1920s, presenting anew some of the most admired authors of the era—with insightful annotations by the Edgar-winning anthologist Leslie S. Klinger.

American crime writing was reborn in the 1920s. After years of dominance by British authors, new American writers—with fresh ideas about the detective and the mystery—appeared on the scene and rose to heights of popularity not witnessed since the success of the Sherlock Holmes tales in America.

Classic American Crime Writing of the 1920s—including House Without a Key, The Benson Murder Case, The Roman Hat Mystery, Red Harvest, and Little Caesar—offers some of the very best of that decade's writing. Earl Derr Biggers wrote about Charlie Chan, a Chinese-American detective, at a time when racism was rampant. S. S. Van Dine invented Philo Vance, an effete, rich amateur psychologist who flourished while America danced and the stock market rose. The quintessential American detective Ellery Queen leapt onto the stage, to remain popular for fifty years. Dashiell Hammett brings readers another mystery narrated by the Continental Op. W. R. Burnett, created the indelible character of Rico, the first gangster antihero.

Each of the five novels included is presented in its original published form, with extensive historical and cultural annotations and illustrations added by Edgar-winning editor Leslie S. Klinger, allowing the reader to experience the story to its fullest. Klinger's detailed foreword gives an overview of the history of American crime writing from its beginnings in the early years of America to the twentieth century. This gorgeously illustrated volume includes over 100 color and black and white images as well as an introduction by the eminent mystery publisher Otto Penzler.
Praise For Classic American Crime Fiction of the 1920s…
"Sumptuous. By the time Inspector Richard Queen and his bookish son Ellery arrive at Manhattan's Roman theater to examine the dead body of crooked lawyer Monte Field, I was registering a distinct sense of well-being and contentment. This hefty volume opens with an essay by our preeminent authority on the mystery genre, Otto Penzler, followed by excellent brief introductions to each author and novel from Klinger. There's a treasure house of illuminating and useful information here. What's more, Pegasus has produced as handsome a volume as you could ask for, starting with the gold-embossed lettering on its cinema-marquee style dust jacket. The whole package cries 'terrific holiday gift,' which it is. Ideally, glamorous productions such as Klinger's lead modern readers to good books worth rediscovering."
— Michael Dirda

"A handsome, hefty volume, filled out by period illustrations (in both color and black-and-white), with a foreword by the knowledgeable Mr. Klinger. The book surveys a decade that delivered both the objective, 'aesthetic' puzzles of S.S. Van Dine and the hard-boiled, knuckle-busting sagas of Dashiell Hammett."
— Wall Street Journal

"A treasure chest, packed with gumshoes and dames, Colt-.45s and fedoras, townhouses and locked rooms. Resurrecting long-gone authors and restoring their finest work to the page, this gorgeous volume is indispensable for any mystery enthusiast."
— A. J. Finn, #1 New York Times bestselling author of The Woman in the Window

"These five novels, all wildly popular when first published, offer a window on the world of manners and attitudes in America in the 1920s. They can still be enjoyed as mysteries, or they can be read as historic documents, enriched by Klinger's copious annotations that help fix each in its time and place. A veritable buffet of food for thought for crime fiction fans."
— Publishers Weekly

"It's like a break-neck, thrill-ride, pell-mell passage to another mad era. A seatbelt for your armchair is suggested. I am quite sure there will be no dozing off."
— The Virginian-Pilot

"A gargantuan, extensively annotated collection of five cornerstones of American crime fiction that every fan will want to own. Klinger has provided the perfect gift for newcomers lucky enough not to have read its contents already—and the perfect excuse to wonder if a 1930s sequel may be lurking around the corner."
— Kirkus Reviews

"Its content is as impressive as its packaging. We can't wait to page through this beautiful volume!"
— LitHub

"A treasure of information and a joy to study or simply read. By gathering these texts together and diving into them with insight and research, Klinger brings them to today's readers in an accessible, enlightening, and entertaining way."
— Washington Independent Review of Books

"Klinger's skill as an editor of anthologies needs no introduction. Classic American Crime Fiction of the 1920s surpasses Klinger's outstanding prior works. The complex history of early American mystery fiction is expertly defined and detailed. The text of the original manuscripts blossom with notes of context and understanding. A landmark review of classic works in terms all readers will enjoy!"
— Charles Todd, New York Times bestselling author of theIan Rutledge Series and the Bess Crawford Series

"This is a big deal. Any fan of crime fiction will grab for it.The restored texts of these five 1920s classics are reason enough to treasure this volume. Add the fascinating notes, illustrations, and historical overview supplied by master-researcher Leslie S. Klinger, along with an insightful introduction from crime-fiction authority Otto Penzler, and the result is a classic of its own, one that I'll return to again and again."
— David Morrell, New York Times bestselling author of Murder As a Fine Art

"The hugely welcome revival of fiction from the Golden Age of detective fiction between the wars is given fresh impetus by Les Klinger's eclectic, attractively produced, and splendidly annotated collection of five American classic mystery novels."
— Martin Edwards, Edgar-winning author of Gallows Court and The Golden Age of Murder

"If you are searching for an impressive (and yet reasonably-priced) present for a crime fiction fancier, this volume certainly is worth considering. You get the full texts of Biggers's The House Without a Key, Van Dine's The Benson Murder Case, Ellery Queen's The Roman Hat Mystery, plus Red Harvest and Little Caesar. All are amply annotated and lavishly illustrated."
— Reviewing the Evidence

"Highly informative and fascinating."
— Popular Culture Association

"Comprehensive and well researched, Leslie S. Klinger's Classic American Crime Fiction of the 1920s is an excellent introduction to the classic era detective story."
— Authorlink.com

"It's like a break-neck, thrill-ride, pell-mell passage to another mad era. A seatbelt for your armchair is suggested. I am quite sure there will be no dozing off."
— The Virginian-Pilot
Pegasus Crime, 9781681778617, 1152pp.
Publication Date: October 2, 2018
About the Author
Leslie S. Klinger is one of the world's foremost authorities on Sherlock Holmes. He is the editor of the three-volume set The New Annotated Sherlock Holmes. The first two volumes, The Complete Short Stories, won the Edgar for "Best Critical/Biographical" work. He has just completed The New Annotated H. P. Lovecraft. Klinger is a member of the Baker Street Irregulars and lives in Malibu.

Otto Penzler is the proprietor of the Mysterious Bookshop in New York City. He is the founder of the Mysterious Press and Otto Penzler Books and has received an Edgar Award, an Ellery Queen Award, and a Raven Award for his contribution to the mystery field. His anthology The Black Lizard Big Book of Pulps was a New York Times Bestseller.
or
Not Currently Available for Direct Purchase